An Overview Of Our Solution
The Garbage Music project empowers youth from marginalized communities to use art and music to counter plastic pollution, one of the biggest threats facing our water ecosystems. It aims to build greater awareness and public demand for the reduction of plastic waste, by tapping on new forms of public engagement that speaks to the hearts and minds of people through music. The project targets youth and builds their knowledge and increases their awareness about the challenges threatening the environment and how that impacts their lives. It also provides them with tools and skills that enable them to turn plastic waste into musical instruments and perform music using them. By doing so, the project enables youth to become environmental champions in their own communities and beyond, inspiring behavior change in regard to plastic waste and water pollution.
Who is this solution impacting?
Ecosystem

Community Type

Additional Information
Population Impacted 100,000
Continent: Africa
General Information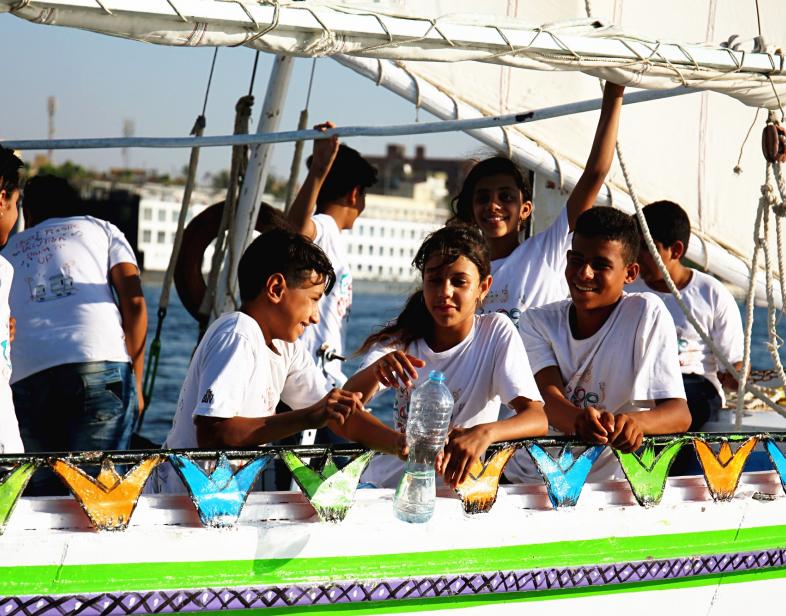 Email
rababluxor@gmail.com
Challenge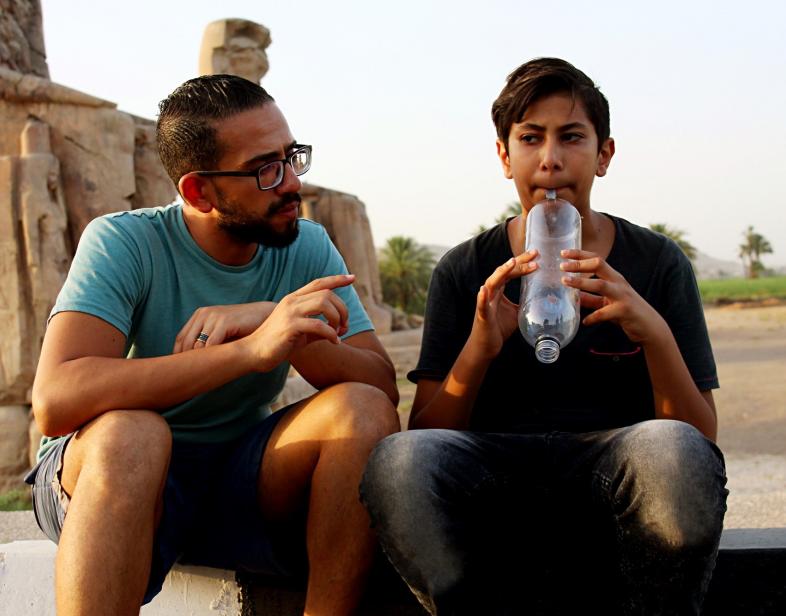 Context Analysis
Our society's connection with nature has eroded to a truly destructive level. The majority of people don't seem to know or care about how our consumerist lifestyle is choking our planet. Plastic waste is one of the clearest manifestations of how carelessly we treat nature, with Egypt being the 7th largest exporter of plastic waste and is estimated to mismanage 42.5% of its waste, with 150,000-390,000 tonnes of the waste ending up in the sea. While this pollution is extremely damaging for the economy, the environment and people's livelihoods and wellbeing, concern about the issue is too low to motivate real change; and while technical and policy solutions are necessary to solve this issue, a vital missing piece to many of the proposed solutions is the ability to speak to the hearts of people and engage their emotions to truly make them care about and mobilize for environmental-friendly alternatives, and cleaner and healthier water ecosystems. One way to do this is through art and music
Solution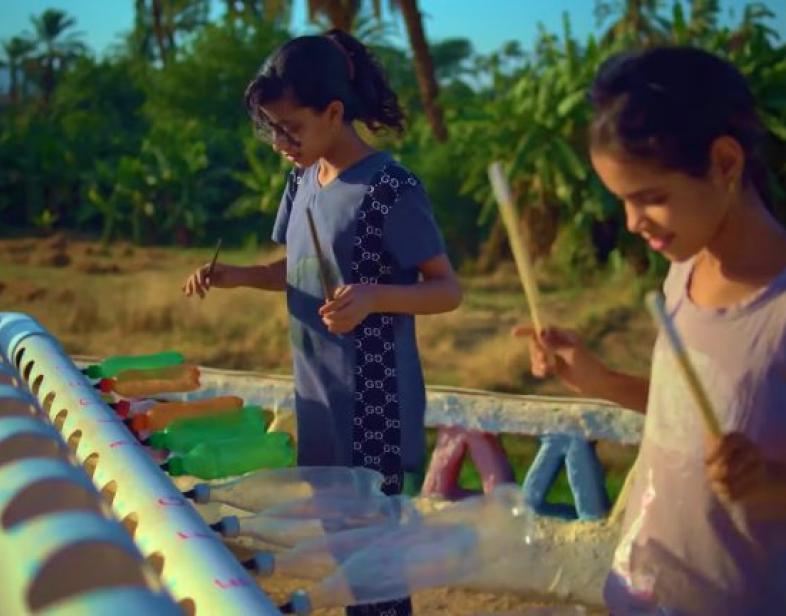 Describe the technical solution you wanted the target audience to adopt
The project enables youth to use music and art to inspire their communities about the many possibilities that reside in repurposing waste and the need to reduce and reuse plastic waste for the communities' wellbeing and for cleaner and healthier water ecosystems. Making musical instruments available for youth in marginalized communities, make them appreciate the value of waste recycling when converted into musical instruments. Over the course of the project, youth are enabled to create and master the use of these instruments, and ultimately playing music together as a collective. Boys and girls, between the age of 12 and 16 years old, learn, through fun, playfulness, and experimentation about environmental sustainability; how to create musical instruments through repurposing waste; how to play music; and how to share and inspire their communities with their art and music to motivate positive changes on the environmental level.
Describe your behavioral intervention.
To change the youth's behaviors around plastic waste, and through them, their larger communities, the Garbage Music Project engages youth to become leaders in their own capacity to inspire change through experimenting with the creation of music and musical instruments from waste. The project holds workshops with the youth and leads them through a creative process to master the production of music. The youth discover that discarded objects can have another life and purpose and that art can emanate from lifeless waste. They engage with campaigns to clean up the water sources and organize public performances to which their families and communities are invited to attend and from which youth derive joy and pride.  In doing so, the project taps on the youth's desire to be positively perceived in their communities, hence fostering among them a sense of positive commitment towards environmental sustainability; and through them, among the larger community.
Behavioral Levers Utilized
Emotional Appeals
Information
Material Incentives
Social Influences
As needed, please explain how you utilized the lever(s) in more detail.
The project is based on a principle that often to successfully engage publics, we need to reach them in creative ways and with messages that resonate with them as individuals and communities, building their personal connection to the issue. The Garbage Music Project does exactly that. It mobilizes youth and affected communities and builds awareness around plastic pollution through the medium of art and music. By turning life-less waste into lively music, the project appeals to the emotions of joy, pleasure and pride in youth and also fear from the devastating impact of plastic pollution in our waters. The project also educates the youth about plastic pollution through information and site visits. It provides them with material incentive to join such as providing food and transportation to them. By sharing their creations with the community through live performances and on social media the youth gather social influence and the society's perception towards them radically transforms.
Implementation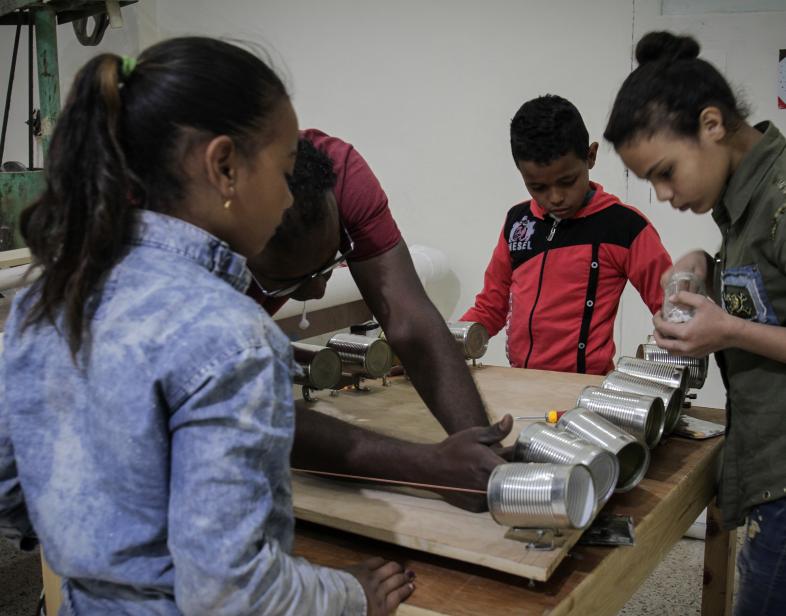 Describe your implementation
The project implementation started in Luxor Governorate, Upper Egypt, in 2018. One of the major factors of success has been having the support of the United Nations Environment  following the receipt of the Young Champions of the Earth award for Africa in 2018. Having received a seed fund allowed us to turn the project idea into a reality.  One of the enabling factors was the lack of actions and interventions around plastic pollution in Upper Egypt. Hence, the project came to fill this void by amplifying the voice of the youth in the communities for greater impact and initiating a conversation and inspiring alternative practices and behaviors regarding plastic pollution. One of the obstacles that the project was successful in overcoming, is to secure an equal participation of girls in the project, in a context where girls' public engagement is highly scrutinized and censored. This required that the project team builds trust with their parents and communities and builds a safe space that enables their full and active participation. The youth attends after school workshops during which they experiment with creating different percussion, blowing and string musical instruments. They also learn how to play music and perform as a collective. Education and raising awareness activities about the impact of plastic waste on the environment is provided throughout the project implementation cycle. By tapping on positive emotions within a creative process that allows experimentation, fun and joy, youth's commitment to the cause of environmental sustainability is fostered, enabling them to lead their communities by example.
Describe the leadership for your solution. Who is leading the implementation?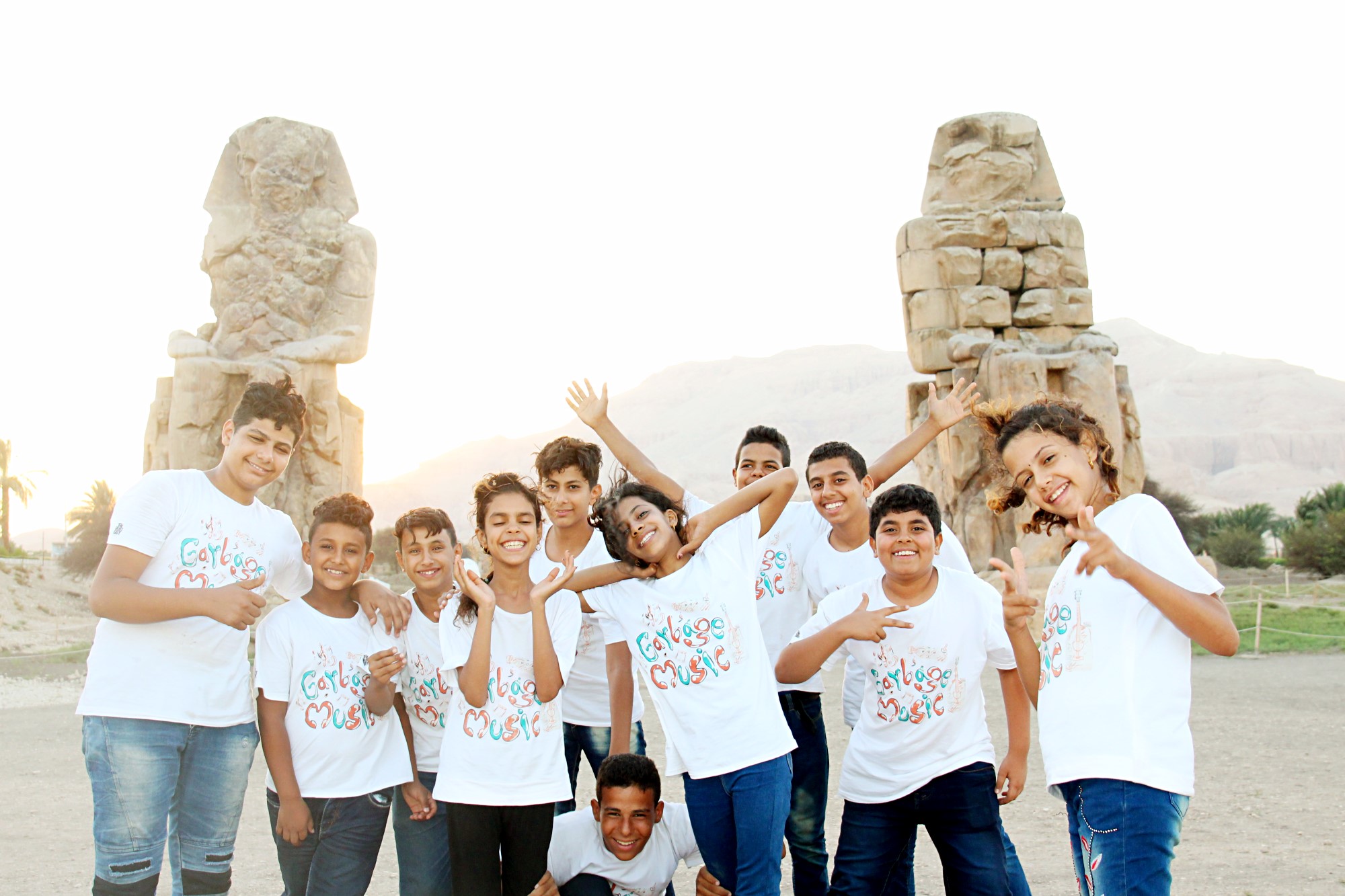 The project puts youth at the center of the action to protect the environment. It raises their awareness on plastic pollution and environmental problems and the cultural and artistic potentials that reside in recycling waste. It inspires and empowers them as champions for environmental sustainability in their own communities and to amplify their voices through music, the universal language of the heart and soul. Throughout the project, youth are offered a space to foster perseverance, discover courage to initiate personal and collective change, to increase their levels of confidence, articulation abilities, creative capabilities and to inspire alternative waste policies, habits and practices by turning waste into art.
Share some of the key partners or stakeholders engaged in your solution development and implementation.
Over the past years we have collaborated with many partners inside and outside Egypt who share our values and objectives. These include: the United Nations Environment; Coalition Wild; Covestro; Vision Prabaho-India; Action for Hope; Very Nile; Elisa Sednaoui Foundation; Maker Faire Cairo; Greenish; You Think Green; Imagine If; BanLastic; Grand Circle and ADEF. We have partnered with many of these organizations to provide online and offline workshops for youth on creating musical instruments through recycling waste. While we joined efforts with other organizations within local, national and international campaigns against plastic pollution. For instance, with our partner organization Greenish we have contributed to the Plastic Ban Clean Up campaign, which was the first campaign ever to focus on plastic pollution in the Nile River with an overall amount of removed trash reaching 21 tons. We have also joined the UN Environment campaign #CleanSeas activation as Goodwill ambassadors to bring attention to the unnecessary harm our bathroom product and cosmetic choices have on our oceans- from plastic packaging to hidden microplastics. More recently, and with the support of  the Arab Fund for Arts and Culture (AFAC), we are working on producing a music album called "Electro-Zebala" which consists of the recording of an open source musical album using entirely musical instruments made out of garbage recycling. 
Impact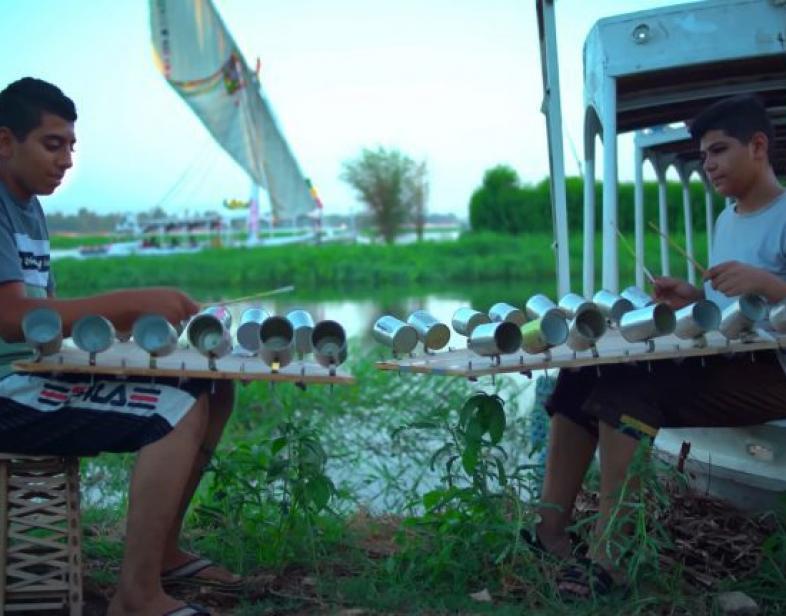 Who adopted the desired behavior(s) and to what degree? Include an explanation of how you measured a change in behavior.
We came to realize the empowering effect of the project on the youth, turning them into champions for the environment and the pride they feel sharing their acquired artistic skills with their friends and communities. The project quickly won the attention of the Luxorian community with parents reaching out to ask for their children enrollment in the project. Our first music video launched as part of our campaign on water plastic pollution, reached more than half a million views, raising national and international media attention. The youth taking part in the project were invited to speak and perform in one of Egypt's most popular primetime TV shows. Tens of private sector companies, schools, art and environmental organizations have invited us to speak and organize workshops and raise awareness about plastic water pollution. We have also partnered with different organizations in joint advocacy campaigns for cleaner and healthier water ecosystems.
How did you impact water pollution? Please be specific and include measurement methodology where relevant.
The Garbage Music Project uses art and music to not only effectively recycle waste but to also raise awareness on the dangers of plastic pollution, inspiring people to re-think their consumption behaviors and the harmful ways in which our consumerist societies deal with our water resources. To date we have worked with thousands of youth in Egypt and beyond to tackle plastic pollution in our waters through art. Our creative online and offline public engagement advocacy campaigns using art and music have reached hundreds of thousands of people inside of Egypt and worldwide, delivering strong environmental messages on water plastic pollution, that speak to the hearts of people and build their positive connection with our cause.
How has your solution impacted equity challenges (including race, gender, ethnicity, social class/income, or others)?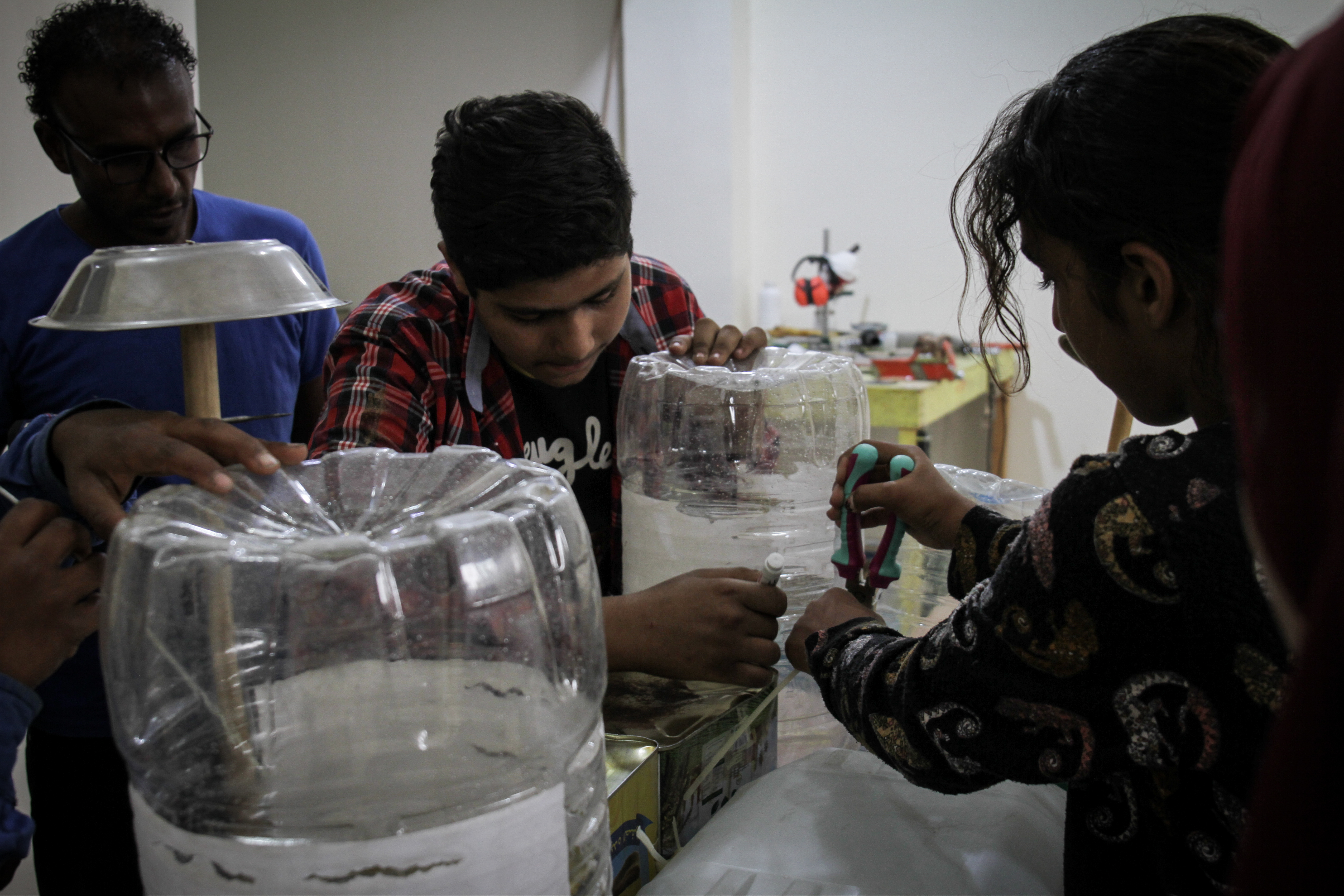 The Garbage Music Project started in the low-income community in Luxor, where children and youth face marginalization as a result of their mere belonging to Upper Egypt; a part of the country that has been alienated from most development efforts in Egypt. For instance, most children face a subpar education and art is usually marginalized and treated as secondary at best. Feeling of marginalization of youth is further exacerbated by the dominant conservative social norms which are drawn around hard gender lines. Hence, boys, and mostly girls, face restrictions on their abilities to self-expression and their public engagement is highly scrutinized. This is why, alongside its environmental goals, the Garbage Music Project seeks to engage boys and girls equally and to provide them with a safe and enabling space and opportunities to discover their voices, to build connections and to shape their communities.
What were some social and/or community co-benefits?
Our theories of change bridge the artistic, the social and the environmental:
-if plastic waste is used to create musical instruments, then youth can learn music while also reducing the excessive production of plastic waste, and awareness on environmental hazards can be optimized through the use of music; and
-when local bands are formed with youth from different genders and socio-economic backgrounds, then social cohesion can be promoted and stronger communities can be built.
What were some environmental co-benefits?
The Garbage Music Project enables youth to raise awareness, shifts behaviors and mobilizes local and affected communities around the environmental hazards of plastic waste, through the medium of art and music. The project uses the power of art to bring the environmental goals closer to people's hearts.
What were some sustainable development co-benefits?
Our interventions influence people's behavior, mostly youth, pushing them to re-think their consumption behaviors. It uses music, fun and creativity to inspire the community about the many (economic, social and artistic) possibilities that reside in recycling and the need to reduce and reuse waste for the wellbeing of the communities. 
Sustainability: Describe the economic sustainability of your solution.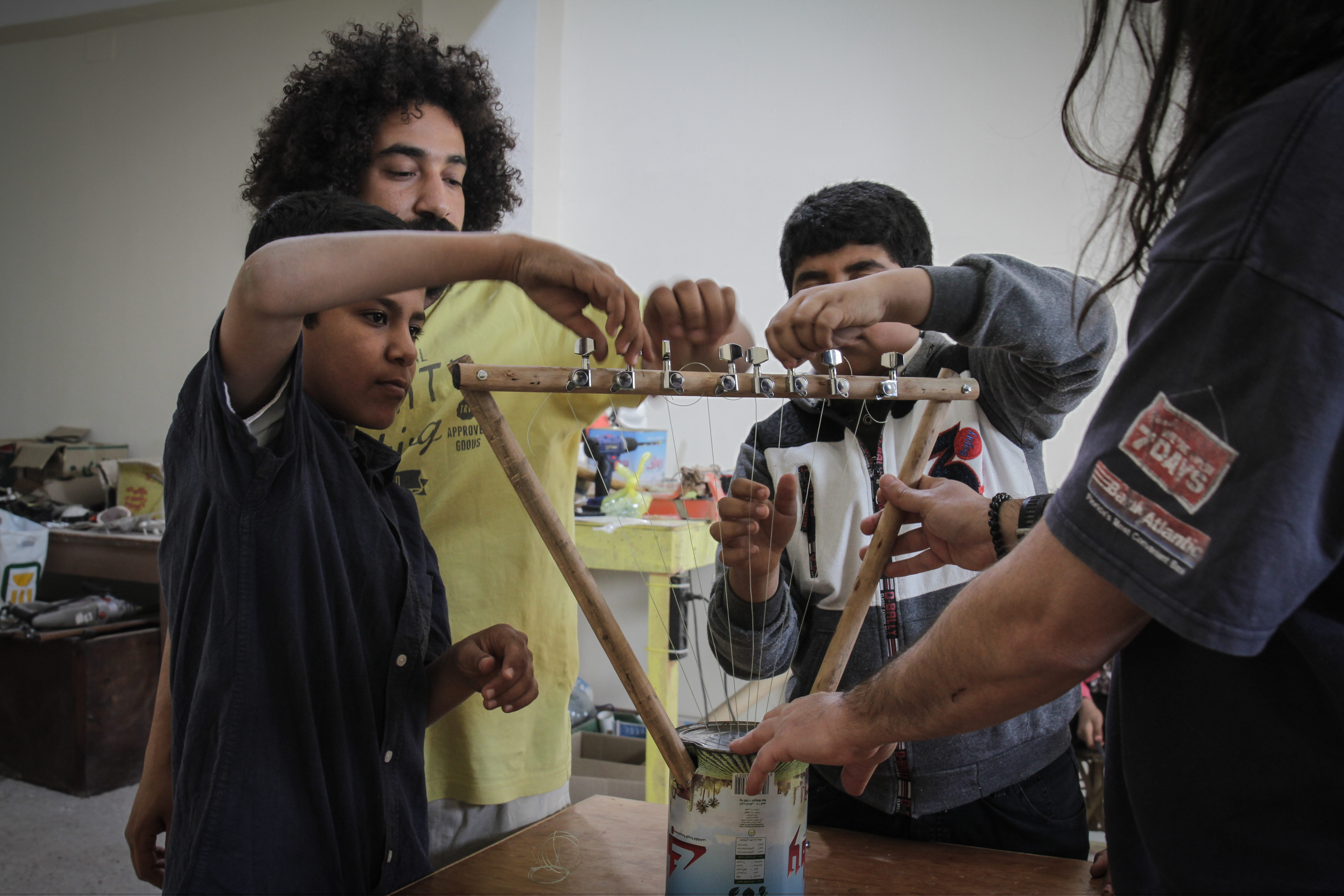 The Project won the UN Environment Young Champions of the Earth award in 2018. The Award (around $15.000) went to start the phase1 of the project. Later we received grants from the Coalition Wild and Action for Hope ($11.000) for the production of a music video. To this, we count on the selling of our uniquely crafted recycled musical instruments at Rabab Luxor, the revenues of which go directly to the organization's core operations. 
Return on investment: How much did it cost to implement these activities? How do your results above compare to this investment?
The grants funds went entirely to the implementation of the project. Our social return of investment shows in the thousands of youth who have been actively engaged in our project activities; and in the growing demand, inside and outside Egypt, for our expertise in organizing and facilitating workshops at the intersection of art and environmental awareness. With our art, we have raised public interest in this issue and joined hands with other actors to shift behaviors and influence policymakers.
How could we successfully replicate this solution elsewhere?
The project can be implemented anywhere. We aim to expand it to other governorates across the country, working with youth to compose musical pieces that are influenced by the local musical culture that is specific to their corresponding governorate. The different music pieces are to be collected in one musical album. The project is planned to start soon in the city of Dahab in South Sinai Governorate. In collaboration with divers and environmental activists for the protection of the Red Sea, we are launching a public engagement campaign to remove plastic waste from the sea and turn them into musical instruments. These instruments will be exhibited and performed at, in a music concert in the city of Dahab which counts as a major international tourist destination for its mesmerizing diving spots and coral reef systems which are increasingly threatened with plastic pollution and climate change.