An Overview Of Our Solution
ECO VILLEGE-2
Eco village-2, was an initiative taken by Environment and Social Development Organization (ESDO) that started in 1994 and ended in 2006. The project took place at a village (an island village) named "Char-Hogla" of Munshiganj district. The people of the village had no access to closed sanitation and safe drinking water. The drinking water sources were the nearby rivers (Dhaleshwari, Shitalakshya, and Meghna) which was majorly contaminated by the faeces of the villagers (due to defecation in open area) and the toxic chemical pesticides they used to grow crops. The polluted water caused chronic disease among the people. With an aim of building a self sustaining community, ESDO started circulating the knowledge amongst the community to change their lifestyle influencing their behavior focusing water pollution.
Who is this solution impacting?
Ecosystem

Community Type

Additional Information
Population Impacted 6000
Continent: Asia
General Information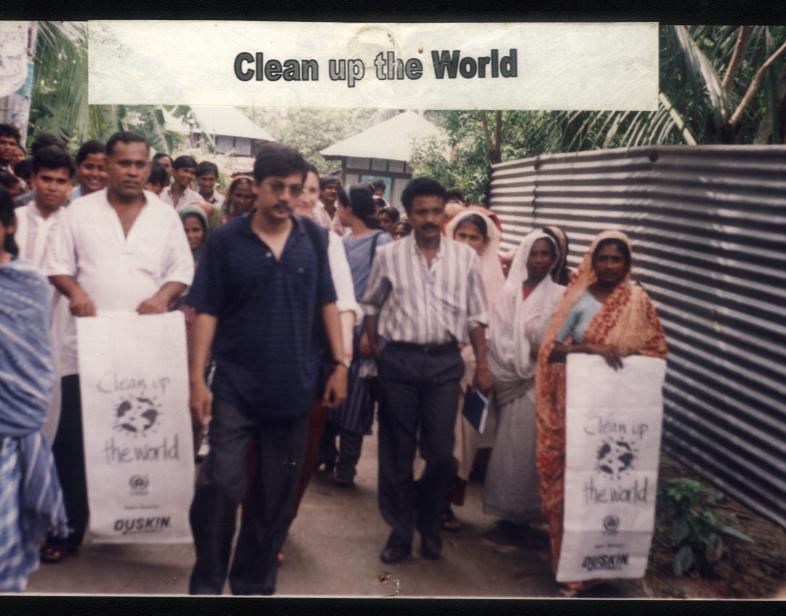 First name
S M Anwar Hossain
Organization type
Nonprofit
Challenge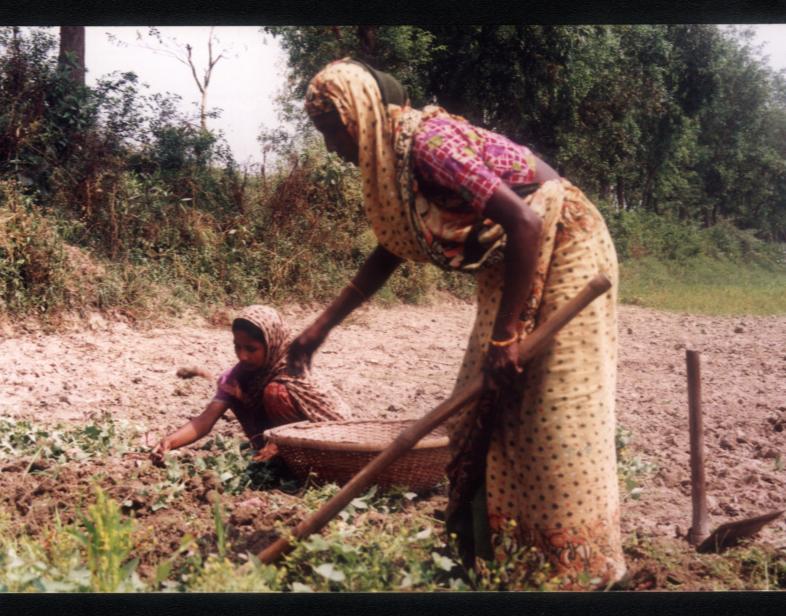 Context Analysis
Ecological challenge:
In 1994, Char-Hogla Village was an extreme dryland with high volume of sand everywhere. There was almost no tree in the entire island.
The entire village was surrounded by Meghana River from two sides, and by Dhaleshwari, Shitalakshya from one side respectively. This made the communication very difficult. Moreover, the road and transport system was not well developed.
Social/community factor:
The villagers were very unwelcoming at the beginning because of their previous experience with non government organizations (NGOs). These organizations were mainly micro-credit organizations who used to make profit of the misery of the villagers. So, they did not trust any NGO.
Public health issues:
Due to overuse of pesticides, and open defecation water borne diseases were quite prevalent.
Economic and sustainable development:
The villagers were destitute. They used to live from hand to mouth. Due to ecological factors, natural resources were scarce.
Solution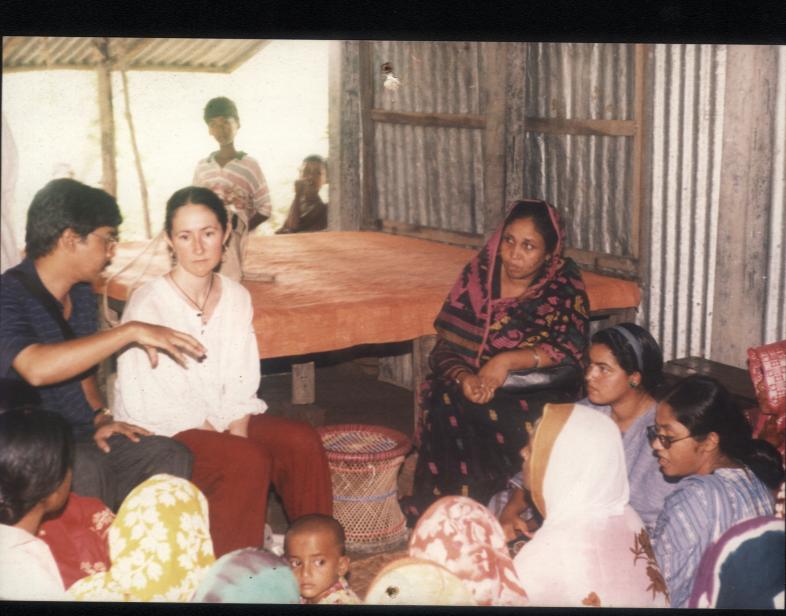 Describe the technical solution you wanted the target audience to adopt
Technical solutions:
As villagers had no access to toilets and they used to defecate at open space, ESDO set up 500 composting toilets for 500 families. Moreover, ESDO set up 50 composting toilets at market places, mosques and schools.
Villagers had no access to safe drinking water. They used to collect drinking water from rivers and ponds which were heavily polluted. Therefore, ESDO set up 300 tube-wells at households, market places, mosques and schools.
Organic wastes were also a source of water pollution as villagers used to throw those here and there. ESDO introduced the idea of backyard twin pit composting so that villagers could manage their organic waste efficiently and produce organic fertilizer.
ESDO made organic farming popular among the villagers, eliminating the practice of using harmful chemical pesticides and fertilizers.
ESDO revived the biodiversity of a heavily polluted pond by keep it undisturbed.
Extensive tree plantation.
Describe your behavioral intervention.
Behavioral intervention:
Our first target was to motivate at least one person of the community. That person became the messenger and played crucial role to motivate others. Thus, ESDO formed groups of 5 people who took the responsibility to motivate others.
Small group discussions and large group discussions.
ESDO facilitated village fairs organized by the community where plastic free shops were also installed as the plastics are also a major contributor to water pollution. The fairs had stalls of organic crops, organic fertilizers, pheromone trap, and other tools related to organic farming.
Folk medium of recreation was a major tool used by ESDO to influence villagers behavior. Folk song, dramas, video projection, bioscope played major roles to motivate people. These sort of environmental education through entertainment played a vital role as local people participated and organized those events.
Two green clubs comprised of students were established; One at the only primary school and one at the only high school of the village. These students motivated their fellow students and also their parents.
Students from RMIT University, Australia and some students from a few American High Schools visited the village and participated with the community in activities like building toilets, organizing community fair
Behavioral Levers Utilized
Choice Architecture
Emotional Appeals
Information
Material Incentives
As needed, please explain how you utilized the lever(s) in more detail.
It was very difficult for ESDO to enter the village as the villagers were severely exploited by various micro-credit organizations. They thought ESDO was also an organization of such kind. At first, they used to guard the river bank with various local knives so that no one from any organization can enter into the village crossing the rivers. ESDO kept trying to convince and communicate with villagers at the other side of the river using mike. It took almost 1 year for ESDO to enter the village.
ESDO was able to make people understand that there would be no monetary involvement. They themselves will be the owner and beneficiary of the initiative. It took a lot of perseverance, determination and effort to primarily motivate them. Later on, people were very much willing to participate when they were given with choices those will benefit them. Besides, we showed that their beloved children will get rid of waterborne diseases if they followed our instructions
Implementation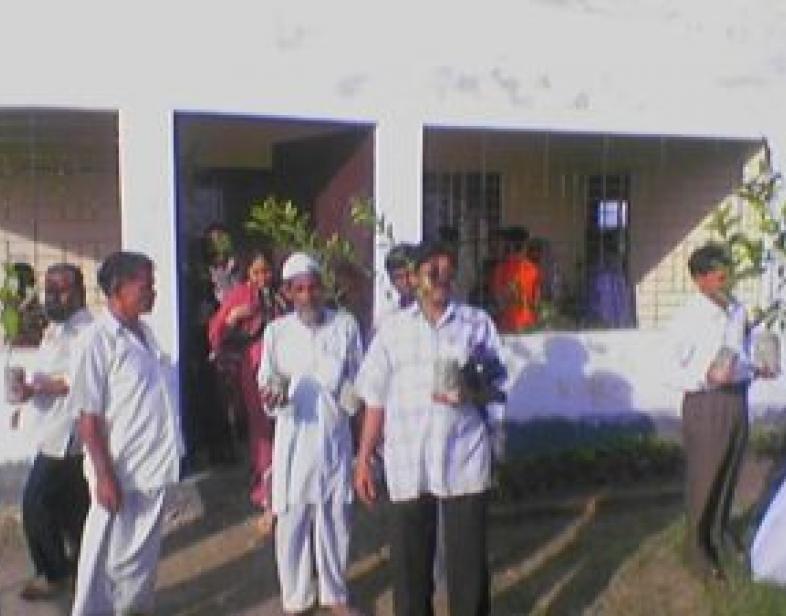 Describe your implementation
As the island was full of sand, it looked like a desert with almost no trees. Therefore, ESDO engaged the villagers in tree plantation. This was done in association with the Forest Department (FD), Bangladesh. The sapling were provided by the FD. The villagers were responsible for taking care of the saplings. Of 3 plants, FD was the owner of 1 plant, and villagers were the owner of 2 plants. The plants were distributed following this proportion.
More than 80% people were found to be suffering from diseases like diarrhea, typhoid fever, cholera, jaundice. The most common problems were chronic stomach pain and skin diseases. We showed them that open defecation, chemical fertilizers and pesticides were causing these diseases. We were also able to convince them that following our instructions will help them get rid of these diseases and save money that they had to spend for doctors and medicine.
ESDO set up 550 composting toilets for 500 families and at market places, mosques and schools. Moreover, ESDO engaged them with organic farming which produce no pollutant.
When ESDO started, the no. of people impacted were 2700 and 6000 when the program ended. This figures show that community participant grew day by day because of ESDO's intervention.
The enabling conditions were: a) most of the villagers were actually good and humble people, b) we predominantly worked with women, c) though the literacy rate was very low, villagers were very keen to learn.
Our key success factors were our perseverance, determination and untiring effort. Besides, we did not lose our faith in the community.
The most difficult challenge was to enter the village convincing people that ESDO will not make profit of their misery. We told them that we will not be involved in any financial transaction, rather we will provide them with tools to tackle water pollution which will benefit their health and life ultimately.
Describe the leadership for your solution. Who is leading the implementation?
The no. of people involved in the program at the beginning were almost 2700. Most of the male members were either fishermen and boatmen. The female members were involved in agriculture and homemaking. As the male members were not available during the daytime. Therefore, we targeted female members to be our participant. The women took active part in all our activities.
The women were made the leaders of the community based organization (CBO) that we formed. They lead other male members and female members of the CBO. Women actively participated in building composting toilets, setting up tube-well, organic farming and tree plantation.
Moreover, people of all ages got involved in our initiative eagerly.
Share some of the key partners or stakeholders engaged in your solution development and implementation.
Our Key partners were-
Forest Department, Bangladesh
Relief International
RMIT University, Australia
Australian Aid
Our key stakeholders were-
Local government
Educational institutions
Religious leaders
Shop owners
Farmers
Who adopted the desired behavior(s) and to what degree? Include an explanation of how you measured a change in behavior.
Using composting toilet is very crucial to be in good health. Villagers, not  being able to afford composting toilets was related to their economic condition primarily. A very few people were reluctant to use backyard composting units. When we informed them about the health benefits and financial benefits associated with it, those people were convinced.
Similarly, organic farming was adopted by every family. As organic farming is cost effective, people were enthusiastic to get involved in organic farming. In organic farming, people did not have to buy any chemical fertilizer and pesticide which pollutes water. Moreover, they could use their organic waste to make compost fertilizer which also polluted water because of their previous practices.
ESDO conducted survey on local people, CBO leaders, local representatives and other stakeholders to assess the behavioral change. We found a paradigm shift among all villagers regarding water pollution.
How did you impact water pollution? Please be specific and include measurement methodology where relevant.
The use of composting toilets instead of open defecation, practice of organic farming instead of using chemical fertilizers and pesticides, making organic fertilizers from organic waste instead of dumping those everywhere reduced the water pollution by the villagers to an unprecedented level of approximately zero.
We measured the impact of our initiative to reduce water pollution by indirect method. We surveyed people to know whether they were suffering from any waterborne disease or not. We found that only 5% people were suffering from waterborne diseases whereas before ESDO's intervention more than 90% people were suffering from waterborne diseases.
Moreover, a heavily polluted pond where there even were no fish was revived due to ESDO's initiative. Water birds, snakes, monitor lizards, frog, different kinds of fish returned to the pond. This revival of biodiversity also was an indicator of stopping water pollution through behavioral change.
How has your solution impacted equity challenges (including race, gender, ethnicity, social class/income, or others)?
ESDO always focus on empowering the marginal and unprivileged group. The ECO VILLAGE - 2 project itself targeted to improve the life of marginalized people who were also being exploited by various organizations.
Within the project we targeted the women to take the leadership as they were always available and farming practice was done by them. Each activity (setting up composting toilets, tube-well, organic farm land, backyard twin posting units, community fair, tree plantation, etc.)of the project was led by women. Furthermore, we involved the youth to our initiative by forming two school green club so that they can take future leadership.
What were some social and/or community co-benefits?
Social and/or community co-benefits:
Through organic farming practice, villagers were able to save money as they did not have to buy fertilizers and pesticide anymore. Reducing water pollution ultimately benefited the villagers.
Using composting toilets increased health safety.
Both organic farming practice, and using composting toilets protected villagers from waterborne diseases as water pollution was reduced. These also helped them saving money from medical and health related cost.
What were some environmental co-benefits?
Environmental co-benefits:
Tree plantation helped villagers in income generation as well as adapting climate change.
Keeping pond undisturbed and pollution free revived the biodiversity to a great extant which indicated the good condition of environmental health.
Organic farming practice kept the crop fields free from chemical pollution which let birds, specially water birds to arrive in large number. Besides, number of frogs, snakes increased leading to ecological balance.
What were some sustainable development co-benefits?
Sustainable development co-benefits:
Organic farming practice is the way of sustainable farming. So, the villagers will keep on benefiting from this practice without any environmental impact.
Tree plantation practice and taking the ownership to take care of the planted trees will generate money and reduce carbon from the environment.
Access to safe drinking water will ensure long term health safety.
Sustainability: Describe the economic sustainability of your solution.
As already mentioned, the villagers ESDO worked with were very poor. They did not have the ability to afford the tools we provided. Therefore, we relied on grant funding and ESDO members contribution. We received no government subsidies. But, the FD, Bangladesh provided the saplings of the tree plantation program.
The solutions we implemented are sustainable and economically viable. The amount of fund we received and raised in a span of 9 years is not a very big amount compared to the magnitude of works we completed in 11 years. The solutions are still functioning, and the community has improved their financial condition as well as the condition of their environment using our solutions.
Return on investment: How much did it cost to implement these activities? How do your results above compare to this investment?
Total money spent in the project: 100,00,000 BDT (117899.50 USD).
Fund received (Australian Aid):
700,000 BDT (1995)
1,800,000 BDT (1998)
1,500,000 BDT (2001)
Each donation timespan was 3 years.
ESDO member donation:
6,000,000 BDT
ESDO's impact on the life and environment of the people of Char-Hogla outstand the money that was invested. This eco-village or a pollution free village is a model village for the whole world, not just for Bangaldesh. We can proudly say, our initiative had an unprecedented positive impact with almost 100% success rate.
How could we successfully replicate this solution elsewhere?
Yes, a similar type of project was implemented at three villages of Rangpur District, Bangladesh. The number of direct beneficiary were 1500 whereas the project had impact on the whole community.
This type of project can be implemented in any community that has similar socio-economic and environmental structure.
No. of beneficiary for replication: Direct -800, Indirect-2000
Timespan: 3 years
Required Funding: 22,500,000 BDT (265554.23 USD)
Key Stakeholders: Local people, Department of Environment, Forest Department, Directorate General of Health Services, Local Government, Local representatives, SMEs.
Training and Materials: Capacity building training for local people on organic farming practice, preparing backyard composting units and tree plantation; environmental education for local people and youths; posters, flyers, stickers for educational purposes to tackle water pollution which might add microplastic, composting toilet preparation tool