An Overview Of Our Solution
The solution is to reduce marine plastic pollution and set the groundwork for behavior change in using more environmental friendly floating materials in Cat Ba archipelago and Ha Long Bay in Vietnam. Through a campaign focused on the main sources of marine pollution in the area 1) research, piloting and scaling-up of environmentally friendly technological solutions to reduce polystyrene break down from buoyancy devices in floating aquaculture farms, 2) working with Ha Long-based fishermen to stem their contribution to the problem, and 3) a general public awareness-raising campaign and marine debris monitoring that will increase the community's engagement in reducing marine plastic pollution. Local authorities will also be engaged for policy advocacy and to drive the implementation of regional action plans to to reduce marine debris in the area.
Who is this solution impacting?
Ecosystem

Community Type

Additional Information
Population Impacted 1000000
Continent: Asia
General Information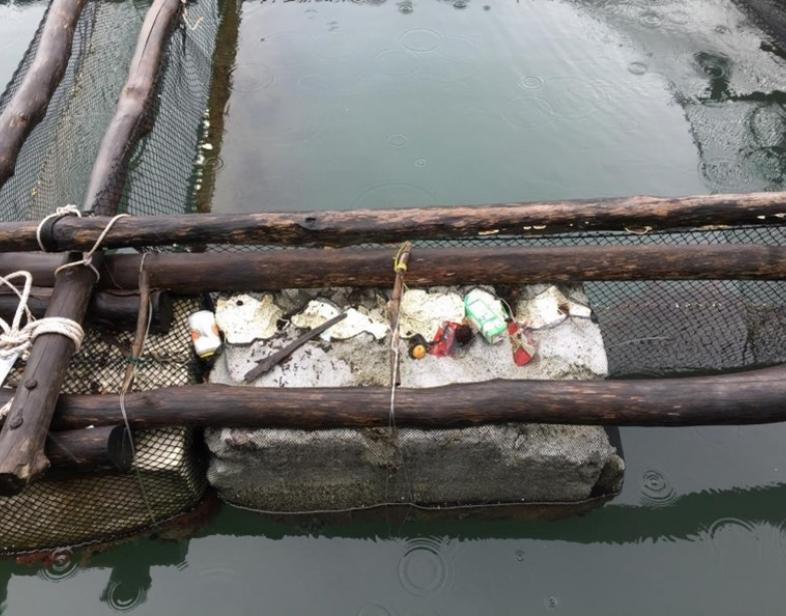 Organization type
Nonprofit
Email
hoa.tran@greenhub.org.vn
Challenge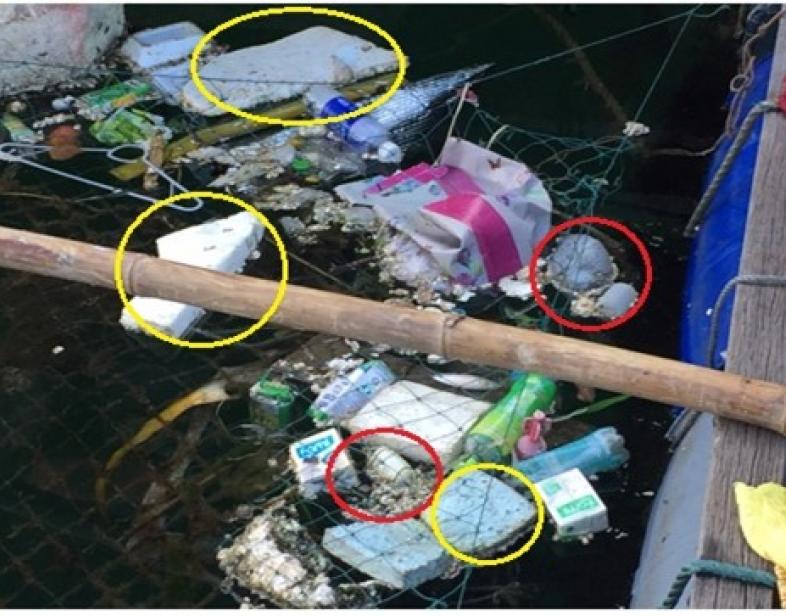 Context Analysis
For 2016 - 2018 period, GreenHub, in collaboration with the International Union for Conservation of Nature (IUCN), Ha Long Bay Management Department and other  organizations organized four "Action for A Green HaLong" /coastal clean-up campaigns in Ha Long Bay. Total 60 000 items collected, in which more than 50% is polystyrene from Styrofoam buoys for aquaculture farms.
The campaign put a strong emphasis on the importance of data collection in clean-up events and monitoring visits of wastes and pollution sources to timely inform the decision making process (ban the use of foam buoys in Quang Ninh). However, the farmers find stuck, do not know what kind of floating materials, most of them still use Styrofoam buoys, some of them select the old barrels (containing paint solvents or even hazardous chemicals). In 2018, GreenHub developed aGreenBays project to address the problem of reducing styrofoam waste and find alternative materials that are more environmentally friendly.
Solution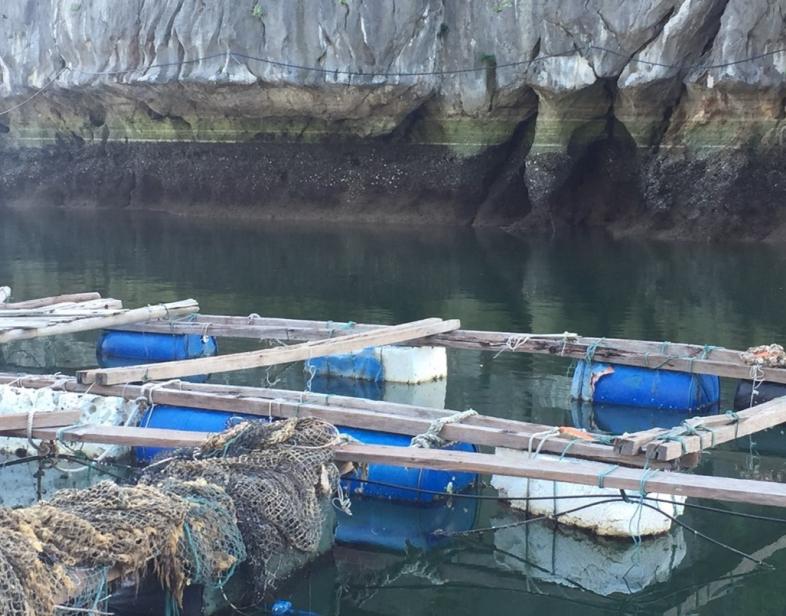 Describe the technical solution you wanted the target audience to adopt
To reduce polystyrene break down from the styrofoam buoys in aquaculture discharged into the marine environment, GreenHub searched for many alternative solutions (sustainable materials to cover the buoys, organic-based material, composit, etc). There are not really exhaustive choices (alternative materials either have certain disadvantages, or are too expensive, or too cumbersome to make the switch change). After carefully consulting, GreenHub came up with idea of using LINE-X (https://linex.com/). LINE-X protective coatings have been used to safeguard bridges, farm equipment, construction equipment, boats, trailers and much more. The coatings are specialized, high-performance spray-on elastomeric coatings engineered for maximum durability and limitless application potential. Commonly used and applied to many subjects, however, Line X paint has never been used to cover styrofoam buoys for the fisheries industry. GreenHub became the first organization to experiment with the pilot.
Describe your behavioral intervention.
GreenHub shows evidences of polystyrene (top plastic waste) as well as impact of leaked chemicals to the sea (died fishes) to local authorities and farmers. GreenHub works with Line-X enterprise to provides evident of Line-X quality, commit at least 10 years of Line-X coated buoys sustainability, compare to about 3 years of no coated material. GreenHub reports to local authorities for permission to pilot 100 Line-X-coated buoys on Ha Long Bay, collaborate with Van Chai Cooperative to pilot the Line-X coated buoys in aquaculture farms on the bay. Both the government and local farmers have the information, directly use and monitor the Line-X coated buoys and can improve  quality of products according to their experience and in accordance with the actual conditions. GreenHub fully supervises and supports the improvement process (wood splints, mesh covers help increase the life of the buoys). When Quang Ninh province issued a local regulation on floating buoys, GreenHub held meetings between the Line-X coated buoy supplier and the local government. Enterprises see favorable policies, actively send samples to National industry chemical institute to obtain certification according to the Standards, at the same time they also mobilize resources and find directions to reduce costs (down 15-20 USD / float). Thus, within the framework of the regulations of the government and the enterprise is committed to providing standard buoys and affordable prices.
Behavioral Levers Utilized
Emotional Appeals
Information
Material Incentives
Rules & Regulations
As needed, please explain how you utilized the lever(s) in more detail.
Information about Styrofoam waste ranked No. 1 among plastic waste in Ha Long Bay area and about the effects of Styrofoam waste on the marine environment (both losing the landscape, directly affecting marine life, etc) is shared widely shared through official reports to local authorities, through the media, through working sessions, and seminars to share information. Information on the quality of Line-X materials, implementation pilot models, businesses involved, technical specifications, prices are widely shared. Making comparisons among materials, the Line-X provider's commitment is at least 10 years of durability and price support, helping aquaculturists feel secure when choosing this product. Advocacy: Regulations on the use of foam buoys must be coated with Line-X material of the People's Committee of Quang Ninh province; Floating buoys regulation.
Implementation
Describe your implementation
GreenHub organize the seminar "Environment-friendly solution for floating materials in aquaculture " in 2018, aiming to introduce Line-X solution used in floating aquaculture farms. The workshop received many  comments from participants to take measures to complete the pilot model. Then, GreenHub support Van Chai tourist service cooperative piloting styrofoam buoys covered Line-X paint in Ha Long bay. GreenHub keeps conducting surveys on status of products.
On September 5, 2019, Document No. 6419/UBND-MT on enhancing environmental protection in aquaculture activities and construction of floating works in the province stipulates: "Case Using styrofoam buoys is required to coat Line X paint on the surface to increase the durability of the float, resist impact, compression, prolonging during use". On August 31, 2020, the local technical regulation on materials used for buoyancy in brackish and salty aquaculture in Quang Ninh was the first floating float regulation to be issued in Vietnam to minimize waste foam into the water.
Success is 1) based on data and evidence. Sticking to the inherent spirit of the organization: GreenHub believes that in order to find suitable and thorough solutions, it must come from the scientific bases that have invested in research and research of the problem; 2) The participation / direction of government through policy. With the given evidence and the encouragement of GreenHub, local authorities have trusted and actively supported the project; 3) the enthusiastic participation of businesses and people (clear business model). 
During first pilot, 8/15 styrofoam buoys covered Line-X paint were torn edge, which 6/8 buoys impacted by heavy load and slight thin edges. GreenHub support to replace the destroy styrofoam buoys by improved ones (round the edges, wooden splints and mash wrap). Besides, the cost of product is still high, we work with enterprises to reduce the cost.
Describe the leadership for your solution. Who is leading the implementation?
GreenHub was the first organization to work on  styrofoam buoys Line-X coated. Director of GreenHub (Ms Hoa) directly lead the implementation. We collaborate with International Union for Conservation of Nature (IUCN) and other partners for campaigns, data collection, involved more than 500 youth. We collaborate with researcher, scientist and business to find the technical solutions. We work with authorities at local and national level to advocate for regulation on floating materials as well as pilot model permission and result adoption. We work with aquaculture and tourism cooperatives, farmers for the pilot. We do documentation and share with media and engage them in this story, then they understand and communicate about this solution to public. then, even after GreenBays project end, the Line-X enterprise invest to build factory, make certification, as well as policy support.
Share some of the key partners or stakeholders engaged in your solution development and implementation.
After identifying interested parties, GreenHub, together with International Collaborational Centre for Aquaculture and Fisheries Sustainabilility (ICAFIS) and Van Chai Cooperative, constantly surveyed and explored alternative solutions. GreenHub also invited people from Hue Industrial College to develop an alternative solution entirely from organic but not suitable for the circumstances compared with marine species clinging to buoy and eating them.
Seeing that if only the organization or the people were involved, the results might not be feasible, the GreenHub connected with the parties and happened to find a solution on the paint Line X. GreenHub developed a scoreboard and scored. for each criterion, find a solution that meets the set objectives.
We work with Ha Long Bay Management Board to ask permission of pilot Line-X coated buoys in the Bay, we do the sharing workshop with stakeholders including Marine aquaculture association, Institute of fisheries Planning and economic , Dirctorate of Fisheries, Environmental Technology Institute, Marinetime University, etc.
After choosing the Line X coating buoy, our organization immediately mobilized the participation of business, together with the Line-X Paint Distribution Enterprise to have meetings with the Department of Agriculture and Rural Development to present solution. The coordination between the parties helps GreenHub to see the problem in an overview and becomes the necessary bridge to provide practical solution.
Who adopted the desired behavior(s) and to what degree? Include an explanation of how you measured a change in behavior.
For fishermen in the project areas piloting the Line X coated foam float replacement model: Having see the remarkable advantages of this alternative material, 100% of fishermen using the pilot buoys continued to use Line X coated foam buoys. They gradually replaced their old buoys, aiming to convert 100% of existing floating materials at by coated float meets the required technique.
For the remaining fishermen: According to the Roadmap of Decision No: 31/2020/QD-UBND promulgating local technical regulations on materials used as floats in aquaculture brackish and salty seafoods in Quang Ninh of the Provincial People's Committee, From 1st Jan, 2021: Brackish and salty aquaculture establishments New investments must meet the requirements. From January 1, 2023, all floating cages have to meet the requirements. So in the next 2 years, the degree of enforcement of this alternative will be compulsory for all aquaculture farmers in Ha Long Bay.
How did you impact water pollution? Please be specific and include measurement methodology where relevant.
we reduce styrofoam waste (the largest plastic waste in Ha long bay), mostly in small items (very difficult to collect), reducing chemical leakage from old plastic drums used as buoy.
Direct: reducing the number of styrofoam entering the seawater environment (through clean-up sessions, and waste tallying, the waste tallying method in Ha Long by the Ocean Conservancy method (count items), tens Thousands of styrofoam pieces will be collected along the coast of Ha Long and millions of porous pieces will be prevented from entering the seawater environment here.
It is possible to reduce hundreds of liters of chemicals leaked into the seawater environment, according to the method of direct interviews with aquaculture farmers here, each old plastic drum contains 0.5 liters of chemicals, after 1-2 Years of use of the distorted drum and cracking these chemicals will leak into the marine environment.
How has your solution impacted equity challenges (including race, gender, ethnicity, social class/income, or others)?
Quang Ninh province issued Decision approving "Environmental planning of Ha Long Bay to 2020, vision to 2030", Project of onshore migration - ensuring security. fishermen gave birth to a part of fishermen who did not adapt to life on the mainland. Therefore, the province has planned a group of people to continue to stay and maintain the marine profession. These are people who need attention due to their livelihood associated with fisheries, habitat associated with marine environment.
When looking for alternatives of buoys, we are very considerate: whether the option is coverable, whether it is easy to implement. (In fact, when Quang Ninh province decided to ban foam buoys, people rushed to buy drums to replace floating materials. The price of an old plastic drum from 10USD was pushed up 4 times caused many people to struggle.
Therefore, the we surveyed the feasibility and planned a detailed calculation and analysis to select the pilot and fully report it to local authorities.
What were some social and/or community co-benefits?
Halong Bay has long been recognized as a World natural heritage Implementing an alternative to the Line X coated foam float has minimized a large amount of styrofoam waste leaked to the sea. Besides, many tourists surveyed pointed out that they will not return to Ha Long Bay due to too much trash and polluted environment. This solution protect the landscape of the bay, ensuring water quality not being polluted, contributing to enhancing tourism services and ensuring people's lives.
What were some environmental co-benefits?
In addition to minimizing porous waste washed into the sea and protecting the aquatic environment from pollution, our solutions ensure the sustainable growth of ecosystems and marine species in general ( not only seafood but farmers farming).
We believe that the closed cycle of nature is what helps life to be balanced and sustainable. If you break the important links and break this cycle, people will be subject to bear the immeasurable consequences in the future.
What were some sustainable development co-benefits?
The Line X coated buoys has a lifespan of at least 10 years - longer than most of the types of floating structures we've studied for replacement. With a long lifespan and sustainable materials, foam buoys are less likely to be discharged into the environment, becoming a suitable substitute for floating structures in current aquaculture. Furthermore, the supplier Line X has committed: the business will be responsible for recovering damaged coated buoys and having a treatment procecess.
Sustainability: Describe the economic sustainability of your solution.
The Line X paint supplier did not just stop at importing paint from the US. They saw the potential to build a private factory in Quang Ninh province.
According to the Roadmap of Decision No. 31/2020/QD-UBND (Regulation of floating buoys) of the Provincial People's Committee, in 2023, hundreds of thousands of styrofoam buoys will be replaced in aquaculture in Quang Ninh province. From 1st, Jan, 2021 all new establishments have to follow the regulation. from 1st, Jan, 2023 all (old and new ones) have to follow the regulation.
Thus, the impact of policies along with the entry of the business will make the operating model based on market-based revenue.
Return on investment: How much did it cost to implement these activities? How do your results above compare to this investment?
During nearly 3 years of implementing the Green Bay project, we spent about $ 90,000 on the cost of surveying, researching alternatives, selecting – implementing and monitoring a pilot model, meeting and advocacy, media and human resources. At such a cost, the end result exceeded our expectations. Policies related to using styrofoam buoys in aquaculture have been applied to the policy documents at the provincial level and being drafted at the national level.
The business took the initiative to step in, investing $ 1 million in building factories, technology and local resources to continue this solution. This will be the foundation to change the face of the province, towards economic development in parallel with environmental sustainability
How could we successfully replicate this solution elsewhere?
Since have just been officially recognized by the authorities for the technical standards of the solution, we haven't replicated this solution where else. But the Management Board of the Cat Ba Islands Bay - the locality also belongs to the Green Bays project, has known the Line X coated model and found it extremely clever. So GreenHub has connected with enterprises and the authorities of Cat Ba, Hai Phong so that they can exchange and test the model.
In Vietnam, most of the coastal provinces are aquaculture, more than half use floating materials to grow fish and mollusks. So the potential for model replication is enormous. We believe Line X will be responsive to other regions as well.
In the future, if there is a support budget of about $ 15,000, GreenHub wants to work with Hai Phong City People's Committee, Cat Hai District People's Committee, Management Board of the Cat Ba Islands Bay for training, study visits, sharing workshops, and operation to replicate the project