An Overview Of Our Solution
Disposable foodware makes up 67% of litter in commercial streets, much of which ends up in our waterways (8 million tons enter the ocean each year). ReThink Disposable centers around quantifiable, upstream solutions to prevent single-use foodware waste by working with government, businesses, institutions, and consumers to implement circular reuse systems. ReThink Disposable changes behavior of both consumers and businesses- leading to less single-use plastics at all levels of production and consumption. Our behavioral change methods to stop waste at the source have prevented 189 million single-use foodware items from ever being used in the first place (based on annual impact data since 2011). The biggest win is that we've proved time and time again that source reduction results in significant savings for businesses.
Who is this solution impacting?
Ecosystem



Community Type


Additional Information
Population Impacted
Continent:
General Information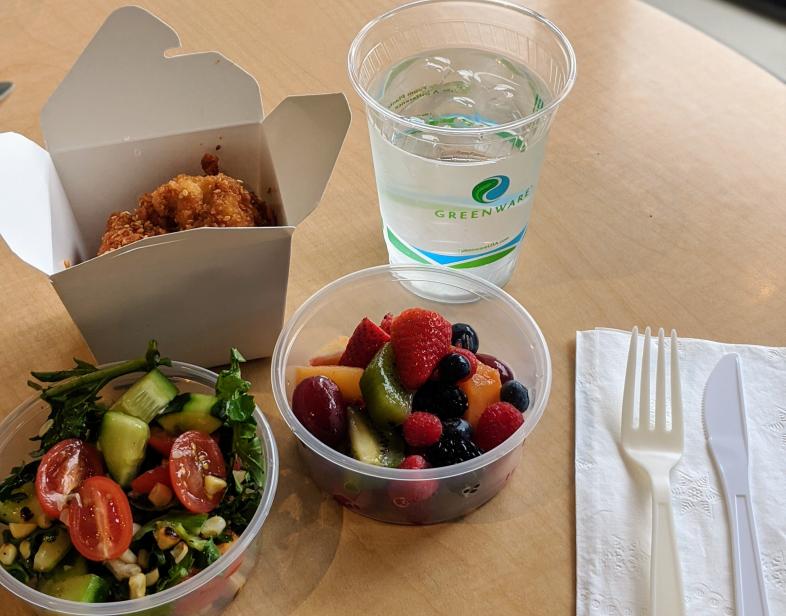 Organization type
Nonprofit
Email
jclary@cleanwater.org
Context Analysis
It's a global waste issue: 35 million tons of plastic enter the ocean each year; 80% of plastics and trash in the ocean originates on land as street litter, garbage that's blown out of landfills, or illegally dumped trash; 67% of that street litter is food and beverage packaging. The sources of most of these products are take-out food and beverage-related businesses. In the U.S. alone, this tsunami of trash is made up of items such as the 120 billion disposable cups used each year and 500 million straws used each day. It's a toxics issue: current research demonstrates that toxic additives in food packaging are wreaking havoc on human health, water, and the soil. Many additives found in disposable food packaging affect the reproductive development of children. It's an environmental justice issue: landfills and plastic production plants are located near communities of color. 
Describe the technical solution you wanted the target audience to adopt
ReThink Disposable's technical solution gives people the tools and know-how to create food-service systems that reduce single-use items going out the door or into a bin. We work with mostly restaurants, but also cities, counties, schools and individuals to design long lasting solutions that disrupt the current system. Our technical assistance team conducts comprehensive, direct outreach to problem solve how to transform food service operations from disposable to reuse-centric systems. This involves carefully calculating how many disposables a business is using (and at what cost), finding sustainable alternatives, helping the business phase out disposables (by working with both the business and customers to make sure the behavioral change is carefully managed), and then following up to collect data on the amount of waste prevented from entering the waste stream and dollars saved.
Describe your behavioral intervention.
Making personal connections with food operators is at the heart of ReThink Disposable. CWF has engaged 1,500 businesses and certified 240 food service businesses and 10 institutions (corporate and academic campuses) as ReThink Disposable participants. Participants see an average annual reduction of 110,000 pieces of disposable packaging items, preventing 1,300 pounds of waste each year from needing sorting, hauling, or processing. Small businesses are saving between $3,000 - $21,000 annually (reflects setup and ongoing costs to sustain the new operation including reusable foodware, infrastructure upgrades, labor impacts, and water use). Our rich pool of data and expertise in helping businesses assess annual net cost savings and payback period, are big drivers of change.
We give business owners an average of five hours of our time to help with the reusable transition. We help with finding the right durable items, grant writing, creating social media content, and have even installed shelves. We also offer prebates to offset the purchase of reusables.
We've found that restaurants are excited to do this work because of: savings (less purchase of disposable items), reduced waste hauling costs, increased customer loyalty, and feeling that they are doing the right thing. A 2020 survey of ReThink Disposable participants found that 79% of respondents plan to return to reusables or want to go reusable even in the midst of the pandemic, but need a little help.
Behavioral Levers Utilized
Choice Architecture
Emotional Appeals
Information
Material Incentives
Rules & Regulations
Social Influences
As needed, please explain how you utilized the lever(s) in more detail.
Choice Architecture: We work directly with businesses to change operations--making the remaining choices sustainable (i.e. only putting reusables in self-serve area).
Emotional Appeals: Via social media, direct contact, and infographics, we encourage change at the institutional level and the individual level.
Information: Our Case Studies include quality, research based data on source reduction, savings, and overall impact on waterways. 
Material Incentives: Our technical assistance to businesses comes with financial incentives (prebates, grants) to offset the cost of reusables or upgrades.
Rules & Regulations: Our partner 501(c)4 r organization, Clean Water Action, advocates for regulatory change so that we can focus on person to person and business interactions. 
Social Influences: We work with customers in order to build movement towards new behavior. This is through social media influencers, social media, and word of mouth.
Describe your implementation
Results from 240 ReThink Disposable businesses have shaped our recommendations for best practice and operational changes needed to support packaging reduction and transition to reusables. With unique and individualized recommendations and support provided by our team, businesses report they are thrilled with the changes, share that many of the barriers to implementation were perceived challenges, and plan to continue with the new reusable operation. ReThink Disposable has been implemented in the Counties of San Mateo, Alameda, Santa Clara, Cities of Berkeley, Alameda, San Francisco, Los Angeles, and the Town of San Anselmo, and will be piloted in Colorado this year. CWF recently completed a successful pilot in partnership with the California Coastal Commission and the California State Parks Division of Boating and Waterways to reduce single-use disposable foodware at six Northern California yacht clubs. One yacht club earned $3,000 in annual net cost savings, reduced generation of 42,774 disposable items, weighing 1,123 pounds, from entering the waste stream each year. Another yacht club was able to adjust its trash hauling service to save nearly $3,000 per year. A third club championed ReThink Disposable's first ever reusable take-out clamshells for their clubhouse restaurant.  
The common thread for the success of all ReThink Disposable projects is our strong partnerships with municipalities, business leaders, and community members. When obstacles are encountered (for example a city may change its policy towards a certain type of plastic), we are able to creatively address them, thanks to our strong network of thought leaders. As the pandemic continues, we have been a source of reliable information for our business partners to continue source reduction despite changes in service methods. Collaboration is at the heart of our work and we see lasting behavior change because of this collaboration.
Describe the leadership for your solution. Who is leading the implementation?
Grace Lee joined the team in 2018 and is the Program Director. Ms. Lee has worked throughout California to implement circular reuse systems anywhere there's food packaging. Ms. Lee has over 14 years of experience in sustainability, environmental education, public engagement, partnership building, and orchestrating projects centered around water quality and behavioral change.
Vanessa Pope works directly with restaurants on the important work of phasing out single-use plastics from food serviceware. Vanessa is an educator by profession, with degrees from Harvard (Visual/Environmental Studies) and USC (Education Administration).
Jennifer Clary is the California Director of CWF, bringing 18 years of experience in nonprofit project management. Her prior career in local retail gives her a unique perspective on the challenges and concerns of the small businesses that are the heart of ReThink Disposable.
We also team up with multilingual consultants to further expand our reach.
Share some of the key partners or stakeholders engaged in your solution development and implementation.
ReThink Disposable was founded by Miriam Gordon, who currently runs Upstream Solutions. Upstream, along with several other non-profits, are valuable thought partners in the fight to end single-use plastics. We have connections to: Oceanic Global, Clean Seas Coalition, 5 Gyres, Surfrider, High Road Kitchens, and many others-- including countless municipalities, institutions, and industry folks.
ReThink Disposable works with participating businesses and institutions to identify and implement packaging reduction best management practices. All disposable packaging targeted for minimization or elimination is tracked and measured through an audit process. Program impacts, program accomplishments, quantity of disposables and waste reduced, cost savings, payback period, and greenhouse gas reductions are calculated. To date, CWF has conducted three business community surveys to support local single-use food ware legislation, certified 240 small businesses, provided consultation and technical assistance to Genentech, University of San Francisco, Microsoft, and Palo Alto Unified School District. ReThink Disposable won the 2015 Governor's Economic and Environmental Leadership Award (CA), 2016 California Resource Recovery Association's Outstanding Waste Prevention Award, and 2020 California Product Stewardship Council Bow and Arrow Award. Several businesses participants have received awards and recognition from local government agencies, mayors, and city councils.
Who adopted the desired behavior(s) and to what degree? Include an explanation of how you measured a change in behavior.
To date, CWF has conducted three business community surveys to support local single-use foodware legislation, certified 240 small businesses, provided consultation and technical assistance to Genentech, University of San Francisco, Microsoft, Google, and Palo Alto Unified School District. ReThink Disposable won the 2015 Governor's Economic and Environmental Leadership Award (CA), 2016 California Resource Recovery Association's Outstanding Waste Prevention Award, and 2020 California Product Stewardship Council Bow and Arrow Award. Several businesses participants have received awards and recognition from local government agencies, mayors, and city councils.
Behavior change is measured by our foodware audit calculator and each partnering food operator undergoes an exit interview. Our team collects owner reported data and/or comb through receipts and invoices to analyze product procurement before and after implementing ReThink Disposable recommendations.
How did you impact water pollution? Please be specific and include measurement methodology where relevant.
ReThink Disposable has prevented over 21 million plastic items (per year) from entering the environment, including the ocean and waterways; we have saved businesses close to $700,000, and have prevented the use of over 260,000 (per year) pieces of disposable single-use plastic. The impact ReThink Disposable has had on water pollution goes beyond our direct efforts with restaurants. Much of our work involves advocacy, social media, outreach, building relationships with businesses; there are unmeasured impacts as well, as our organization helps move people toward new attitudes about single-use plastics.
How has your solution impacted equity challenges (including race, gender, ethnicity, social class/income, or others)?
"Minority and low-income neighborhoods and communities in transition are disproportionately targeted. . .That's one conclusion from a new environmental justice study who analyzed. . .the placement of U.S. hazardous waste facilities." -according to the Michigan News. Trash dumps disproportionately affect low-income neighborhoods and the effects of the toxicity of plastic also disproportionately affects those communities. Current research shows that the toxic additives in fiber molded compostable food packaging are injecting "forever chemicals" in humans, water resources, and soil. Single-use disposable food packaging contains a suite of additives that are known or suspected carcinogens or endocrine disruptors. The FDA rescinded its approval for use of three such fluorinated chemicals from food contact materials due to associated heightened risks of cancer, toxicity, and other health effects. Other PFAS chemicals have similar chemical structures, and may pose similar risks.
What were some social and/or community co-benefits?
Aside from city beautification with less trash, data from the most recently certified businesses shows our program's cumulative annual net cost savings to restaurants and individuals to equal $653,693. By switching from single-use to reusables, small businesses see an ROI on their durable foodware and annual net cost savings of $3,000 to $21,000 from eliminating the constant need to restock inventory. These savings are often reinvested into staff, new positions, and back into the community.
What were some environmental co-benefits?
Data collected over more than 20 years of Coastal Cleanups consistently shows that single-use disposable food and beverage packaging are among the most common items found on beaches and inland waterways, comprising seven of the top ten categories: food wrappers/containers, caps/lids, cups/plates/utensils, straws/stirrers, glass beverage bottles, plastic beverage bottles, and beverage cans. Microplastic (plastics <5 mms) pollution in water and soils around the world is also a severe problem.
What were some sustainable development co-benefits?
Food and food packaging materials make up almost half of all municipal solid waste. Packaging sent to landfills does not degrade quickly or, in some cases, at all, and chemicals from the packaging materials, including inks and dyes from labeling, leach into groundwater and soil. Plastic food packaging produces greenhouse gases. Landfills emit ammonia and hydrogen sulfide and incinerators emit mercury, lead, hydrogen chloride, sulfur dioxides, nitrous oxides and particulates.
Sustainability: Describe the economic sustainability of your solution.
While mostly grant and government contract subsidized, the organization charges small fees for its consulting work. Currently, the technical service provided to municipalities and institutions is a direct and important funding source. The only tricky issue here is that the pandemic has hampered the ability of many restaurants and municipalities to pay for "extra" services of any kind.
Return on investment: How much did it cost to implement these activities? How do your results above compare to this investment?
To share just one case study, Hang Ten Boiler served in a variety of single-use disposable plastic and fiber containers. With ReThink Disposable's support, they invested $2,066 to purchase reusables. As a result of implementing ReThink Disposable's recommendations, Hang Ten Boiler has reduced the use of 12 different types of disposable foodware items targeted for reduction or elimination by an average of 73%, earns $3,988 in annual net cost savings (reflects the setup cost of $2,066 and the ongoing cost of $11,956 for dishwashing), reduced 318,271 disposable items per year and 7,551 pounds of annual waste reduction, made a full transition from disposable foodware packaging to reusables for onsite diners, and created one new job.
How could we successfully replicate this solution elsewhere?
ReThink Disposable has worked with over 240 businesses, along with municipalities, institutions and individuals. As an organization, we have proven that reusables are a cost effective and sustainable solution-- and one which requires just a small initial investment for reusables (average of $290 per business). We've conducted "train the trainers" to implement ReThink Disposable and can be replicated for anyone, anywhere.  We would train technical support staff in the methods of evaluating a business, coaching a business owner, sourcing products, and training customers and staff. ReThink already has a plethora of materials, information and infographics to use during transitions-- which will make the transitions smooth and seamless for customers and staff. While each city/region has its own particular characteristics, ReThink's methodology involves building relationships with local health department officials, business owners, and individuals to ensure lasting success.