An Overview Of Our Solution
Water shortage is a pressing issue in China, but most people are unaware of the amount of water required for food and especially meat production. Due to the convenience of restaurants and take-out apps, people are losing the incentive to think critically about the impacts of their food choices. Green Initiatives, a non-profit environmental organization in Shanghai, launched the campaign "Treat Without Meat" to encourage plant-based meal sharing. Participants were asked to share one meatless meal with their friends and then pass on the challenge to their guests. We set a campaign goal of achieving 650 shared plant-based meals and asked participants to send in photos of their meatless meals or use the hashtag #TreatWithoutMeat as a way of tracking campaign progress. and calling awareness to the impacts of individual and collective consumption choices.
Who is this solution impacting?
Ecosystem

Community Type

Additional Information
Population Impacted >697
Continent: Asia
Challenge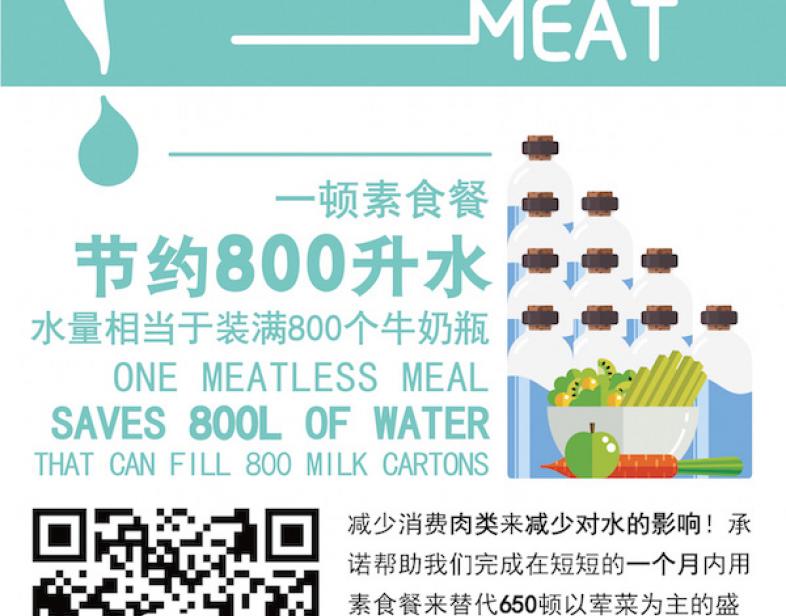 Context Analysis
Water shortage is a pressing issue in China, but many people are unaware of the scale of water usage in food production, even though it accounts for 92% of all water usage with almost one-third relating to the production of animal products. Due to the convenience of food in Shanghai, people are losing the incentive to think critically about the impact of our food choices . Building a convincing argument for local Chinese to reduce meat consumption faces complex sociocultural challenges, as meat is at the heart of many traditional Chinese dishes and advertising continuously promote meat as representative of progress and prosperity. Most people still cherish the social value of sharing a meal with family and friends. Green Initiatives wanted to take advantage of this preexisting connection, nourish it into a greater awareness for the impacts our eating has on the environment and our body, and use it as a call to action to 'eat for change'.
Solution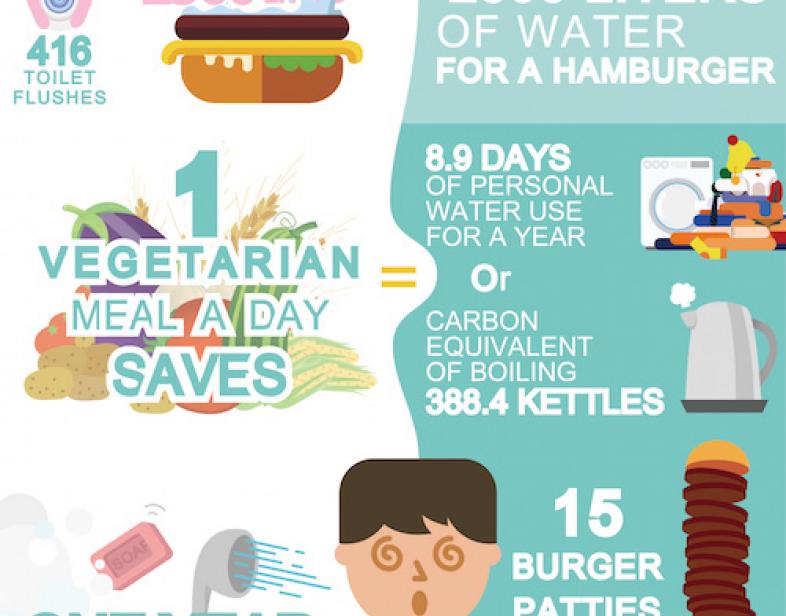 Describe the technical solution you wanted the target audience to adopt
GI wanted to tackle the issue of water usage in food production by encouraging more people to recognize the impacts of their food choices and adopt plant-based diets. GI wanted people to recognize the impact of their individual food choices and choose more plant-based meals to consciously "eat for change".
Type of intervention
Emotional appeal
Social incentives
Describe your behavioral intervention
The "Treat Without Meat" campaign encourages consumers to first become aware of the impact of their food choices on the environment, and then take a simple action to mitigate the negative impact. Participants are asked to share one meatless meal with their friends and then pass on the challenge. To keep track of campaign progress, we asked participants to send us photos of their meal on WeChat or use the hashtag #TreatWithoutMeat on social media. The infographics promoted on our social media platforms equated abstract quantities in the meat production processes to terms meaningful to the general audience, e.g. participant's choice of having one vegetarian meal equals an impact of saving 800 L of water (USGS). In so doing, we helped our participants recognize the power of their individual food choices. We made change easy by asking participants to do a simple act without long-term commitment. Substituting just one meatless meal is appealing and accessible for most people. By providing the data of their impact in conceptually fun comparisons, we leave the participants with an inspired and motivated feeling instead one of feeling helpless or overwhelmed.
As needed, please explain the type of intervention in more detail
Our infographics give relevance to abstract quantities and processes to "demystified" the meat production process and establish a connection between consumer food choices and the environmental impacts of food production.
We relied on photo sharing in social media to make meatless meals a social trend. We gave participants a sense of engagement with the campaign by setting a collective goal of saving 500,000 L of water or sharing 650 meat-based meals. As we continuously updated the community on the campaign progress, participants felt as if they were contributing towards a greater, collective effort.
We appeal to the social incentive of wanting to be a leader in creating positive change and being a 'do-er', relying on generating a "feel-good" mindset in our participants, knowing that even simple actions can generate a positive and quantifiable impact.
Implementation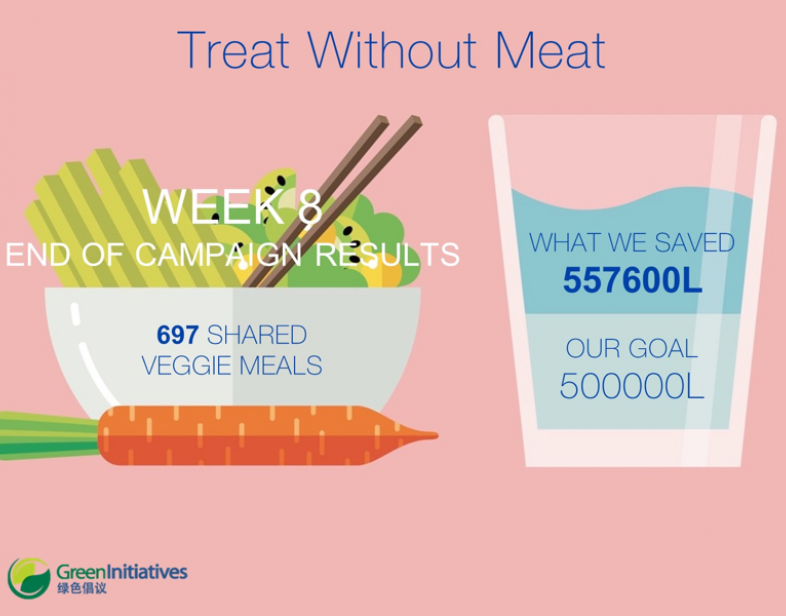 Describe your implementation
"Treat Without Meat" is a campaign created by Green Initiatives to raise awareness about the amount of water that goes into the production of meat. The campaign aims to combat the global issue through the simple act of "sharing".
The campaign was launched during Green Initiatives' monthly film screening on the subject of water ('A Thirsty World') which was attended by about 80 individuals, who we saw as serving as ambassadors for the campaign. It was also launched in July i.e. Shanghai summer - further relating to the water scarcity theme. More at this link.
A mobile-chat-based volunteer group was created where people served as campaign advocates. This is where the first set of communication messages were transmitted. There was also another more open group where the general public could join in, and share the actions they had taken - the idea was to inspire each other with their own actions.
This was further shared through GI's social media platform promotional graphics displaying information on the water consumption of meat production, and the projected amount of water savings with vegetarian meal replacements.
During the 60-day duration of the campaign, participants were challenged to share a vegetarian meal with a friend, family, or colleague at home or at a restaurant, mention to them the environmental impacts of substituting vegetarian meals, and then, pass on the challenge to them through a "pay it forward" gesture, thus creating a ripple effect. Our campaign goal was to save 500,000 liters of water during the campaign month by substituting 650 meat-based meals for vegetarian meals. In order to track our progress, we asked participants to share photos of their meals through WeChat (China), or Facebook, Twitter, and Instagram. These photos provided a record for calculating the number of participants and meals shared.
External connections
This was a community initiative focused on individual action, and one of the underlying messages was that we do not need to wait for businesses or the government to take action. However, we formed key partnerships with:
- Several restaurants wanted to support the campaign and offered discount on vegetarian dining
- Offices encouraged their staff to eat more vegetarian meals. In fact, several offices actually ensured meat-free meals for their regular team gatherings.
- A hotel that hosted events actually promoted vegetarian menu instead of their traditional meat-heavy menu
- Many Chinese families who had the culture of eating together in the weekend engaged in all vegetarian meals
- Other community groups like Vegans of Shanghai and Shanghai Vegetarians' Club positively impacted the actions.
As can be seen, even with a very small team and short duration (entire campaign was run on top of individuals having their full-time jobs) we achieved significant impact. Many individuals reached out to us later saying they engaged in the action but forgot to send us the picture - this is an area where we would aim to do better when the campaign is run again in future.
It would be fair to say that the actual impact achieved was much more than 557,000 L of water saved, although GI focused on impact numbers only generated through photographs sent to us.
Who adopted the desired behaviors and to what degree?
We were able to track the progress of the campaign by asking participants to send photos of their shared vegetarian meals to our official WeChat account or by using the hashtag #TreatWithoutMeat on social media. We received several hundred photographs that added up to 697 shared meals during the 2 months of the campaign. As mentioned in the earlier question, the 'action' was adopted by restaurants, offices, families, and event organizers although we only measured the impact of photographs sent to us.
How did you impact natural resource use and greenhouse gas emissions?
We quantified the impact of one meatless meal as 2500 L of water saved by a vegetarian, as compared to a meat eater. This translated as roughly 800 L of water saved per meal (assuming 3 meals per day), as per the estimate published by (source). We set an arbitrary target of something that we felt was achievable, in this case a saving of 500,000 litres of water, and worked towards achieving this target by having 625 individual vegetarian meals.
By the end of the campaign we received photographs for 697 shared meals, that amounted to 557,600 L of water saved.
What were some of the resulting co-benefits?
Eating meatless meals was a concept that was relatively unheard of when the campaign was launched in 2016. At the time, there were no precedents for meatless campaigns of this type in terms of scale and its clear goal to tackle the issue of water resource usage through reducing meat consumption.
Although we tracked the progress of our campaign through photos provided by the participants, many people were impacted by the information shared through our social media platform.
- When we held events at venues, the catering chefs would provide a vegetarian menu without our asking because they were aware of our Treat Without Meat campaign.
- It also led to our current project (in progress) of creating a long term collaboration to create a Shanghai-wide "Vegan Wednesday" program with Kerry Properties.
- Since the Treat Without Meat campaign in 2016, we have seen the vegan community in Shanghai blossom from being virtually non-existent to having a large online presence. One such group is called Veggie Dorm and another is called Vegans of Shanghai.
- Many more restaurants are offering meatless options, and have developed similar challenges and campaigns to promote meatless meals.
Sustainability
The campaign was implemented purely through volunteer support, most of who had full time jobs. Our impact could have been much larger had we a dedicated person to implement the entire campaign. Most of our initiatives are self-funded and we try to establish partnerships with businesses who have shared values to implement projects. The new program, Vegan Wednesday, that we are working on aims to work with other stakeholders to make it a long-term action campaign - not just for a few months.
Return on investment
The campaign did not cost us much money directly - perhaps less than few hundred dollars, but it did cost a lot of collective time on the part of many individuals who shared the common goals and worked as volunteers. Naturally, more investment into hiring a dedicated individual would also have led to a much larger impact.
How could we successfully replicate this solution elsewhere?
The campaign can easily be replicated in various organizations - in fact replicability is a key consideration we make while designing our campaigns. Similar to what has been mentioned above, we see that the campaign can be run in:
- Workplaces encouraging meatless meals for their staff. For example, the coworking organization, WeWork, has gone as far as to announce that the company will not pay for employees' meat consumption during business meetings.
- Schools - where cafeterias could serve meatless meals starting with one day a week or month
- Restaurants, that can align with other restaurants to serve meatless meals one day aa week.
- Event organizers to hold certain events without meat in their menu
- Family gatherings, weddings and functions could all support 'treat without meat' as a way of celebrating, but by respecting the environment.