An Overview Of Our Solution
Industrial agricultural practices often result in habitat destruction. We believe this is unnecessary, and want to advocate healthier models that can provide nutritious affordable food, simultaneously promoting and enhancing biodiversity and general ecosystem health. Following 12 years of cultivating polyculture gardens we can see that these systems effectively produce food whilst preserving biodiversity. This type of agriculture could create thriving local economies that strengthen community and enhance the amenity value of an area. By designing biological polyculture systems relying on native ecology to function instead of external manufactured inputs, gardens then serve our needs as well as the needs of other organisms.
Who is this solution impacting?
Community Type



Additional Information
Population Impacted
Continent: Europe
Ecosystem (select all that apply)



Population impacted
Around 9000 annually
Size of agricultural area
2.5 ha
Production quantity
6 kg per m2
People employed
4, plus around 10 volunteers and/or interns
Describe your solution
The Polyculture Project actively runs several research gardens where biological polycultures are being designed and planted for data collection and analysis.The experimental gardens produce a significant portion of food per m2 including fruits, vegetables, herbs and meat, providing for family, workforce and customers of a food cooperative. A small but established and growing CSA scheme also benefits from the polyculture production. Three years of data on the vegetable polycultures has been accumulated with the results being freely available on our website (www.balkep.org/annual-polyculture-research) The replication of these polycultures and associated data collection is strongly encouraged and supported by BALKEP in order to create a growing body of data that can be referenced by food growers. Examples of some of the perennial polycultures currently implemented in our research gardens are The Early Polliniser Polyculture (http://balkanecologyproject.blogspot.bg/search/label/pollination) and The Biomass Belt (http://balkanecologyproject.blogspot.bg/2016/05/perennial-polycultures-biomass-belt.html). We observe an increase in the general health of the land and in levels of biodiversity. Professional entomology surveys are planned to measure this accurately.
Describe your implementation
We purchase land of high ecological value that is under threat from industrial agricultural expansion. Often we do nothing, thereby preserving the biodiversity and protecting the land from harmful agricultural practices. Polyculture demonstrations and trials are developed on other plots. Last year's results are available here ( www.balkanecologyproject.blogspot.bg/2016/12/the-polyculture-market-garden-study). We look closely at inputs - set up/running costs, fertility/water requirements, and outputs - produce, income, soil fertility, and invertebrate diversity. The time taken to complete tasks is also recorded. Awareness among the food growing community is achieved by the publication of our results. Record keeping spreadsheets are available to all on request. Major permaculture news outlets such as www.permaculture.co.uk and www.permaculturenews.org with audience reach of over ¼ million publish our work. Our website has around 4000 views weekly with 1500 unique visitors, blog views around 4000 weekly, facebook pages over 8700 (non paid for) fans, Instagram account 1500+ fans. We expect an increase following the new research gardens planned for 2017. Enabling conditions: Great response from the wider community and volunteer assistance to develop more research, a growing market for the produce, interest from local producers to adopt our techniques. Key success factors: An open source policy of the models and records we keep, intended to enable others to try themselves. Any obstacles and how you overcame them: We lack the financial resources to compete with other buyers for larger plots, and these are sold to other farmers. These plots are then quickly cleared and put to monoculture orchard/ grain production. We changed strategy to target many small pieces of land in wider areas effectively preventing mass development.
External connections
Key partners include the owners and customers of food cooperatives with whom we work. A local vermicompost farm supplies us with worm castings and collaborates with BALKEP during certain events such as community workshops or teaching sessions. The wider permaculture network are crucial in successful implementation of our solution, as their readership hear of our work and either want to directly participate in the project or replicate our design blueprints. Our polyculture designs have been successfully replicated as far as Australia.
What is the environmental or ecological challenge you are targeting with your solution?
Little data exists showing the productive capacity and economic viability of polyculture systems. Many industrial practices are heavily researched and funded, and there is a general belief among food growers that this is the only practical way of operating. This presents a challenge - how can farmers consider switching to healthier alternative practices without valid data? There is a need to provide food growers with coherent alternative models supported by reliable data that can provide solutions and reduce environmental damage caused by industrial agriculture. The Polyculture Project works on building data by running a multi year study across various trial gardens.
Describe the context in which you are operating
Balkan Ecology Project (www.balkep.org) is based in the town of Shipka on the foothills of the Central Balkan Mountains in the Rose Valley, Bulgaria. The area boasts high levels of biodiversity, beautiful countryside and historical sites of global, cultural and scientific significance. Many households grow fresh fruit vegetables in their gardens and until recently environmentally friendly subsistence agriculture was widely practiced in the region. With EU accession in 2007 financial incentives to turn to industrial models of food production were high, and since then have slowly and steadily increased over the last decade with little being done to try and preserve the natural assets. During this period the Balkan Ecology Project was established and has been working on designs for gardens and farms that provide nutritious affordable food while enhancing biodiversity and that are economically viable options for growers.
How did you impact natural resource use and greenhouse gas emissions?
The greatest positive impact is probably achieved by respecting the existing biodiversity of the plots we work in. In practice this ranges from creating wild zones on the plots to using native plants for site infrastructure such as ponds, hedgerows and windbreaks, and to meet production goals.
Language(s)
English, Bulgarian
Social/Community
The project brings both national and international visitors to the local area which has an impact on the project sustaining it financially as well as contributing to the local economy. We hold annual educational courses that are attended by people who own land and want to learn about regenerative design and how polycultures are a viable option. Biannual open days are held which is an opportunity for people to network, tour our gardens and swap seeds. We have a significant presence online.
Water
Farming practices used at the project preserve water by the methods used in landworks, soil building and techniques such as mulching. Raised beds are a major part of our fertility strategy and over time retain water and nutrients very efficiently. Increased water retention on site adds to the health of the land and reduces water run off. We have access to a mountain irrigation system and store this water in ponds on site.
Food Security/Nutrition
Our home garden in 2016 produced 167.82kg of produce from 66m2. The production and supply of produce from our annual polyculture has become a reliable source of clean food for the people involved and customers. Recent results suggest that clean food does indeed, provide better nutrition. This is an area which we consider investigating further and contributing to research.
Economic/Sustainable Development
Any profits from revenue streams are diverted to purchasing land with high ecological value currently under threat from industrial agricultural development. We own 2.5 hectares, now protected from the encroaching monotony of intensive farming. The strategic purchasing of scattered plots means that effectively 53.5 ha are off limits and the wonderful diversity of wild flora and fauna and extraordinary quantity of heritage fruit and nut trees are much more likely to survive for future generations.
Climate
Growing perennial polyculture systems are good insurance against the vagaries of climate. Trees accumulate CO2 in their biomass which is stored in situ or applied as mulch on site, provide shade for companion crops and reduce water run off and are said to play a crucial role in climate change mitigation
Sustainability
The limiting factor of our models is the market. It's growing but still limited. It's difficult to compete with heavily subsidised food producers.
Return on investment
One of our goals is to make our models as affordable as possible. For our small model gardens operating costs are generally 7 x lower than profit . This does not take into account wages or the price of the land.
Entrant Image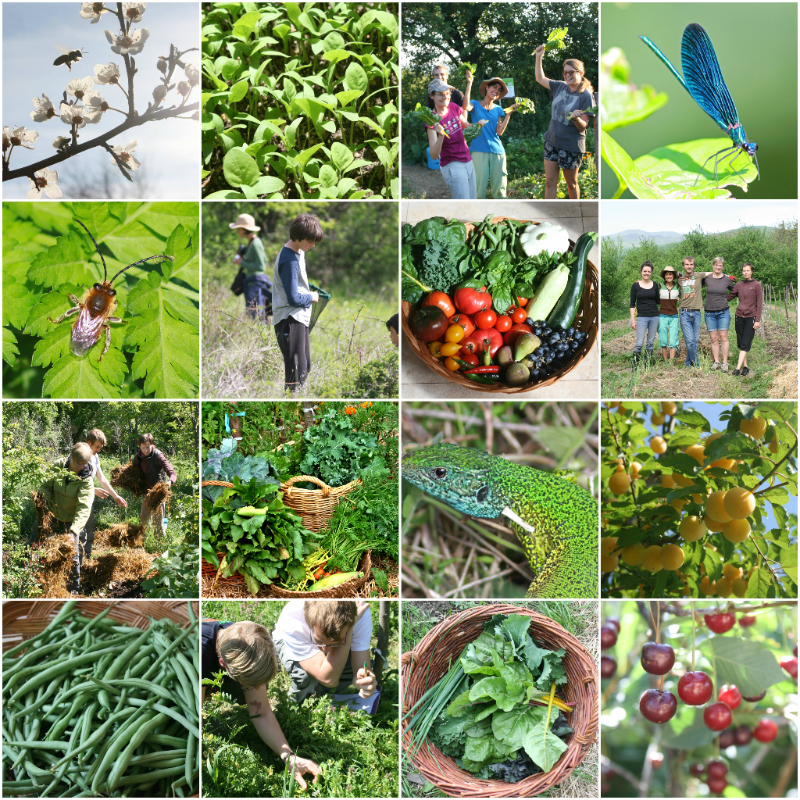 Entrant Banner Image
How could we successfully replicate this solution elsewhere?
Successful models will promote replication. We need to provide more examples and learn from these in order to provide successful models. Policy changes would also help If government subsidies took into account biodiversity and soil organic matter levels the future of our type of farming would be bright.