An Overview Of Our Solution
Currently, the remaining forest in Ethiopia is found in South Western part where our project is working. It is in a big risk of deforestation since there is big rural youth unemployment and problem of linking forest conservation to economic benefit of the society living in the forest. Beekeeping can be used as a development tool, which can contribute to ecological, economic and nutritional development efforts. We apply for this call expecting our intervention has the same idea and goal with this "Solution search farming biodiversity" initiative. Our strategy is working with rural unemployed youth in systematic organic honey production and linking to forest conservation. Forest conservation without incentive to the society living in and around the forest is impossible. We have a slogan for sustainability of the intervention "No tree, No bee, No honey, No money".
Who is this solution impacting?
Community Type

Additional Information
Population Impacted:
Continent: Africa
Organization type
individual
Ecosystem (select all that apply)


Population impacted
500 unemployed youth & 2500 smallholder farmers
Size of agricultural area
2500 ha
Production quantity
300 tons
People employed
Directly 25 employees and indirectly 500 rural youth
Describe your solution
Our solution is connecting these rural unemployed youth in natural forest area to production of organic honey and sustainable market. The honey sector is one of the few sectors that have the most potential to achieve transformation and growth across all categories of rural households. Beekeeping does not require fertile land, a large area, much initial capital. This makes the sector attractive for unemployed youth with limited resources. However, despite its potential role in the development of rural economy, the sector faces a number of problems such as lack of beekeeping skills, lack of improved technologies, weak market access and price incentive systems and limited financial capacity of beekeepers which largely reduce the potential contribution of the honey sub-sector. We are working with rural unemployed youth support them to have well organized apiary site near to the forest, establishing learning and collection center in youth village and developing coaching and organic production system. Since beekeeping activities are seasonal, it is important to make all season specific information available on time. The collection center makes the youth to supply their product easily without any transportation. In addition, they will have premium price from sales of organic honey. Every youth beekeepers will plant trees and conserve the existing natural forest. To achieve our mutual goal we attached our system to forest conservation since it is a backbone for our success.
Describe your implementation
The implantation of our project has four components. The first is rural youth Capacity building to enhance the technical, and management capacity through on job season based training. The training focused both on technical and business including entrepreneurship. For the follow up work we use face to face coaching and mobile phone based coaching. The youth are assigned to coach other five farmer beekeepers per youth. To tell the buyer impact of our product we are creating strong traceability system. The second is establishing Learning and collection center which contains modern technologies, ideal apiary site, training room, room for honey collection, information source like posters, videos and audio, books and any related information. Facilitate the provision of inputs is carried out from this site. The third is organic certification to have sustainable market with higher price. In addition to organic certification other certification schemes will be implemented. The fourth is participating the youth on forest plantation and conservation. Since all are making attractive money promisingly start working on forest conservation with a big interest. To further strengthen the forest conservation now we are developing a project called "One Hive Ten Trees Project". We ensure the adoption of our solution through face to face coaching and monthly follow up and mentoring. Since it is a win-win approach adoption is ensured easily. Agribusiness working with smallholder farmers has its own natural challenges during implementation. In our case the reason why we prefer to work with rural youth is due to problem of low adoption of farmers. We face problem to get land for learning center and start using land rented from farmers. Now local government convinced with our project and prepared land for us. We have also financial problem to expand our business. We are working with what we have and apply for fund, loan and equity but all on process.
External connections
For our intervention the key stakeholders are government office and NGOs working on youth employment, honey production and forest and environment. Moreover, beekeeping input suppliers and bee research center are also our stakeholders. The collaboration and support is during implementation of the project. However, not significant contribution as expected. Our effort is also connected with forest management office of government, livestock production extension work and youth employment office. The learning center established and follow up system we developed support the government extension system. Our training center also used by this office any farmers training and demonstration.
What is the environmental or ecological challenge you are targeting with your solution?
Ethiopia is an agrarian country with a wide topographic range and diverse climate conditions. As a result, the country is well endowed in natural resources and various ecosystems. However, deforestation and ecological degradation which has gone for the last five decades has been challenging the country economic development. Forest coverages which were above 40% of the country's landmass in the beginning of 20th century are reduced into 2.3% in 2000. For the rainfall dependent agriculture this was a big challenge. The main causes for deforestation are high population growth which result big unemployment, lack of effort to ensure the participation of communities in forest protection and linking to economic benefit.
Describe the context in which you are operating
This project is implemented in the South West Ethiopia Elu Aba Bora zone which is one of the 19 zones of Oromia regional states, with better resource endowment in the region. However, the immense resource and vegetation utilization and productivity level is still low and degradation of resource is higher. Our project is working in Alle district of this zone with a plan to expand to other potential districts of the zone. This area is covered with huge natural forests and has favorable climatic conditions for beekeeping and ideal place for organic honey production. Due to large forest area agricultural plots are relatively small on average is about 1.1 ha. In Ale district, there are three honey harvesting periods of which the major one is contributing 70 % of the annual honey production. Honey production is the main agricultural practice for most households indigenously inherited from father to son. It contributes more than 50% of beekeepers household income. Livestock and small-scale vegetable production are also practiced. However, despite its potential in natural resource there is a big rural unemployment in the district due to shortage of land and challenge to create job for the youth. Shortage of land and lack of off farm job in rural area create big natural resources depletion. In order to keep productive rural unemployed youth in the agriculture sector and to conserve the natural forest sustainably, it is vital to create sustainable agribusiness job for the youth.
How did you impact natural resource use and greenhouse gas emissions?
In addition to the benefits that honeybees provide to the agriculture, they also provide similar pollination services to wild plants and flowers. Many of the plants visited by honeybees provide seeds, fruit, and nuts that help several animal species. Since we are working in beekeeping we are providing these opportunities to the existing natural resource. The most promising impact of this project is the conservation of the forest since the society living in the forest is making money. Conserving of the forest is not for free. This is way we have slogan "No tee, No bee, No honey No money". The other impact is organic certification of the production system which has principles to secure healthy environment. Since producers earn additional premium price for organic honey supply, they can follow strictly procedure as started on signed contract. In general our result is creating happy beekeepers, quality honey and healthy environment. It is self-help business model in harmony with nature.
Language(s)
Amharic, Oromo
Social/Community
The rural unemployed youth working with our project have no land, job and income. They are sharing the existing land from their family. Since most of the family has many children and small land it is not enough prefer to migrate. Many youth lost their life on migration. Our project try to keep the youth to work in the village and feel comfortable since self-employed on the honey business. From the income earned they start sending their children to school and improve their living standard.
Water
Related to environmental impact.
Food Security/Nutrition
Creating job and engaging the rural youth to income generating business help to solve the food security problem. As the youth generate income from honey sales they can buy food for family. Moreover, using this income they rent small land to grow crops like maize to use for consumption. Some youth buy cow to get milk for their families. Besides the marketing value, honey can contribute to the population's nutrition intake.
Economic/Sustainable Development
Currently, in our project 50 rural youth have been self-employed in beekeeping and more than 25 youth start this job though learning from those in the project. All the youth has saving account in the local bank and microfinance. From the money earned in the honey business the youth buy cow, sheep and other animals to use as asset accumulation. Therefore, the impact on economic development is big in the rural area. Our plan is to export 200 tons of organic honey on the end of 2019 form this inter
Climate
The role of natural forest for overcoming climate change is clear and big. As mentioned above all our activity and survival of the business depend on existence of the natural forest. Conserving the forest is part of daily job. On our training and follow up work awareness creation about the issue of climate change is part of the package. It is clear honey production plays a great role in reducing the effect of climate change.
Sustainability
In the first place, there is potential for the current organic product market demand to support higher supply. The project is economically sustainable because it will ultimately improve the income of producers due to the price and demand for organic honey is much better and improving from time to time. The production system is highly integrated with natural forest conservation, hence it is environmentally friendly and economically sustainable. This business already secures market for the honey produced. Since sustainable supply chain is in place and supported by good market the business can finance itself and no need to rely on funding. To keep the supply chain strong the money earned will be re invested to strengthen the supply chain.
Return on investment
Due to this intervention the income of the rural youth will be impacted significantly in sustainable way. From the nature of the project the outcome is by far higher and not comparable with investment. The benefit from this intervention for the youth will be 1200 USD per youth. This means per month they will earn 100 USD per youth which is equal to the monthly salary of graduates. Moreover, the return to the project is also big due to sales of the honey. In the other hand the total cost of implementing this project is about 50, 000 USD to reach 500 rural youth and 2500 smallholder farmers. This cost is not one time cost since we use revolving system. From every sales of honey some amount will be used for system development.
Entrant Image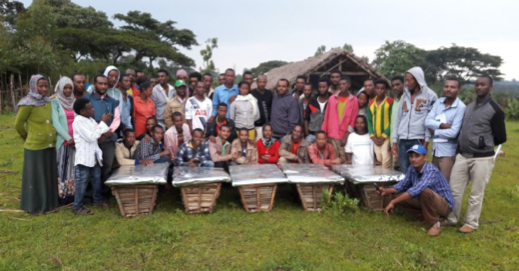 How could we successfully replicate this solution elsewhere?
The base of this model is the learning center, engaging rural youth, design coaching, strong follow up system, include conservation of forest and link to sustainable market. This system can work for any agribusiness linked to substance smallholder based supply chain. Livelihood improving and solving food security problems is not possible in ignoring the issue of biodiversity and environment. Currently we finalized pilot stage of our model working in one village and start expanding to potential villages. For these intervention 8,000 USD per one learning center per village is necessary including the initial training cost. The total cost depends on the number of village planned to reach at a time. Regarding the stakeholder for this intervention, agriculture office, office working with youth and forest conservation, NGOs, product buyers and others are important if they act responsibly. Involving such stakeholders and convincing about the result is good for the success of the project.