An Overview Of Our Solution
Bharat India Jodo (BIJ), rural transformation program of Reliance Foundation addressing the issues of low productivity & high risk farming in 19 fragile Agro-ecological sub regions covering 529 villages from 32 districts of 12 states in India. The program co-designed & co-created model for holistic, self-reliant &sustainable transformation in partnership with community through collectivization, promoting climate resilient sustainable agriculture practices combined with critical irrigation to protect crops from drought periods, improved soil fertility, better germplasm, water harvesting and recharging, participatory water management. BIJ program brought a multiplier change by strengthening the inter-linkages between ecological, social and economic realities with focus on enhancing biodiversity in agriculture landscapes & making farming first choice profession.
Who is this solution impacting?
Community Type

Additional Information
Population Impacted
Continent: Asia
Organization type
Nonprofit
Ecosystem (select all that apply)



Population impacted
51679 Households with 2,17,051 people
Size of agricultural area
55732 hectares
Production quantity
86929 Metric Tons of annual production
Describe your solution
BIJ build the platform of Social Capital as the means of Rural Transformation, works on a relationship model, which strengthens the norms, and values that govern interactions between people, their institutions and natural resources in which they are embedded. Social capital is the glue that holds societies together and without which there can be no economic growth, ecological balance or well-being. Over the years in there has been a marked degradation in the social capital in the villages resulting in loss of governance over the natural resources of land, water and vegetation resulting in human actions degrading natural functioning of ecosystem, jeopardizing the livelihoods and well-being of communities. BIJ works to create an environment supportive of the emergence of social capital in the form of farmer associations and their producer company, which assumes the responsibility of reversing this degradation by practicing community driven climate resilient sustainable agriculture primarily dependent on locally available resources, water conservation & harvesting, participatory water governance and management, natural resource management to maintain the balance between economy and ecology towards larger sustainable development.
Describe your implementation
To establish a proof of concept on Community led Sustainable Natural Resource Based Agriculture Production systems, BIJ spreads across different Agro-ecological sub and regions in the country, as each region is unique with soil type, topography, rainfall, humidity and other parameters to get acceptance & replication for scaling up of the concept. The program design is simple. Its primary foundation is organizing the marginal farmers into Village Association federated into Producer Company for a cluster of 15-40 villages in a region to ensure self-reliance and sustainability supported by a multi-disciplinary team to facilitate development processes. Once established, collectives will manage operations through their self-support systems enumerated and implemented by them. Key interventions includes – 1. Ensuring nutrition self-sufficiency through scientific model of kitchen garden (Reliance Nutrition Garden) to provide variety of nutritious, chemical free , fresh & safe vegetables, fruits and medicinal plants; 2. Climate resilient & community based sustainable agriculture practices as 360° solution for food security through integrated land development, soil and moisture conservation, soil fertility improvement, promoting diverse and quality germplasm, non-pesticide management; 3.Water recharging & harvesting for meeting household, farming and cattle requirements through harvesting, conserving & managing water; 4. Securing local eco-systems through Indigenous Technical Knowledge, enhanced involvement of local community in conserving the local biodiversity & stabilizing farming ecosystem by maintaining the balance of water, nutrient and energy cycle. BIJ major investment has been on enabling the communities to plan for aspirational development, get assured nutritional and food self-sufficiency through a functional institutional framework of Village Associations & Producer Company by maintaining the equilibrium between ecology, economics & equity
External connections
Collaborations and partnerships are a key component of RF BIJ to consolidate the direct action component to first to take it to 4X scale to bring in more knowledge & resources and then to replicate targeting 10X for wider replication of the solution. Collaborations and partnership can be primarily distinguished into two parts. 1. Collaboration where BIJ seeks to bring in new skills, knowledge and resources to compliment the BIJ efforts. Few of the organizations working with BIJ in this are Government Agencies such as National Institute for Agriculture Extension Management (MANAGE), Regional Agriculture Research Stations, local administration and NGOs like Goat Trust, Unnati, Centre for Sustainable Agriculture, Magic Bus, Ekalavya etc; 2. Partnership to replicate the solution across the region to achieve 10X scale wherein RF BIJ provides technical know-how and handholding support. Partnership of RF BIJ with Government of Maharashtra to replicate the similar solution in 1000 drought affected villages, promoting Reliance Nutrition Gardens in partnership with Health and women welfare department, Department of Forest in Madhya Pradesh to facilitate harmonious rehabilitation of tribal community from the core Tiger reserve area to protect the biodiversity etc are the examples. BIJ facilitates partnership between the Village Associations & Producer Companies with various extension Government departments to access resources and services from mainstream programs on continuous basis.
What is the environmental or ecological challenge you are targeting with your solution?
About 51% of India's geographical area (329 million ha) categorized as degraded out of which majority area is in rain-fed agro-eco systems. Rain-fed regions receives rainfall of either less than 500 mm or more than 1,500 mm due to which suffer from serious water management problems. Around 40 per cent of the 100 million ha of dryland areas are with shallow soil depth & been affected by massive soil erosion. Enormous shift in cropping patterns in rain-fed areas towards mono-cropping affecting the bio-diversity. Input Intensive crops and practice of mono-cropping resulted in indiscriminate use of harmful chemical fertilizer and pesticides which affected the natural nutrient cycle in the soils adversely impacting the diversity.
Describe the context in which you are operating
India is one of the fast growing and largest economy in the world with over 7% GDP growth. Poverty in terms of head count ratio declined significantly over the last decade from 39% in 2005 to 22% in 2014. Despite its remarkable economic growth, poverty remains a major issue with 270 million people living on less than USD 1.25 per day. According to the National Sample Survey, rural India had an estimated total of 90.2 million agricultural households. Out of that 72% of the households are poor. India accounts for 33% of world's poor which could be attributed to the rain-fed agriculture which is being affected by the climate change and erosion of biodiversity. While Green Revolution have positive impact on the productivity, it endangered the ecological balance leading to depletion of groundwater, soil fertility & water quality. Initiatives to improve agriculture productivity have failed to address malnutrition with as many as 30% of women have sub-normal BMI, over 55% anemic.
How did you impact natural resource use and greenhouse gas emissions?
BIJ integrate agro-ecology approach to ensure improved quality of life for marginal households. The basic design is to maximize utilization of local resources, promote best practices & interventions to sustainably manage the needs of the households. Converting waste lands into productive lands through land cleaning, soil and moisture conservation to conserve in-situ soil moisture, improving soil organic matter through natural manures, integrated nutrient management to avoid indiscriminate use of chemical fertilizer, integrated insect pests and diseases management integrating cultural, physical, biological, botanical & regulatory methods. Bringing people together and sensitizing the community to map biodiversity and massive plantation adopted to improve the local micro climate. Water conservation & participatory water management are core of the intervention. The entire intervention aimed to bring equilibrium between energy, nutrient and water cycles thus, promotes biodiversity.
Social/Community
BIJ has organized more than 51000 farmers into 529 Village Associations to promote collective ownership, & accountability. Village Development Fund (VDF) of INR.184.83 million accrued through voluntary contribution of community to use as corpus for addressing collective issues. Together 529 Village Associations mobilized INR.268.80 million investment from Government programs towards natural resource management, sustainable agriculture, village sanitation and improved amenities.
Water
55.50 million Cubic meters of water harvested with the creation/renovation of over 15,000 structures through which 23604 hectares has been brought under irrigation benefitting over 25000 households. 3736 hectares of land brought under water efficient systems such as micro irrigation and 2950 water user groups promoted for equitable and effective utilization of water resources. Cropping intensity has increased from earlier 100 to 200%.
Food Security/Nutrition
8502 Reliance Nutrition Gardens providing fresh, pesticide free and safe vegetables/fruits 300 grams/person/day. 55731 hectares with comprehensive solutions with the application of 111645 Metric Tons of natural manure, facility created to generate 550000 metric tons of compost annually. 280,000 fruit plants planted to promote tree based farming & promote diversified cropping systems. All these initiatives ensured the annual production of 86929 metric tons of food & non-food production.
Economic/Sustainable Development
Experience of BIJ indicates addressing critical challenges related to land, water & promoting community driven climate resilient sustainable agriculture practices would reduce the cost of cultivation by 20%, production by 50% through increasing cropping intensity, bringing waste lands into farming, crop diversity by 400% leading to increase of annual income per household to INR.100000. Empowered Community Based Organizations maintains the equilibrium between ecology and economy
Climate
2.90 million Plants planted in the common lands. Additional 1858 hectares brought under orchards. 2261 households adopted Biogas. 1683 households adopts fuel efficient and smokeless stoves reducing the wood fuel by 17%. 19612 hectares of land adopted with mixed and diversified cropping practices improved biodiversity, reduction of chemical fertilizer and pesticides which improved soil organic matter, micro climate and ensure the survival and thriving of the pollinators and other flora and fauna
Sustainability
Leveraging the resources from the mainstream programs such as National Rural Employment Guarantee Scheme, Government of India and ensuring entitlements to the rain-fed programs matched with the investments from the individual households pooled together make the solution sustainable which is proven by over 520 Village Associations and 17 Producer Companies with their contribution and leverage of INR.453.64 million.
Return on investment
Economic value of 86929 metric tons is equivalent to INR.2.60 billion per annum. Economic benefits of environmental impact, increased value of the natural resources, improved quality of life and wellbeing to be added. The entire investment made over a period of 5 years could be returned back within 1.2 years. Various studies indicated that return on investment will be 100% after the complete cycle of investment particularly on building community based institutions and attitude and behavioral change.
Entrant Image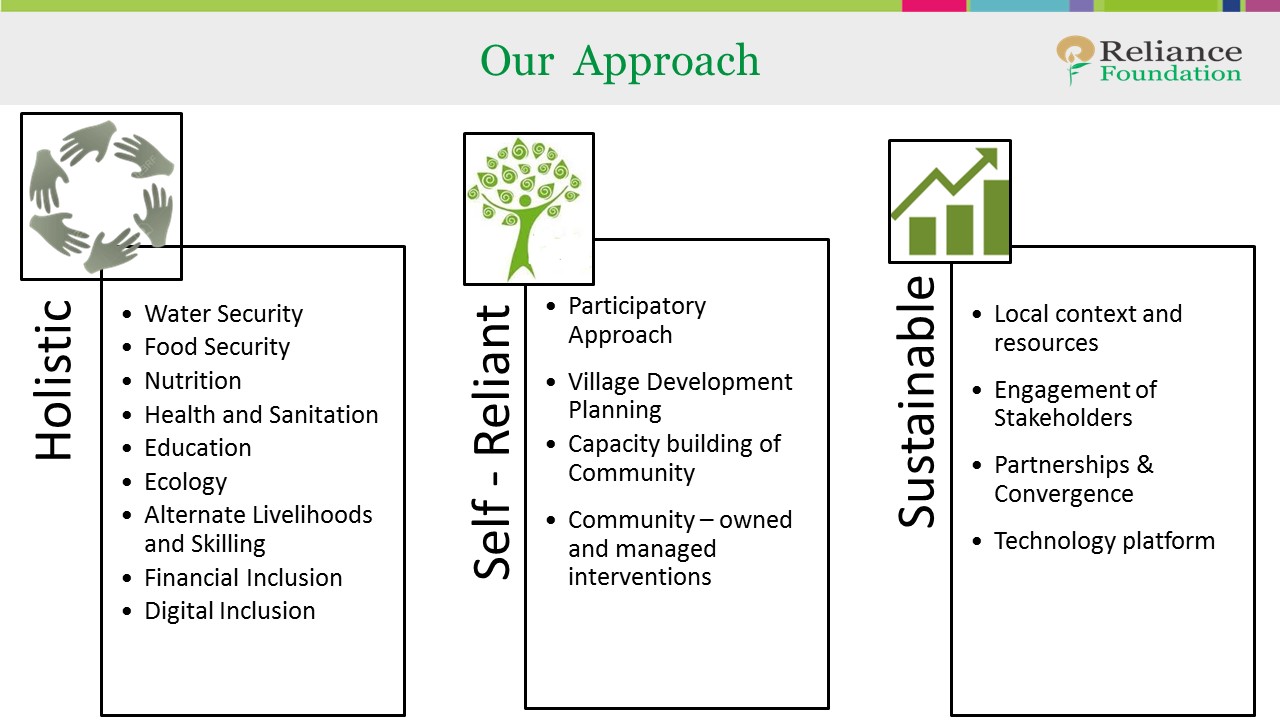 Entrant Banner Image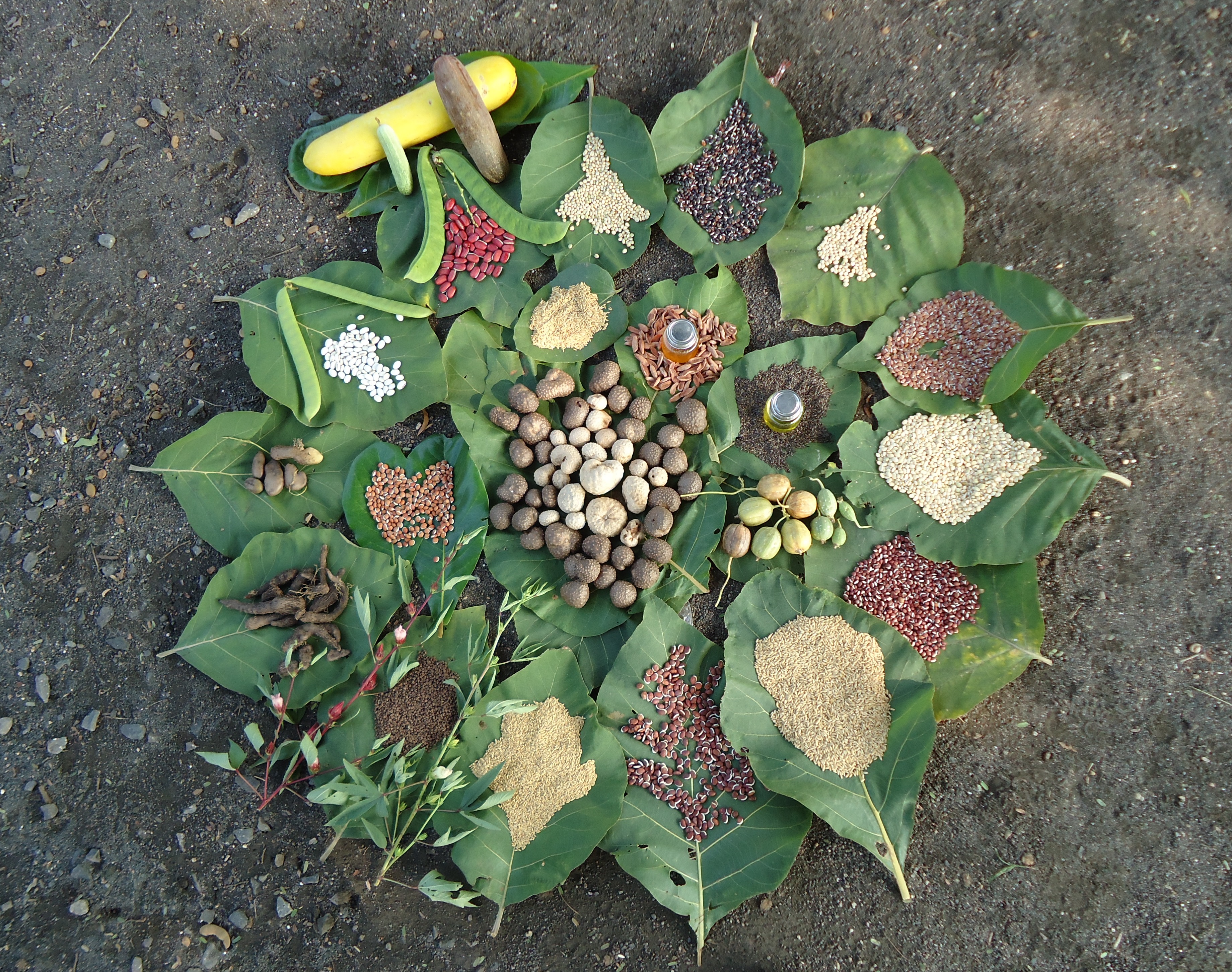 How could we successfully replicate this solution elsewhere?
BIJ is focusing on establishing growth as the spirit, through a three axis strategy. The idea is to build & consolidate on the core competence of direct action. Approach 1 (Boundless) is diving deep in existing clusters by engaging with remaining households in same villages and uncovered villages region. Approach 2 (Bonding) will be a "Scale Out" strategy towards engagement with Governments and also large donor / implementation organizations. Here the scale and spread will be achieved through strategic partnerships with to multiply the outreach and outcomes manifold. Approach 3 (Breakthrough) reaching the unreached through Information Services and digital solutions. Few of the examples are State governments of Maharashtra and Madhya Pradesh partnered with RF to promote nutrition gardens. Government of Maharashtra partnered to scale up the initiative in 1000 villages. RF is supporting the Government of Telangana to replicate the initiative in 220 villages.