International Centre for Integrated Mountain Development (ICIMOD): Resilient Mountain Villages
An Overview Of Our Solution
The Resilient Mountain Villages pilot project addresses the challenges posed by climate change and its environmental impact for local communities and smallholder farmers in the mid hills of Nepal in the Hindu Kush Himalayas. It takes an integrated approach by simultaneously addressing climate, socioeconomic and future resilience. Through participatory trainings, demonstrations, and trials focused on simple, affordable and replicable farming technologies and tools, farmers' resilience and adaptation to environmental changes like water shortages are strengthened. By learning to manage water shortages, produce bio-pesticide and fertilizer, and mitigate the impacts of changing weather patterns and more, farmers are becoming more environment-friendly, local biodiversity is strengthened, and farmers' food security and income is strengthened.
Who is this solution impacting?
Community Type

Additional Information
Population Impacted
Continent: Asia
Organization type
Nonprofit
Ecosystem (select all that apply)


Population impacted
1089 participating households in 8 villages
Size of agricultural area
0.05-0.25 ha per household
Production quantity
Not applicable
Describe your solution
The Resilient Mountain Village (RMV) pilot is an integrated approach that combines economic, social, and environmental dimensions of sustainable development that strengthen food security, improve livelihoods and contribute to conserving local biodiversity; while making farmers better adapted to climate changes and more climate-friendly. A number of sustainable and environment-friendly technologies and approaches are tested and disseminated to farmers, based on their traditional practices as well as scientific knowledge. The key condition for all technologies and practices is to be affordable, simple to understand and adopt, and replicable, to ensure that smallholder farmers with low incomes and levels of education, will be able to take them up. To create sustainable and environment-friendly adaptation solutions to climate change and strengthen local biodiversity, RMV promotes better soil, water, and pest management and improved cropping patterns. The high use of harmful pesticides is addressed with a bio-pesticide and fertilizer called Jholmal that controls disease and pests and improves plant health and yield. Jholmal is produced by the farmers themselves and is based on traditional knowledge and practices, and updated and standardized using scientific knowledge. Soil nutrient technologies like the use of crop residue and green manure, and introduction of home gardens have strengthened the local biodiversity.
Describe your implementation
CEAPRED staffs facilitates trainings, trials and demonstrations and the participating farmers themselves implement the techniques and solutions. During implementation, practical trainings are conducted at the site of demonstration. The demonstration is then visited by a number of farmers from surrounding areas. This approach enhances cross learning among farmers and technologies are transferred through farmer-to-farmer demonstrations. The technologies have even spread to non-participant farming households. To address water scarcity and uncertainty for irrigation, farmers are provided with trainings on simple water conservation and integrated water management techniques, such as water source protection, rainwater harvesting, and construction of small ponds for waste water collection. The promotion of home gardens have been an important component, ensuring regular supply of nutrients and maintaining biodiversity around the homestead. Other technologies which is promoted to the farmers are drip irrigation, polyhouses, and mulching for production of off-season vegetables during the dry season when water is most scarce. Village level orientation and consultation workshop is organized from the beginning, with participation from local leaders and village representatives, including participation of women and marginalized groups. The solutions offered to the farmers build upon their input, local knowledge, and traditional practices. This participatory approach, involving the local farmers and users themselves both in design and implementation, has been pivotal for the sustainability and success of the project. Local agro-veterinary stores experienced a decrease in demand for chemical pesticides and were at first unhappy with this development. But a solution was found and CEAPRED has worked with the stores to help them sell components for jholmal as well as pre-bottled jholmal.
External connections
Consultation meetings with district stakeholders were done to gather information regarding their activities related to climate change adaptation in the community. Practices are developed in close coordination with district line agencies including District Agriculture Development Office, District Development Committee, Women and Child Development Office, District Forest Office, District Soil Conservation Office and District Livestock Service Office. All the activities are implemented in close coordination with the concerned line agencies. The Village Development Committees were consulted during the program planning and implementation stage and on ongoing work of conserving existing water resources. All activities are within a framework of participatory planning and endorsed during village council and district council. With support from the Alternative Energy Promotion Centre (AEPC), 24 biogas plants have been installed, with provision of technical support for regular maintenance, including for already existing non-functional plants. RMV has an integrated approach focusing on socioeconomic, climate and future resilience, which connects with different sectors (e.g. agriculture, forestry, energy, environment, gender). The project is exploring opportunities to incorporate agroforestry and solar powered irrigation pumps into its model as well. The programme also works extensively with policy engagement and promoting upscaling of the RMV project in other areas and countries
What is the environmental or ecological challenge you are targeting with your solution?
Meteorological observations show that rainfall patterns are changing in Nepal. The winter season has seen a decrease in rainfall, causing water resources, such as local springs, to dry up. This has been evident in many areas of Kavre district, where most of the water sources are dry during winter season. Similarly, villagers have noticed changes in the seasonal calendar and find it difficult to grow winter vegetables. This impacts the livelihoods of small-scale farmers, as water scarcity directly impacts their agricultural production of paddy, maize, wheat, vegetables and fruit. There is also evidence of nitrous pollutions and algal bloom at watersheds, because of higher use of chemical pesticides in the fields.
Describe the context in which you are operating
Kavre district of Nepal is a site of significant agricultural production, with 70% of its population dependent on agriculture. Yet, farmers have limited access to information on how to deal with environmental changes. Because of an increasing tendency for delays the monsoon's start, there is a need to identify alternative short duration crop varieties that can ripen before the winter season begins. Soil sample tests have showed depletion in nitrogen, especially in upland areas. To supplement nitrogen to crops, farmers have been using Urea and DAP extensively. The high dependency on chemical fertilizers to grow crops have not only depleted the soil properties, but also increased input cost for production and resulted in high residue of pesticides in the produce. This not only lead to health hazards for farmers and consumers, but has also resulted in rejection of the produce by market inspectors in the capital, which means that the farmers have difficulties selling their produce.
How did you impact natural resource use and greenhouse gas emissions?
The use of Jholmal in vegetable and cereal production has reduced participating farmers' (previously extensive) use of red toxicity labelled pesticides and fertilizers. Local agrovet stores are reporting a decrease in demand for chemical inputs, and this along with feedback from the farmers gives a good indication of less chemical input to the soil. Nitrogen is one of the scarcest nutrients in the area's soil. Green manure and incorporation of crop residue to soil has played an important role in returning organic matter to the soil and increasing soil nutrition. Incorporation of crop residue further conserve soil moisture and decrease the irrigation demand. Leguminous green manure naturally fixes nitrogen to soil. This has been demonstrated in project sites and adoption. The leguminous green manure "Dhincha" has been adopted in rice production. A sanitation campaign initiated by the groups and inspired by the pilot brings communities together once a month to collect non-biodegradable waste from the village surroundings, following the principle "29 days for family and one day for society".
Language(s)
Nepali, Nepal Bhasa, English
Social/Community
Most agriculture activities in Kavre are carried out by women, as labor out-migration of men is widespread. Gender has thus been a central part of RMV. Securing the participation of women has promoted women's self-reliance, resilience, social network, and social capital. Farmers are organized in 40 farmers groups. The groups provide a space for farmers to share their experiences, learnings, and questions, and to make decisions for collective action to improve the community's resilience.
Water
In addition to the farmers adopting improved water management practices, 16 water sources are being rejuvenated in collaboration with the communities. Water source improvement has minimized the risk of water sources drying out due to mismanagement and environmental changes. Protection of water sources by reducing human encroachment and plantation around water sources was done by the communities. On average 100-150 households depend on each water source being protected and improved.
Food Security/Nutrition
Improvement of soil increases the nutrient availability, ultimately increasing yield on a sustainable basis. Results show increased yield of cereals and vegetables by 20-25% compared to trial plots. Establishment of home gardens with a variety of vegetables ensures nutritional diversification. Chemical and harmful chemicals have been reduced and several participants have claimed minimized health hazards for farmers and consumers by reducing the dependence on chemical fertilizers and pesticides.
Economic/Sustainable Development
RMV supports farmers to tap into markets and value chains for sustainably grown products, establish cooperatives to improve farmers' positions in negotiations with buyers, and provides up-to-date information on market prices through an SMS system to enable informed and strategic decision-making. Expenses for farmers have been reduced by lowering their dependence on costly chemical inputs and promoting affordable practices. Insurance on crops and livestock is being promoted through training.
Climate
Two local schools have been equipped with meteorological stations to gather data, while providing students and farmers an opportunity to learn about climate change and its impacts on local agriculture and ecosystems. Practices that promote alternative energy like bio-gas and solar are being encouraged in the pilot sites. An SMS notification system rapidly shares weather information and advisories which helps farmers plan their agricultural activities, such as harvesting, sowing, etc.
Sustainability
This is a low-cost pilot project being implemented with funding from the Norwegian Ministry of Foreign Affairs, channeled through ICIMOD's Himalayan Climate Change Adaptation Programme. From the initiation of the project, focus has been on using simple and affordable solutions, which can be easily taken up by farmers without much outside support. Our aim is to equip farmers with skills and knowledge that will enable them to continue to implement the solutions once the formal project comes to a conclusion.
In addition, the implementing partner for the pilot, CEAPRED, is seeking funding from other sources to continue implementing some of the solutions and expand the areas where solutions are implemented.
Return on investment
The cost for 8 villages over 3 years has been ca. $280 000. The program is focused on designing very simple, affordable and replicable technologies based on locally available materials which farmers themselves can take up with little outside support. We believe part of the project's success is owed to this strategy of using simple and affordable practices. Up to date knowledge on market prices and organization in cooperatives, as well as lowered costs of agricultural inputs, helps them navigate markets effectively. This has improved the farmers' livelihoods significantly. Furthermore, their new and more sustainable and environment-friendly practices contributes to protecting the local biodiversity on the farmlands.
Entrant Image
Entrant Banner Image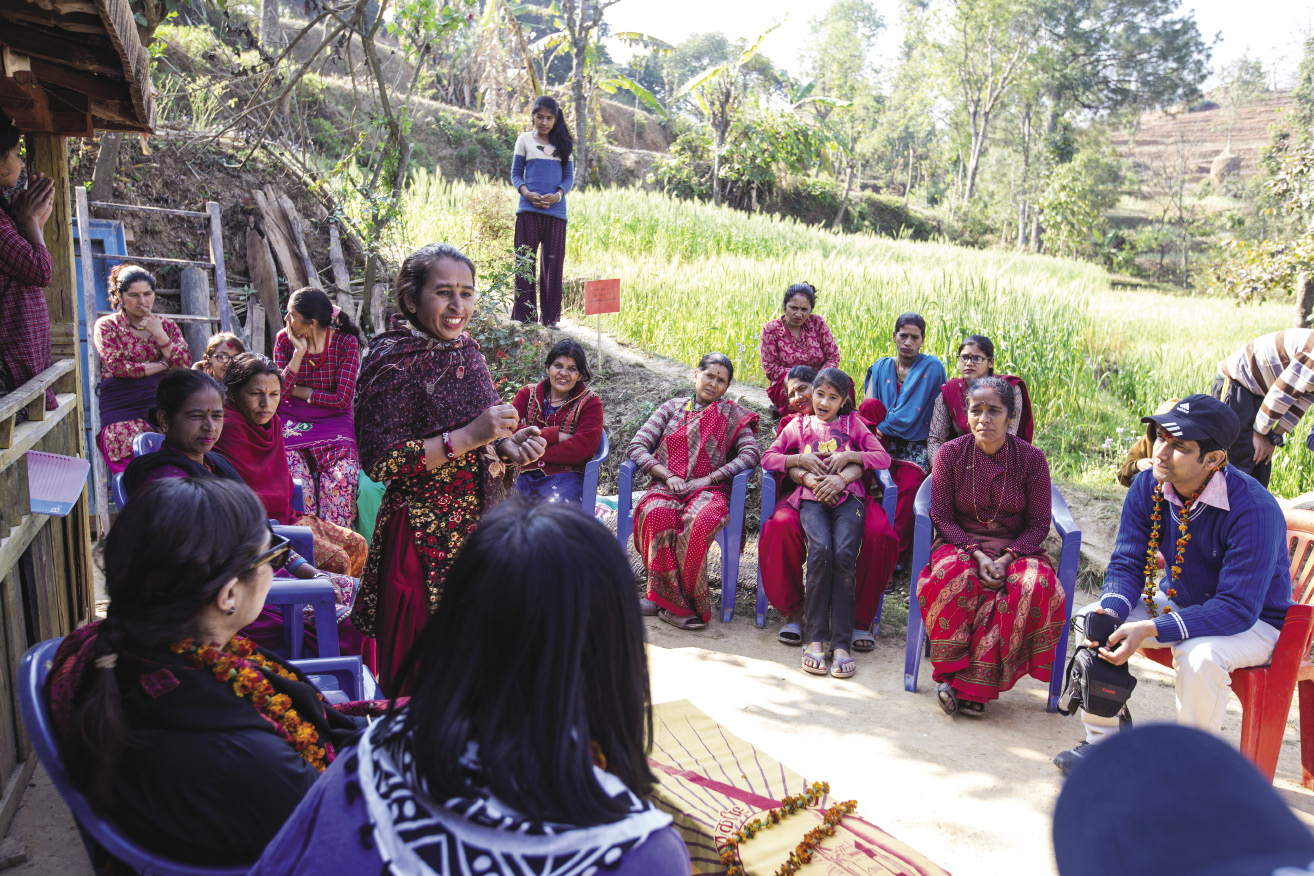 How could we successfully replicate this solution elsewhere?
Incorporated in the project are significant efforts for promoting upscaling of RMV to other areas and countries in the HKH. The approach won the 2016 Adaptation at Scale Award of £10 000 from UKaid's Ideas to Impact initiative, which is granted for climate change adaptation programmes with high potential for upscaling. Elements have furthermore been taken up by the Government of Pakistan's Benazir Income Support Programme, Pakistan's largest women-focused social safety network. The Ministry of Population and Environment, Government of Nepal, has also decided to implement the approach in 14 districts and 116 villages. An Advisory Committee has been established to oversee the implementation, chaired by the DG, Department of Agriculture.
YouTube URL