An Overview Of Our Solution
Drying puna ecosystems pose serious threats to the agro-pastoral livelihoods of mountain people, to the unique wildlife adapted to the puna, including the locally endangered vicuña, and to people downstream who depend on the puna for their water supply. Farmers identified the restoration of ancient hydraulic systems as a solution to improve the condition of puna ecosystems. Implementation through green-grey hybrid technologies was co-designed with experts and ad hoc community research groups from two communities in Peru and was coupled with capacity building and community management plans to ensure sustainability. This solution has resulted in improved local water availability, increased livestock productivity for greater food security and economic benefits, improved biodiversity richness and abundance, and ecosystem-wide resilience to climate change.
Who is this solution impacting?
Community Type

Additional Information
Population Impacted:
Continent: South America
Organization type
Nonprofit
Ecosystem (select all that apply)

Population impacted
9,600 people
Size of agricultural area
221,268 hectares
Production quantity
11,000 animals
People employed
4 full-time TMI staff
Describe your solution
In response to degradation of puna habitat and declining livestock production, farmers in the Canchayllo and Miraflores communities identified solutions centering on the restoration of pre-Incan hydraulic systems. This ancient technology "irrigated" grasslands by capturing rainwater in canals and reservoirs and dispersing it across the grassland, improving soil moisture, vegetation cover and composition, and increasing infiltration for replenished aquifers and springs. Through the Mountain Ecosystem-Based Adaptation Programme implemented with support of IUCN, UNEP, UNDP and BMUB, The Mountain Institute (TMI) has: 1. facilitated participatory action-research by ad hoc community groups who actively co-designed the solution with external experts, promoting collegial relationships, reinforcing community ownership, and building a foundation for continual innovation. 2. helped reconstruct abandoned ancient hydraulic infrastructure using green-grey hybrid solutions that conserved the underlying principles for sustaining puna ecological services, but incorporated new materials, such as PVC, to improve functionality during low, dry-season base flow and to reduce the labor required for system maintenance. 3. strengthened the communities' institutional capacities to govern and manage natural resources. The communities prepared grassland and water management plans that reinforce sustainable practices for improving the condition of the puna and prevent future community conflicts.
Describe your implementation
TMI first gained an understanding of local priorities through consultations with community assemblies. TMI trained local researchers to engage in collegial dialogues with external specialists through diagnostic field trips and brainstorming sessions for solutions. Hybrid green-grey infrastructure solutions adapted from ancient technologies were co-designed by participatory action-research groups and external scientists and were presented to the community for discussion, with a special effort to engage youth through social communication activities. The hydraulic infrastructure was installed simultaneously with capacity building for sustainable management of the restored puna and the drafting of community management plans. Our solution was readily adopted because it directly addressed a high-priority, self-identified community concern. Its design drew from intimate local knowledge of the social and bio-physical contexts of the puna. For example, the use of PVC was proposed by local researchers as a material that would withstand the humid conditions of the puna with relatively little maintenance. Social communication activities enabled participation through revitalizing a sense of place and community. Our key to success was the active participation of local stakeholders in all steps of the project design and implementation. This resulted in increased ownership, improved confidence to apply local knowledge, and concrete implementation of a solution that benefited the entire community. Understanding and navigating the deeper layers of power structures within a community can be extremely difficult. A poor understanding of this context can easily create distrust and derail implementation of solutions that involve collective resources and actions. We built trust within the community by empowering local research groups, respecting local authorities, and allowing them to lead resolution of emerging conflicts over access and use of water and grasslands.
External connections
Key partners engaged in the development and documentation of the solution include: 1. Rural communities were our main institutional partner. Their strengthened capacity for successfully managing communal natural resources will have significant implications for rehabilitation of puna ecosystems and their sustainable use thereafter. 2. The National Protected Areas System of Peru (SERNANP) and the Nor Yauyos Cochas Landscape Reserve (NYCLR). By engaging these national government bodies, the tested solution had an opportunity to be eventually replicated in other mountain protected areas. As part of our project, results in Nor Yauyos were shared with other mountain protected areas of Peru. 3. District authorities were fully informed and participated in the process by providing materials and financial resources. 4. Earth Science groups, like the Grassland Ecology Laboratory of Universidad Nacional Agraria La Molina and independent geohydrology and economy specialists provided a scientific approach and methods. By documenting baselines and monitoring initial results with scientifically validated methods, and by conducting cost-benefit analysis, these groups helped develop a solution that can be more easily promoted within other sectors. 5. Ministry of Environment (MINAM). The solution—both process and impacts—was documented in detail and highly aligned with national policies and processes, as part of an initiative led by UNEP, PNUD and IUCN.
What is the environmental or ecological challenge you are targeting with your solution?
Pastoralist livelihoods and unique mountain biodiversity are at risk in the puna ecosystems of the Andes. These alpine grassland-wetland areas not only contribute to livestock production; their soils are also critical in capturing, storing, and regulating water. Healthy puna ecosystems are immediately relevant for local mountain people, for the unique wildlife adapted to the puna, including the locally endangered vicuña, and for people downstream whose year-round water supply depends on the puna. In two highland communities in Peru, farmers have identified changes in climate and traditional practices as serious threats to the puna. In recent years, drying puna wetland have been forcing farmers to concentrate their herds in remaining wet areas, with few options for rotating grazing. These farmers are well aware that in the absence of solutions, puna habitat will continue to degrade, livestock condition will worsen, and the ecosystem itself will eventually collapse.
Describe the context in which you are operating
Around 1,000 BC, pre-Incan civilizations began engineering puna ecosystems using water technologies designed to slow the movement of water through grasses and soils. When these technologies were fully employed, the puna retained more water locally, allowed biodiversity to flourish, buffered against flooding and drought, and provided fodder for sustainable sources of meat, cheese, and manure used to cultivate thousands of native potato, corn, tuber, and hard grain varieties. Glacier retreat, changes in precipitation, and shifts away from traditional practices and technologies have contributed to the degradation of puna habitat. Our project focuses on two Andean communities, Canchayllo (230 families) and Miraflores (80 families), located in the Nor Yauyos Cochas Landscape Reserve (NYCLR), whose livelihoods and food and water security depend on the puna. These communities raise sheep, cattle, and alpaca; produce several crop species; and manage wild vicuña for their highly valuable wool.
How did you impact natural resource use and greenhouse gas emissions?
Restoring ancient technology and implementing pasture management plans resulted in immediate improvements in local hydrology. In the short term, the NYCLR saw (i) recovery of small wetlands and ponds; (ii) fewer grassland fires; (iii) increased abundance of waterfowl (Anas flavirostros); (iv) improved seed production in livestock-free zones; (v) improved dry-season water availability; and (vi) reversal of soil carbon loss and reestablishment of peatlands as carbon sinks. A geohydrology study (Hidroandes 2015) showed benefits to puna water storage and structural links to springs downstream. Livestock rotation and livestock-free zones were made possible as more water became available. Grassland recovery is a long process, however; to measure the long-term impacts of the solution, we established baselines for species abundance and diversity, percent soil cover, and soil water retention. Local communities were shown the practical benefits of conservation in the NYCLR.
Social/Community
Social co-benefits included: (i) improved and institutionalized local research capacity, with groups officially incorporated into community organizational charts; (ii) community action values that were strongly reinforced in Miraflores and revived in Canchayllo; (iii) increased participation of youth in community affairs and identity. Methodologies included participatory action-research; 3-D models to represent and discuss the territory; participatory film and theater to engage youth and elders.
Water
The amount of water available in the puna during the dry season increased from zero to 50 l/s in Canchayllo and to approximately 15 l/s in Miraflores. Water availability in the lower areas of the community has also increased, though due to the complexity of hydrogeology, it will take years to establish precise measures of the impact. Improved soil water has made it again possible to rotate livestock and create livestock-free zones, reducing grazing pressure and fertilizing the puna ecosystem.
Food Security/Nutrition
Short-term contributions of this solution to food security include increased animal production capacity, resulting in increased meat, and milk consumption from cattle, sheep, and camelids. In the long-term, sustaining animal production in the puna is an essential source of manure to maintain highly productive soils with co-benefits to crop production of native vitamin-rich potatoes, corn, tuber, and hard grain varieties.
Economic/Sustainable Development
Strong evidence shows that increased access to water can have transformational economic impacts in puna ecosystems. For example, by simply irrigating fodder crops, farmers at high altitudes have been able to provide high nutritional quality to their animals, decreasing alpaca infant mortality to near zero and dramatically increasing the growth rate and quality of alpaca fiber, which shortens the time to shearing from two years to one (Coopecan 2016).
Climate
Restoring ancient hydraulic systems in the puna has reduced vulnerability of wildlife, livestock, farmers, and the grassland itself to extreme climate and weather events, such as frosts, drought, and intense rains. Strengthened local capacities and recovered traditional technologies and knowledge have empowered local people to adapt to climate change. Restoring the attributes of grasslands and wetlands result in ecosystems that are more resilient to more frequent events of extreme weather.
Sustainability
Hydraulic system restoration was co-financed by local communities (42% in Canchayllo and 28% in Miraflores). Because investments in the restoration of grasslands and ecosystems through green-grey technologies creates significant positive externalities that benefit entire watersheds, the government of Peru has established funds to partially subsidize these types of investments. Norms for mechanisms for retribution for ecosystems services (MRSE) in Peru have been established to facilitate partial or full payment for these investments. The restoration of ancient technologies can also be financed through credit programs when associated with livestock production activities that have a profit margin, as is the case for alpaca fiber production.
Return on investment
A cost-benefit analysis of the solution was conducted assuming (i) climate change will continue; (ii) a time horizon of 20 years; and (iii) a social discount rate (SDR) of 9% recommended by the Ministry of Finance of Peru for adaptation projects. The cost/benefit ratio for the scenario with solution investments under conditions of climate change was 1.44 for Miraflores and 1.03 for Canchayllo versus 0.92 for Miraflores and 0.52 for Canchayllo for a scenario of no solution investment under conditions of climate change. The internal rate of return (IRR) of solution investment assuming climate change was 25% for Miraflores and 10% for Canchayllo.
Entrant Image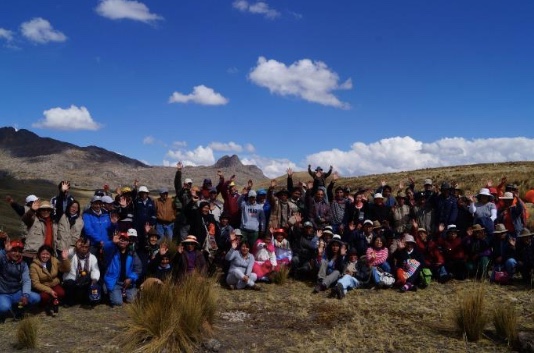 Entrant Banner Image

How could we successfully replicate this solution elsewhere?
There is high potential for replication due the following: (i) ancient hydraulic systems exist, though are often not operational, in mountain villages across Peru, (ii) Peru has established a national fund called 'Blue Highlands' which will invest approximately 100 million dollars in its first year (2017) in the implementation of these and similar technologies, and (iii) TMI and the Peruvian NGO Oikos have established a partnership to replicate this methodology in alpaca and vicuña producing areas of Peru. TMI has produced introductory training materials for replicating this solution and is currently documenting the extent of ancient water technologies in the Ancash Region. Additional resources are required to incorporate archeologists, improve field methods, expand the mapping of ancient hydraulic systems to other regions, engage mountain communities to develop restoration projects, support communities in accessing government financing, and continue documenting lessons and impacts.