An Overview Of Our Solution
Biointensive Agriculture (BIA) technology targets challenges of climate change. Over 70% farmers in Kenya are Small-scale farmers practicing conventional farming and use fertilizers. This is unsustainable and produces most greenhouse gases causing high temperatures and low soil P.H. which have adversely reduced yields of maize and beans thus threatening food security in Trans-Nzoia County with poverty at 56.70% and unemployment at 50%. Due to recent drought, farmers are cultivating riparian land for food resulting in silting and rivers pollution. Biointensive Agriculture is the solution. It produces 2-4 times more food, improves nutrition, promotes biodiversity and conserve environment by limiting greenhouse gases, removing carbon from the atmosphere and turning it into the soil through compost and planted trees and ensure sustainable use of natural resources.
Who is this solution impacting?
Community Type

Additional Information
Population Impacted:
Continent: Africa
Organization type
Nonprofit
Ecosystem (select all that apply)



Population impacted
Approx. 2 Million people
Size of agricultural area
Vary from 0.1 to 2 acres per farmer
Production quantity
Biointensive Agriculture (BIA) practices enables sustainable production of increased yields of 2-4 times more per unit land area than in conventional methods
People employed
Over 5,000 people
Describe your solution
We promote Biointensive Agriculture (BIA) technology through; training, research and extension. These have improved biodiversity and sustainability of food production by smallholders with fewer resources while conserving the environment. Key components of BIA used; 1.Composting organic matter to improve soil fertility 2.Deep soil preparation to enhance growth 3.Companion planting to optimize yields 4.Mulching to conserve soil moisture 5.Close spacing to increase productivity 6.Non chemical pest and disease control to produce safe food 7.Open pollinated seeds to conserve genetic diversity 8.Carbon and calorie farming in specific proportions to produce food and biomass for composting i.e. food crops removing CO2 from the atmosphere and fixing it in soil 9. A whole gardening System, all components used together to maximize benefits. BIA training is conducted practically in our demonstration gardens on station and on farms. Trained farmers train others and we provide technical support through follow ups to enhance adoption of best practices. The result is biodiversity in food crops, soil flora and fauna, reduced farming risks and increased awareness on environment conservation. Trees are planted in every rain season. We sustain high yields from diverse crops providing balanced diet for our trainees. In outreach, students and teachers of 2 schools have been trained in BIA and demo sites established for sustainable land use in the schools
Describe your implementation
Training: Biointensive Agriculture courses offered: 1-2 year Diploma, 1 year certificate, 3 months, 1 week, 1 day & special courses. Skills gained are used to produce food, income, train others, furthering career and self employment. Crops grown remove CO2 from the atmosphere and when turned into soil as compost, mitigate climate change ensuring sustainable yield thus addressing food security, poverty and biodiversity. RESEARCH: Is conducted on farm & on station. Ecological solutions are tested and results shared with stakeholders. We successfully completed a 5 year project aimed at developing conservation agriculture production systems. OUTREACH: We reach out to farmers, schools and others creating awareness about climate change, need for sustainable natural resources management practices, soil and water conservation, protection of riparian lands, planting trees, holding forums on protection of natural resources and lobbying state actors to conserve environment. Adoption: Follow up is conducted to enhance adoption of BIA. Farmers interact with subject matter specialist and share experiences. Our students on field attachments help to keep in contact with farmers for continued learning and adoption of BIA technology. Enabling conditions: Farmers good will, they participate as trainees, trainers and provide land for demo sites. Our staff & Alumni strongly believe in BIA in farming for biodiversity. Key success factors: BIA is simply done by hand, is cheap, produces 2-4 times more on small land sizes & it's practicable in all ecological zones, is not based on expensive commercial inputs & so suits resource poor farmers. Awareness to shun conventional farming has increased paving way for organic farming. Obstacles: Inadequate funds to enable us reach out to more people is our greatest obstacle. Community based Mini training centre approach, student's attachment & internship have been adopted to maintain contact with farmers to ensure continued learning
External connections
1 Ecology Action (EA), served as our physical sponsor with Polly Noyce providing grants through it 2 Participatory Ecological Land Use Management (PELUM) –Kenya, a network of 49 civil society organizations promoting sustainable farming practices among small scale farmers in Kenya. We train other member organizations of the network on Biointensive Agriculture 3 The Tudor Trust –UK: Provided grants; to enable payment of staff salary-staff train students and farmers on BIA, Capital grant for construction of a hostel and hall for accommodation and conference and a grant for outreach. 4 Farmers and students: Are our trainees who serve as resource persons training others in the community. Farmers avail land for demo sites. Our graduates initiate projects on BIA for teaching more people & creating jobs e.g. ARDAP. GBIACK, BIOGI etc. Connection with other sectors: Policy- we implement environmental friendly policies in line with ministries of Environment and Agriculture Forestry- we promote tree planting, agro-forestry and have a teaching tree nursery, a source of seedlings. Fisheries - We promote protection of wetlands and riparian lands and encouraging fish farming instead of crop and livestock production to avoid reduce emission of greenhouse gases. Energy - We promote solar box cookers, energy saving stoves and draft animal technology to reduce burning of fossil fuel and wood fuel Finance - We encourage agribusiness to improve incomes. it's part of our curriculum
What is the environmental or ecological challenge you are targeting with your solution?
Biointensive Agriculture targets challenge of climate change on food production by smallholder farmers. Greenhouse gases have increased causing higher temperatures. Surface temperatures have increased by 0.7°C. In 2000, increase in temperature cost the lives of 160,000 persons and this is expected to double by 2020, WHO (2000). Higher temperatures reduce crop yields threatening food security. Life hazards like flooding, soil erosion & contamination of drinking waters are due to Climate change and attributed to conventional farming producing most greenhouse gases. 25% of CO2 is from cutting and burning forests to grow crops or cattle, burning biomass and fossil fuels. Livestock uses 70% of agricultural land and along with wetland rice produce about 50% of all methane. Over 70% of nitrous oxide emissions, one of the most heat trapping greenhouse gases are from conventional farming, Beeby (2010). Conventional methods have resulted in low soil P.H, unsuitable for maize and beans.
Describe the context in which you are operating
Land size per head in Trans-Nzoia County has declined due to subdivision to give to siblings or for sale. Ultimately number of small scale farmers has increased. Over 70% of farmers in Kenya are smallholders with less than 1.5 acres of land. Maize and beans are the stable crops cultivated by majority of farmers in Trans-Nzoia County. The farmers mainly use conventional methods. Soil Ph of 3.6 has been reported and attributed to prolonged use of fertilizers. This level of acidity is not conducive for production of maize and beans, the stable crops in the Country. Use of conventional farming methods by small scale farmers is uneconomical and often results in poor yields, emission of greenhouse gases causing climate change and it's basically unsustainable and unsuitable to small scale farmers, often resource poor. Due to poor yields and high rate of unemployment of 50%, ASDSP (2016) the County is threatened with food insecurity and poverty. Maiyo (2015) reported poverty level of 56.72% in Kwanza district. A shift in rainfall patterns attributed to climate change has worsened food and nutrition situation. Farmers are now cultivating riparian lands in search of water for food production. This has led to lose of soil, silting of rivers, pollution of river water. The situation calls for suitable solutions.
How did you impact natural resource use and greenhouse gas emissions?
Our 4 demonstration gardens are designed on the basis of BIA 60:30:10 unit models. A sustainable model where 60% of the crops are carbon crops such as maize, sorghum, Amaranths that give energy and proteins in diet and biomass for composting, 30% are special root crops e.g. Irish potatoes, cassava, sweet potatoes etc that mainly provide calories and 10% are high value income crops providing nutrients such as vitamins and income e.g. garlic, onions, tomatoes etc. This model, presents a food forest that has greatly improved biodiversity; it's a 'living library' where macro and micro life thrive with soil fauna and flora much enhanced. The methods describe under the 8 key components of BIA solution are employed and farmers are adopting this. The positive impact on the farmers adopting this model is seen in regard to soil regeneration, food, nutrition, health, income and suitability of the whole gardening system is great. In keeping with the government Policy of setting aside 10% of farm land under forest, the Institution has 2.5 acres under natural reserve where diverse plants have thrived undisturbed for many years. Birds, insects, mammals etc live in this forest. In the pipeline, riparian land of River Simalabandu has been earmarked for improving biodiversity subject to availability of funds.
Language(s)
Swahili, English, Bukusu
Social/Community
BIA has enhanced social cohesion. Farmers learn by doing at their mini training centres. The demo sites serve to pass information through the society. Other stakeholders use such forums to introduce development agendas in the community and even for civic education like voter registration. BIA is labour intensive, so it has helped in reducing idleness of members of the community and occupied youths in manual work thus giving no time for getting involved in petty crimes due to idleness.
Water
BIA uses 67-88% less water per unit of production. It enabled fast soil regeneration and the spongy nature of soil under BIA ensured conservation of moisture thus conserving water. Proposed conservation of riparian land of River Simalabandu will protect the river. Vegetation along the river; vetiva grass, Bamboo, Napier grass and fodder trees will serve to stabilize soil and ensure clean unpolluted river flow thus reducing incidences of water borne diseases to ensure healthy families.
Food Security/Nutrition
BIA Technology produces abundant and diverse foods from small land Parcels. Family conflicts resulting from inadequate food have been resolved with abundance food in homes with surplus for sale. Women in our society are tasked to put food for the family every day. Adoption of BIA technology has helped to avoid this challenge in many families and enhanced good health of many vulnerable groups such as children and the old who can now enjoy at least 2 nutritious meals a day from BIA systems.
Economic/Sustainable Development
Because BIA enables production of abundant and sustained yields, the surplus will be continuously sold to earn income and thus improve economic status of families. The BIA technology is promoted alongside suitable enterprises such beekeeping, agro-forestry etc. these will results into integrated sustainable economic development in a whole system approach to farming for biodiversity and improving environment conservation.
Climate
BIA reduces emission of greenhouse gases. Livestock production is minimized thus minimizing methane. Deforestation is halted as small land parcels are used to produce food. No fossil fuel since BIA uses simple people powered tools thus offering self employment. The whole BIA system ensures more yields thus avoiding conventional methods to feed the world. low energy requirements in BIA put less strain on environment. Plants grown remove CO2 from the atmosphere ensuring fresh air for good health
Sustainability
BIA solution is economically sustainable. It produces 2-4 times more per unit land area, thus giving surplus for sale to generate income. Double dug land applied with manure remains spongy with good water retention capacity for subsequent years and sustains high yields maintained by the whole gardening practices approach. People trained gain skills and knowledge used throughout life in food production while conserving the environment and the knowledge is transmitted through ripple effect from community demo sites. The technology does not rely on grant funding, government subsidies or market-based revenues to keep going. Funding is needed in the initial stages of implementation and for keeping personnel on pay role.
Return on investment
BIA practices have been implemented over a long time by Manor House Agricultural Centre. The return to investment is great, it's more than double. It's a worthy labour investment and the knowledge imparted to people is long lasting. The skills and knowledge gained gives people power which cannot be easily quantified in monetary terms & there could be many indirect benefits that simply improved the wellbeing of the people. In one project an investment of £90,000 was used to maintain 40 established mini training Centres Over 3 years. This helped to disseminate BIA and other appropriate technologies to over 50,000 people. Elaborate end term research/evaluation needed to be conducted to quantify return on investment the activities
Entrant Image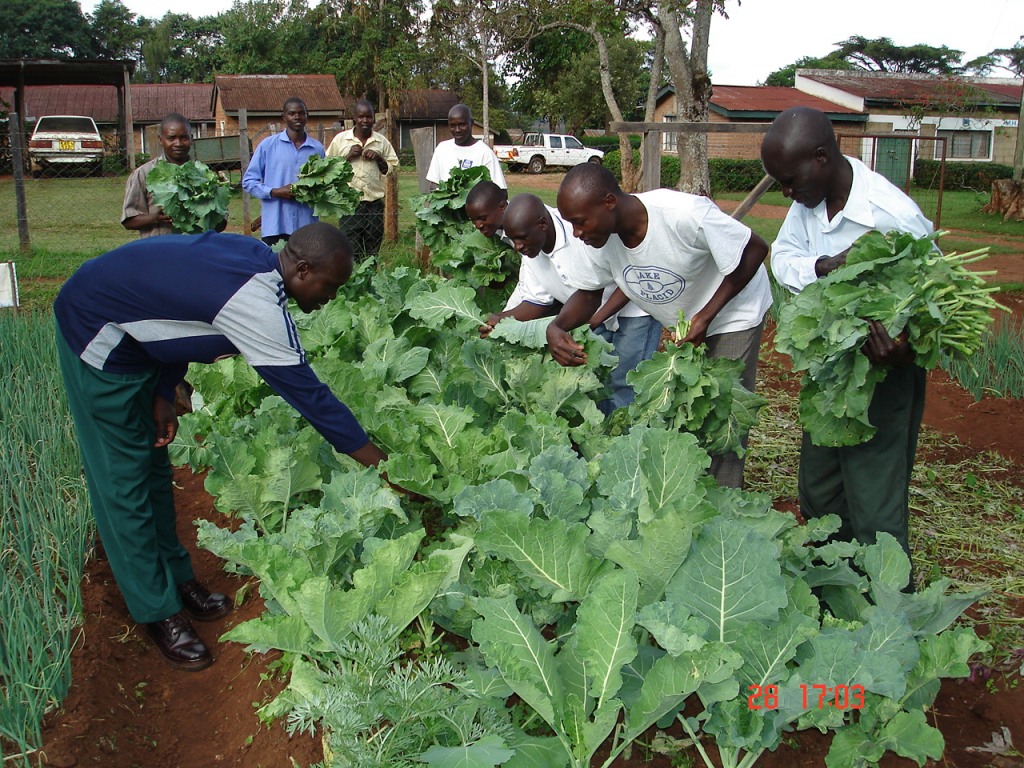 Entrant Banner Image
How could we successfully replicate this solution elsewhere?
Replication is through farmers training, follow ups, demonstration sites, facilitating lead farmers to train others and our Alumni to serve as resource persons, farmers exchange visits, scholarships for students/staff. We are a member organization of PELUM-Kenya, a network of 49 civil society organizations. We can conduct training workshops for staff and farmers of member organizations of PELUM-Kenya. BIA has been replicated to a small extend currently practiced in 141 countries. In 2016 we trained 5 member organizations of PELUM-Kenya. 8 of our graduates took part in the 2 months internship. We can establish mini training centres in every county as envisioned in our strategic plan (2015-2019), set up Satellite Centres and partner with; farmers, Ministries of Agriculture, Environment, Schools/Universities , KALRO. Funding is required for training, materials, equipment, personnel, vehicle and documentation. A pilot project of Ksh 30 million (US D 300,000) would be a good start.