An Overview Of Our Solution
A Growing Culture (AGC) in partnership with a local farming community in Hanoi, Vietnam are transforming the negative aspects of hog farming and creating positive outcomes that benefit livestock, the community, and the environment. The development of "Living Bio-Beds" inoculated with local organisms and lactobacillus creates healthy hog bedding that actively breaks down hog waste and eliminates runoff and pollution into waterways. As a result, communities are protected and farmers raise healthier pigs that require less antibiotics and fetch higher market prices. Furthermore, when the hog bedding is changed it provides a highly valuable organic soil amendment that further reduces the use costly and dangerous synthetic inputs and protects the environment in the process. The process of creating a living bio-bed is easily transferable and ready to be scaled up.
Who is this solution impacting?
Community Type

Additional Information
Population Impacted:
Continent: Asia
Organization type
Nonprofit
Ecosystem (select all that apply)




Population impacted
1,500+
Size of agricultural area
10 hectares
Production quantity
100+ hogs
Describe your solution
Living bio-beds provide an affordable way for pig farmers to ensure sustainable livestock management and increase food security all while using approaches that protect the environment and raise incomes. After observing the harmful effects of many hog operations in Vietnam, AGC worked with smallholder farmers in Hanoi, Vietnam to develop ecologically stable alternatives to traditional hog farming. The community has seen many benefits thanks to the use of living bio-beds. First, there is immediate improvement in the hogs' health. These beds encourage hogs to exhibit their natural rooting behavior because the healthy microorganisms in the bed are beneficial to them. Additionally, since the beds are living they produce heat, which the hogs use for warmth during colder seasons. Both of these improve overall hog health, thereby significantly reducing the need for antibiotics. Secondary social and economic benefits are also realized in the community. The ability of these beds to break down hog waste eliminates runoff, effectively protecting the community from the toxic waste associated with industrial hog farms. Moreover the local economy is stimulated through the purchase of the absorbent materials needed for the hog beds. When AGC realized that much of the living bed technique was transferable, meaning easily adapted for other types of farming, we began working with local farmers to develop appropriate, ecological, and affordable technologies for improving their systems.
Describe your implementation
Living bio-beds provide an alternative to conventional approaches to hog farming by eliminating the toxic runoff and pollution common to traditional methodologies. Our solution to this problem caught on very fast in many parts of Vietnam. This approach is very easy for farmers to understand and makes use of materials that are readily available and very low cost. When farmers saw an opportunity to raise healthier hogs and use a technique that saved on labor, they were eager to make changes. The living bio-bed uses a unique process that involves the burying of canisters of rice in different micro-climates around a farm. After 10 days, a farmer returns to collect the top layer of mold that has grown. Next, the top layer of mold is mixed with warm water, molasses, and Lactobacillus (a culture from milk) and sprayed on the three layer hog bedding that is made of locally-purchased absorbent materials such as bamboo powder, sawdust, rice hulls, and dry leaves. The bedding becomes 'alive' and breaks down the manure and pig urine therefore eliminating all odor and runoff. These living beds challenge the approach of waste management from one based on disinfection to one that promotes co-infection. Farmers in this area are often skeptical of new or unknown methods of farming. This is because past projects in the area have been unsuccessful and farmers are afraid to take risks that may not pan out. This can prove to be an obstacle. However, when one community member began using the living bio-bed technique and was able to show others her success, the approach caught on very quickly. Being that the technique is fairly simple, the innovation has spread from farmer-to-farmer and has great potential to continue scaling out across Vietnam and around the world.
External connections
Our solution was developed in collaboration with 4 expert farmers in Hanoi, Vietnam. Ms. Pham Nhu Trang, Ms. Hue, Mr. Thuan, and Mr. Viet all played a key role in lending their knowledge and testing the living bio-beds on their farms. Each of these farmers had concerns about the effects of toxic runoff from hog farms and wanted to contribute to making their operations more ecologically sound. The living bio-bed makes use of local materials from the forestry sector by utilizing bamboo powder and sawdust. The purchase of these materials helps fuel the local economy and utilizes a resource that was often thought to have no use. The fact that living bio-beds eliminate runoff into water supplies means that community members that rely on fishing will not have to worry about toxins destroying the fish populations that they count on. Furthermore, bio-bed materials can be used to feed red worms and black soldier flies to be fed to fish in more modern fisheries. Policy can also play an important role in the furthering of living bio-beds. When policy makers see the benefits of this ecological approach, they can better understand and offer support to farmers that are interested in converting their hog operation from traditional methodologies to these innovative and environmentally friendly practices.
What is the environmental or ecological challenge you are targeting with your solution?
Livestock farming has long been criticized for its negative impacts on the environment, waterways, and local communities. According to a 2005 EPA report, livestock animals in the United States produce between 1.2 and 1.37 billion tons of manure annually. In many cases the waste produced by big farms has serious consequences. The leaching of manure can contaminate groundwater, the primary source of drinking water for most rural communities. Air quality is also at risk with many studies suggesting higher rates of asthma and respiratory issues in populations working in or living around livestock farms. AGC seeks to spread the use of innovative approaches that can do more than offset the damage, but create new opportunities for social and environmental regeneration. With a targeted approach that builds off of natural processes, hog farms can actively create microclimates and living safeguards to protect humans, the environment, and our natural resources.
Describe the context in which you are operating
Vietnam is the largest pork producer in southeast Asia. Hogs play a very important role in Vietnam due to their nutritional, economic, and agricultural system value. Hogs make up about 70% of all livestock in Vietnam with a larger number of these hogs belonging to small scale farmers. In fact, smallholder farmers that integrate hog production with rice and crop production make up the largest portion of pork producers in the country. However, many of these farmers are still using traditional concrete pigsties resulting in a number of ecological and social challenges. There is an incredible opportunity to introduce living bio-beds to farmers across Vietnam in order to address the many challenges communities face due to traditional hog farming. Living bio-beds are particularly suited to smallholder farming communities, but could also be used in the larger hog operations that cause much of the environmental damage.
How did you impact natural resource use and greenhouse gas emissions?
The living bio-beds provide many positive impacts for biodiversity and the local environment. Often times farmers burn their fields to get rid of rice straw, leaves, and weeds. In doing so, soils are losing fertility and biodiversity is destroyed in the process. Since living bio-beds utilize materials like rice straw and leaves, farmers are not forced to resort to the burning of their fields. Using these materials in living bio-beds not only stymies the burning of fields and loss of biodiversity, but also can be used as an organic soil amendment to actively build soil fertility and increase biodiversity. Providing other avenues for farmers to use their resources saves money and protects the local environment from pollution caused by the burning of fields. In many cases, burning fields become uncontrollable and unintentionally burn property of other farmers. With this technique, farmers can not only save money, but also improve biodiversity and protect their local environment.
Social/Community
Communities see increased opportunity thanks the this technique. Creating positive outcomes on hog farms is an important step in easing tensions that often exist within communities who fear negative fallout from runoff and pollution. Both the inputs and outputs of living bio-beds create circular economies that strengthen the livelihoods of community members. The transferability of this technique can be shared with other communities and aid in creating cross-communal relationships.
Water
Both surface and groundwater will maintain quality standards. Eliminating runoff and pollution in our waterways will ensure that communities have access to safe drinking water. The practices of developing living bio-beds will decrease the amount of leaching from hog waste infecting our soils as well. Additionally, the hog bedding when used as an organic amendment will increase the water retention of crop soils.
Food Security/Nutrition
One of the main benefits of living bio-beds is the ability to keep hogs healthy. As a result, farmers can ensure that their livestock are healthy to eat and fit to sell. Since many farmers take the money they earn from raising pigs to buy other food products, ensuring that livestock are healthy creates a reliable income to buy food and guarantee food security. Pork is also a good source of protein, B vitamins, zinc, and can play an important role in providing a nutritious diet.
Economic/Sustainable Development
The local economy is stimulated through the purchase of the absorbent materials needed for the hog beds including bamboo and lumber shavings. Farmers raising healthy pigs with reduced antibiotics decrease their spending and increase their market share. Furthermore, the sale of used bedding as an organic soil amendment has also increased the incomes of many community members who can now circulate more back into the local economy.
Climate
The development of living bio-beds also reduces the amount of carbon and ammonia released into the atmosphere. As an alternative to the carbon intensive waste management of industrial hog farms, these practices do more than offset negative aspects associated with hog farming, they create useful byproducts that limit greenhouse gases.
Sustainability
This technique can provide numerous avenues for economic sustainability. Bio-beds are a low cost solution that drastically cuts the need for expensive antibiotics. This approach provides incentives for farmers to use resources efficiently. As a result, the environment is protected and incomes are boosted. Farmers are looking for both economic and ecological stability and the living bio-beds deliver on both fronts. The market-based revenue that farmers receive from the selling of hogs and bedding materials for compost can be used to reinvest in the natural resources that make this solution possible. This technique plays an important role in creating circular economies and keeps money close to local communities.
Return on investment
The living bio-bed is a low cost solution for many farmers. Additionally, this approach can help farmers save time and money over the long run. Farmers can save twice as much money using bio-bed compared to traditional ways of keeping hogs on concrete floors. This is because they spend less money on cement and bricks. Furthermore, farmers save 50% labor, 80% water, and 40% electricity because they do not have to clean the pigsty 3 times daily as is typical in traditional operations. The living bio-beds offer a healthy alternative and slash costs of antibiotics by protecting against harmful pathogens common in traditional operations.
Entrant Image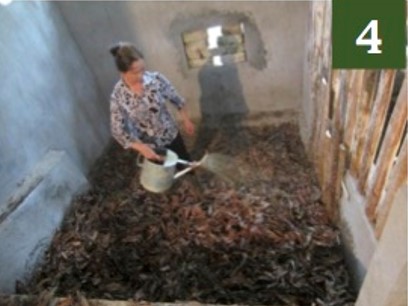 Entrant Banner Image

How could we successfully replicate this solution elsewhere?
This approach could be replicated in many places. Scientists in Vietnam have become very interested with living bio-beds and have conducted a number of studies to help spread its adoption. Depending on the context of a farmers surroundings they might have trouble finding proper bedding materials at a low cost. However, AGC is working with local farmers through participatory innovation development to adapt this innovation and help scale it out. At the current time, this innovation is taking place in many villages across Vietnam, but could be implemented in other countries and even very large hog operations. The innovation has been documented and AGC has shared this innovation with its network and will continue to build resources to ensure that its implementation is scaled out. Additional funding would be helpful in conducting longer term studies for adapting the innovation and developing mechanisms for sharing its potential to farmers across the world.