An Overview Of Our Solution
The Maldives is a nation of coral islands scattered across 600 miles of Indian Ocean. A local supply of fish and coconuts made up the traditional diet, but with the rise of luxury tourism and a wealthier population, fresh fruit and vegetables are now flown in daily. Local agriculture is focused on just a few products, and heavy use of imported agrochemicals is taking its toll on these delicate island ecosystems. Soneva Fushi, a pioneering luxury eco resort, has developed a new model. Our "Waste to Wealth" department has been running organic gardens for over ten years, producing 70+ varieties of fruit, vegetables and mushrooms for guests and staff. To support this, an innovative range of organic fertilizers and pest control products are made on site from resort waste. This new model is ripe for sharing across the Maldives and other small island nations.
Who is this solution impacting?
Community Type

Additional Information
Population Impacted
Continent: Asia
Organization type
Corporation
Ecosystem (select all that apply)


Population impacted
800 (island inhabitants) + 3800 (two neighbouring)
Size of agricultural area
46 ha island of indigenous vegetation, 1 ha organic gardens
Production quantity
1200kg/month
Describe your solution
At Soneva Fushi we have three strategies to increase engagement, reduce our environmental impact and increase biodiversity and soil life: 1. Zero waste We have pioneered the 'Eco Centro', the island recycling centre, where all waste is collected, separated, and wherever possible transformed into useful materials for reuse on the island. This minimises our impact on the island and its biodiversity, and serves as an important model for other islands. 2. Local production for local consumption using local resources By focusing on self sufficiency, we encourage 'circular economy' activities. We find new ways to ensure nutrients remain on the island to be recycled into the next generation of fresh produce. We seek out nature's services in natural pest control, valuing our beneficial insects, using targeted bio pesticides and putting plants throughout our gardens which repel pests. 3. Profitability If we are to encourage widespread adoption of organic farming practices on small islands it is essential that the most environmentally-friendly approach is also the most profitable in the long term. We are committed to demonstrating this through our resourceful approach to waste and in developing suitable growing methods for high-value fruit, vegetables and mushrooms which find a ready market with resorts and the local community.
Describe your implementation
Our solution is a model for high-value organic farming in a small island context which, in contrast to existing farming practices, enhances the land, its biodiversity and the surrounding environment. We take a "Waste to Wealth" approach at our Eco Centro recycling operation and in our organic gardens. Our Eco Centro waste management centre helps us maintain a clean environment, recycling over 80% of our solid waste. Many activities convert waste into useful products, such as: - Food waste and chipped-up leaves and branches are composted (~1000kg/day) to fertilize the soil. Nothing need be disposed of at sea. - Waste wood is converted to charcoal (~2000kg/month) for guest BBQs and to enhance the soil as biochar. - Fish waste is fed to beneficial microorganisms, which transform it into an amino-acid rich fertilizer for our crops. - Potting containers are made from jars, cans and Styrofoam boxes which are harvested from resort waste. In the gardens, with the help of these inputs, we cultivate over 70 herb, salad, vegetable and fruit varieties. Raised beds, crop rotation and mixed cropping help reduce pests, while various bio-controls including beneficial plants, bacteria, fungi and nematodes are being tested to protect our vegetables. Pest control is still a challenging area and we will continue to test organic options until we find solutions to all the issues. We are the only mushroom producers in the country. By using organic waste as a substrate, over 90% of the inputs come from our island. We grow our own spawn from ten varieties of edible and medicinal mushrooms. There is a huge opportunity for local farmers to grow mushrooms for the resort market and we are committed to facilitating that. Environmental sustainability is at the heart of the Soneva company, & is lived out by the owners, Sonu and Eva Shivdasani. There is a big advantage to owning & managing a whole island, & their long term commitment to sustainability is a key factor in our success.
External connections
Soneva Fushi resort is the biggest stakeholder, playing host to the recycling centre and organic gardens, and inspiring the team to develop an environmentally sustainable solution which is applicable to islands across the country. Training is encouraged for the team on suitable topics such as permaculture design and mushroom cultivation. A recent partnership with Dr Anon Auetragul, a Thai expert in mushrooms and agriculture, is providing valuable technical transfer of organic growing and bio pest control methods. As well as expanding our mushroom project, he is sourcing new tree crop seedlings and vegetable varieties which grow successfully in Thailand, including asparagus, coffee, figs and frankincense (a future spa product). We maintain good links with the Maldives Ministry of Fisheries and Agriculture, who recognise that organic agriculture is essential for sustainable growth in this sector. We were invited to contribute to a government brainstorming sessions with FAO on the subject of Island Smart Agriculture, and hope that our experiences will influence national policy and assist with bringing more investment into island farming.
What is the environmental or ecological challenge you are targeting with your solution?
Our solution addresses three environmental concerns in the Maldives - food security, water security and solid waste management. The country is heavily reliant on imports, with 90% of all food coming from outside. Groundwater is the main fresh water source, which faces contamination from poor waste management practices and increased use of chemical fertilizers and pesticides. The generation of solid waste is soaring, and according to a UN report, 1 in 4 households dispose of waste by the seaside, burn it in living areas, or throw it into the bushes. Resorts typically dispose of their food waste in the sea. Tourism, fisheries and agriculture account for 89% of the Maldivian GDP, and are all reliant on a healthy biosphere. But small islands are vulnerable to biodiversity loss from rapid economic development, habitat destruction and overexploitation. The external threats of climate change, ocean acidification and sea level rising are a reminder that positive action is needed quickly.
Describe the context in which you are operating
The Maldives consists of 1200 islands, of which 200 are home to local populations and 120 are exclusively for tourist resorts. In addition to these, around 50 islands (1300 hectares) have been leased for agricultural production. Most islands are between 5-50 hectares in size. Total available arable land is estimated to be 4000 hectares.
The potential for agriculture in the Maldives is limited by the scarcity of farmable land, the high cost of fresh water for irrigation, and the challenge of transporting produce to disparate local markets. However, with over 90% of food, as well as pesticides and fertilizers imported at huge expense from neighbouring countries, there is a pressing need to improve food security through more efficient and sustainable local production. Soneva Fushi is demonstrating how appropriate recycling and organic farming can improve soil fertility and biodiversity, while developing intensive growing methods for high-end produce that appeal to the resort industry.
How did you impact natural resource use and greenhouse gas emissions?
By producing our own organic inputs, and farming without chemical pesticides, we are developing a rich, living soil filled with earthworms and beneficial microbes. As a result, despite the challenges of growing in coral sand, we are experiencing year on year production increases. A wide range of herbs, as well as lettuce, rocket, spinach and morning glory are enjoyed freshly-picked by guests and staff alike. The broader environment is also benefiting from our compost making, as surplus production is used in public areas around the island to grow a variety of native plants and flowers. In addition, many bags of compost have been provided for the local school and children's park on the neighbouring island.
Language(s)
Which language(s) are spoken in the area where your solution is implemented?
Social/Community
Soneva Fushi has a long history of active engagement with our neighboring island communities. We regularly conduct eco tours of our composting facilities, mushroom production area and organic vegetable gardens for any interested parties within the community. Local government authorities, NGOS, agri businesses and school children visit us regularly. We have particularly worked with our neighbouring islands to encourage composting and other good practices, and this has had a transforming effect.
Water
The seepage of chemical fertilizers and pesticides into the water table has been one of the major environmental costs of agriculture in the Maldives. Runoff into the surrounding lagoon also has a detrimental effect on the reefs and ocean biodiversity. Our organic fertilizers and pest control products eliminate the need for harmful chemicals, thus ensuring an uncontaminated fresh water lens.
Food Security/Nutrition
Maldives as a country will continue to depend on imported food items. However, with our innovative farming methods, individual islands can become more self sufficient. At Soneva Fushi, we have reduced the value of imported vegetables for our guests and staff by 37% since we started organic farming. Locally grown fresh produce has a high nutritional value and much smaller carbon footprint than produce which has travelled long distances.
Economic/Sustainable Development
One of our objectives is to encourage local farmers to grow high value fruits and vegetables that are in demand from the resorts. We are experimenting with different varieties and techniques that best suit the conditions in the Maldives. We believe this will help local farmers develop sustainable businesses with access to the resort market.
Climate
The Maldives is an isolated, low-lying country, which will be one of the first to be impacted by sea level rise as a result of climate change. Encouraging local production for local consumption cuts out all the carbon emissions associated with transporting of fresh produce by air cargo around the world. This will help make remote luxury resorts more sustainable and reduce our impact on climate change.
Sustainability
The organic gardens at Soneva Fushi are funded through the Waste to Wealth department of the resort. By selling fruit, vegetables and mushrooms to the kitchens, the team is approaching breakeven in its own right, turning the gardens into a profit centre for the business. Likewise, the Eco Centro waste management team is generating revenues through the sale of charcoal, compost etc. We anticipate that within a year the Waste to Wealth department will reach its goal of becoming profitable all year round so that we are no longer reliant on the resort to fund our operations.
Return on investment
The whole department costs about $180k per year to run, and a further $80k has been invested in new equipment for recycling innovations, the mushroom project and orchard project over the last two years. In February 2017 we made an operating profit for the first time. It is worth noting that we are investing in facilities with benefits beyond our island. Our mushroom lab is able to provide spawn for mushroom growers across the country. Our bio-fertiliser and compost is expanding to support farmers on other islands. The goal is to become a supplier of the organic inputs necessary to support sustainable agriculture throughout the country, so justifying the time and expenses spent on these capabilities.
Entrant Banner Image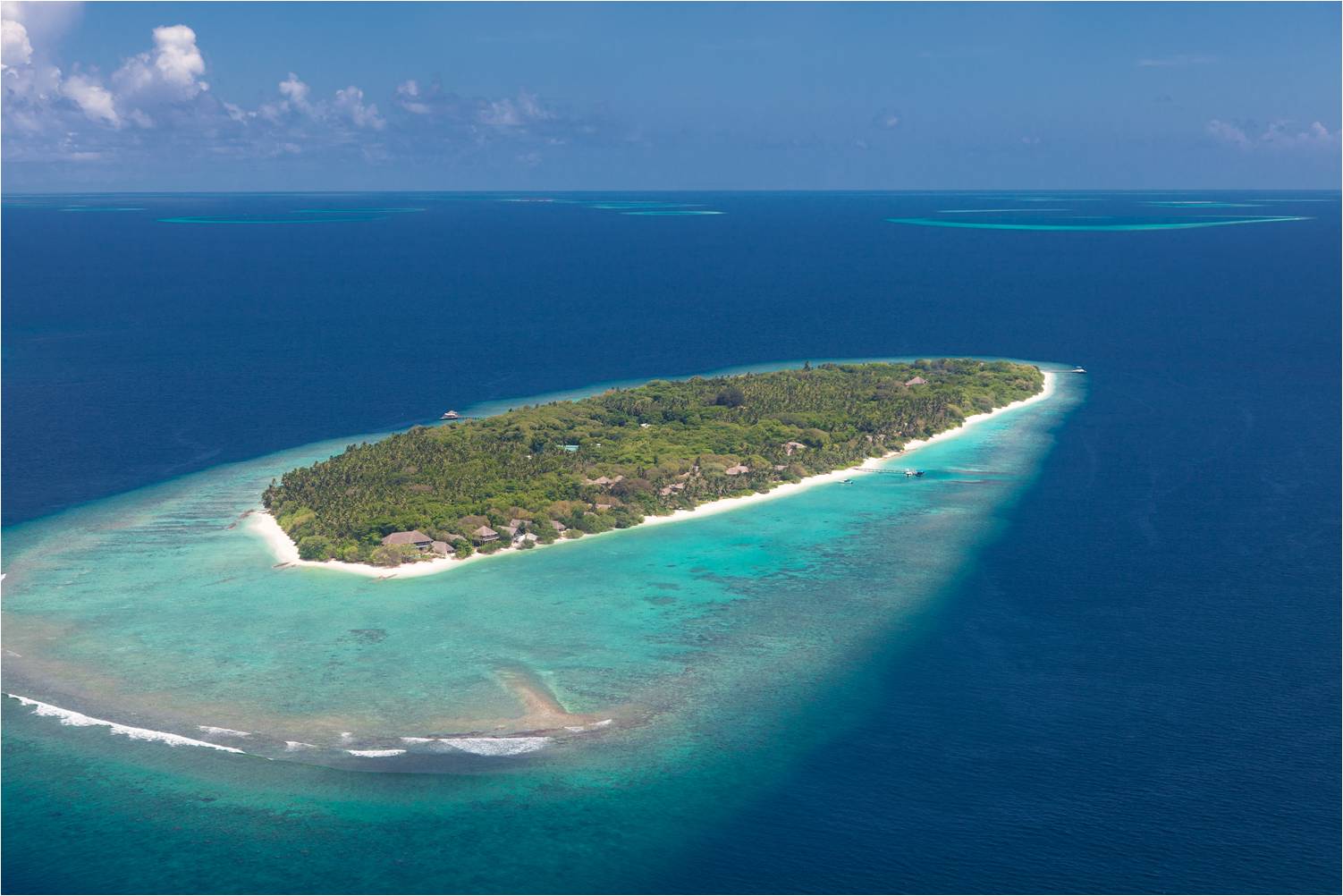 How could we successfully replicate this solution elsewhere?
We are working hard to ensure this solution can be replicated on other small islands in our region. And the issues that face the Maldives are relevant to small island nations across the world, namely; challenging waste management, biodiversity loss through poor agricultural practices, and missed opportunities for serving local markets with organic produce. Soneva Fushi's "Waste to Wealth" approach would be very relevant in similar environments, as shown by the similar set-ups we have at the two other Soneva resorts (one in the Maldives, one in Thailand). Approximate set-up costs to replicate from scratch would be: - $200k - Eco Centro buildings - $100k - Eco Centro machines (assuming a similar waste profile to Soneva Fushi) - $180k - End-to-end mushroom facility including spawn making - $30k - Garden set-up for a 1 hectare plot (including greenhouse) A horticulturist and trained Eco Centro team leader would be essential hires and could train the rest of the teams.