An Overview Of Our Solution
Amazon indigenous communities have for generations integrated farms and forest to produce an extraordinary diversity of foods, but market and cultural forces are eroding these well-honed systems. A burgeoning Latin American food movement is creating new opportunities. Relationships between rainforest communities and chefs can help incubate new enterprises, support producers, and showcase the Amazon, through delicious food, to new audiences and allies. Canopy Bridge works with a group of chefs from Ecuador´s best restaurants, indigenous communities and conservation NGOs to develop value chains for Amazon fresh foods that have substantial conservation benefits and great culinary potential. Through the establishment of a distribution chain from the Amazon to Quito, these products are now reaching specialty food markets and restaurants on a weekly basis.
Who is this solution impacting?
Community Type

Additional Information
Population Impacted:
Continent: South America
Organization type
Corporation
Ecosystem (select all that apply)

Population impacted
130 families, 650 people
Size of agricultural area
0.5-4 ha farming plots embedded in a landscape of hundreds of thousands of hectares of forest
Production quantity
Paiche: 203kg. Chakra products: 67kg. (Nov 2016 – Feb 2017)
People employed
7 Ai-Kofan and 7 Kichwa
Describe your solution
Our work using gastronomy as an agent of change is focused in Ecuador on connecting indigenous producers of specialty ingredients with leading chefs and restaurants. Extraordinarily well-tuned traditional farming systems have long been in place.The problem is that these systems and their products are increasingly undervalued in a changing market context.We´ve partnered with conservation NGOs and the most renowned chefs in Ecuador to provide a missing link in the value chain of unique Amazon products and ingredients. We are building connections between producers and chefs to incubate new products with culinary potential, and are now driving revenue directly to communities, providing new incentives for conservation The restaurant and chefs, part of a burgeoning food movement in Latin America, are looking for innovative ingredients, unique to the country and rooted in its multiple cultures, creating space for traditional crops, farming methods and local communities non-existent a decade ago. We´ve provided practical solutions to solve logistics problems typical of fresh products to reach restaurants and specialty food markets on a weekly basis.Although we´ve started small our aim is to scale up this delivery network through sustainable sourcing from producer associations with practices that work in both ends, such as diversifying producers to avoid over-exploitation of production units as well as diversifying sales to ensure biodiversity in production unit is not compromised
Describe your implementation
Together with our network of more than 25 chefs in Ecuador we are constantly screening, identifying and incubating products and ingredients from the Amazon rainforest that were previously unknown, promoting their consumption and providing a way for producers to be able to sell their production in markets that value their effort and their cultural legacy. Specifically, we have developed value chains for aquaculture paiche (Arapaima gigas) an Amazon fish species produced by the Ai-Kofán people, and for products grown by the Kichwa people in highly diversified chakra production units, such as Garabatuyuyo (Pteridium aquilinum) a wild-harvested fern, Patasmuyo (Theobroma bicolor), a parent of cocoa, and others. Due to a growing food movement in Latin America new food events are taking place. We have been part of Latitud Cero and Degusta Diversidad in Cuenca and Quito in 2016 to promote targeted products with the public and in national (e.g. Diario El Comercio, Gama Vision) and international media (New York Times). Fortunately, this food movement has translated into an unsatisfied demand for new Amazon products and ingredients, which led us to establishing a distribution center in Quito, Ecuador. Every week we collect orders from chefs and other buyers and receive deliveries from communities to be distributed to restaurants and specialty food markets. In only 4 months of operation we are already delivering to over 15 restaurants in Ecuador. Thanks to the expertise from conservation NGOs that promoted the adoption of new solutions to avoid farming systems that involve deforestation (e.g. the Ai-Kofán paiche fisheries), sustainable production systems were guaranteed. However, these NGOs lacked involvement with marketing systems. Our market-based approach is not only providing incentives for conservation but also allowing some of these Amazon communities to maintain their traditional, highly diversified farming systems (e.g. the Kichwa´s chakra).
External connections
The strength of this approach is its ability to unite unusual collaborators including chefs, food entrepreneurs, conservation scientists, indigenous leaders, and media – and to use delicious food as a gateway to reach new constituencies for the Amazon. At the international level we´re one of the original founders of Cumari network (www.rainforesttotable.com), a regional coalition of chefs and environmentalists with passion for the Amazon and gastronomy as an agent for change.This network includes Forest Trends and WCS, the ámaZ group in Peru, and chefs from other countries in the region such as Kamilla Seidler from Gustu Restaurant in Bolivia, named by 50Best as best female chef in Latin America in 2016.The Cumari network serves as a platform for shared learning, collaboration and promotion For our work in Ecuador we received seed grant support from Conservation International and the Swift Foundation to implement our solution in our first 4 months of operation and builds on earlier support from the Nature Conservancy to the Ai-Kofán.Through our regular collaboration with ATPA (Agenda para la Transformación de la Amazonía), a program run by the Ministry of Agriculture and Fisheries, and the small grants program of UNDP, we intend to continue to develop a scalable model that can influence policy and provide a wider impact. We are also currently developing an investment vehicle that can replicate this model & support scaling up of food enterprises across the Amazon countries
What is the environmental or ecological challenge you are targeting with your solution?
Indigenous peoples of are stewards of 50% of the Ecuadorian Amazon, struggling to maintain their territories, culture and livelihoods in the face of dramatic changes over the last 50 years. Their territories generally maintain the majority of original natural forest cover. Farms are a diversified combination of fruit trees, palms, timber species, herbs, and root crops that act as "connective tissue" for surrounding rainforests, as well as themselves being important repositories of wild biodiversity and cultivars. With shifts to the market economy, this mosaic of indigenous forests and farms is at risk of disappearing or being radically simplified to emphasize a few common cash crops that meet the need for income, but sacrifice biodiversity, food security and culture. While the Amazon region comprises 45% of Ecuador´s territory, its rich cultural and biological diversity is poorly known and undervalued in the country´s centers of economic and political power.
Describe the context in which you are operating
Ecuador, covering just 0.2% of the Earth´s surface, is one of the most biologically diverse countries. Its Amazon lowlands are exceptionally rich, but also highly threatened. Of the Amazon countries, Ecuador has lost the largest share of its original Amazon forests; expansion of crops and pastures drives over 90% of this deforestation.
The Ai-Kofán people, now numbering approximately 1500 people, control some 400,000 has of forest from lowland floodplain forests to the high foothills of the Andes. The Kichwa people, numbering over 120,000 in total, constitute approximately 60% of the population of Napo province.
The mosaic of farms and forests of the Ai-Kofán and Kichwa articulate conservation landscapes of global importance including multiple Amazonian and Andean protected areas.
Since the 1970s both peoples have been heavily impacted by an influx of migrants, oil development and infrastructure which have fragmented their traditional lands and affected culture and livelihoods.
How did you impact natural resource use and greenhouse gas emissions?
Activities create biodiversity benefits at multiple scales. The fish farms of the Ai-Kofán provide significant revenue from very reduced areas – in contrast to extensive cattle ranches or oil palm plantations. Alternative income from fish farming thus reduces pressures for deforestation. The longer term goal is that these activities can contribute economically to ongoing Ai-Kofán conservation of their territory and co-management of national protected areas, while managing in-situ an emblematic and endangered Amazon species. Sales of a diversified basket of products from the Kichwa chakras of Napo, contribute to valuing this farming system in an integral way. By promoting a variety of traditional products these alliances give economic value to diversity rather than emphasizing simplistic, single-crop solutions. The value is not merely economic; the relationship with new allies and audiences also celebrates and reinforces the rich cultural origins that gave rise to the ingredients.
Social/Community
Two local producer organizations have generated economic activity and market relationships that contribute to strengthening their institutions. Fifteen families participating in the first 4-month pilot with significant potential for growth. In the process, the Amazon became manifest and was regularly celebrated by a dozen prominent restaurants, after previously being completely invisible and absent. In this sense cultural pride and recognition are very significant objectives and co-benefits.
Food Security/Nutrition
Links for products to new markets reinforce the value of traditional products of indigenous communities and of diversified farming systems. A priority for ongoing work is to evaluate nutritional impacts, monitor market/home-consumption trade-offs, and work together with communities to identify opportunities to improve family nutrition based on local resources – an area where we see the diverse coalition of interests convened by this effort as being particularly powerful
Economic/Sustainable Development
The 4-month pilot generated sales of $4,181.69 and has resulted in a business road map for the Ai-Kofan´s growth and consolidation of their fish farming work.
Climate
It is difficult to quantify with precision the greenhouse-gas benefit generated by these projects, but the hundreds of thousands of hectares of forests under indigenous control clearly constitute an important store of carbon that groups like the Ai-Kofan and Kichwa have kept out of the global atmosphere. Researchers have also pointed to the importance of Kichwa agoforestry systems for climate change adaptation and mitigation (Torres et al 2014)
Sustainability
We have relied on a mix of grant funding and market-based revenue to economically sustain the 4-month pilot. As encouraging results for both producers and buyers are keeping weekly orders in place, at this stage the operation has reduced its costs to the minimum as to continue delivering product consistently.
Due to the small-scale nature of this early stage, operating costs for distribution and logistics can still not be covered by sales. Following a conservative assessment of projected sales, the initiative would require grant funding support for a period of 1-2 years until a scale of business threshold is achieved.
Return on investment
With seed grant funding (Conservation International/Swift Foundation) totaling $3500, the implemented activities have already generated sales for $4,181 in 4 months of operation. Considering amount of sales as returns of the initiative, the ROI from grant funding for the pilot timeframe of 4 months would be 19.5%.
Entrant Image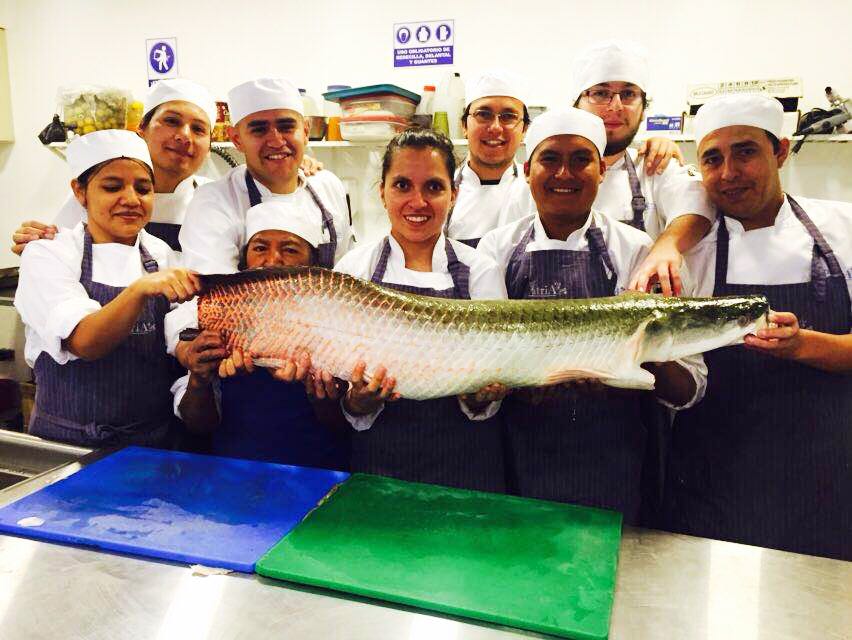 Entrant Banner Image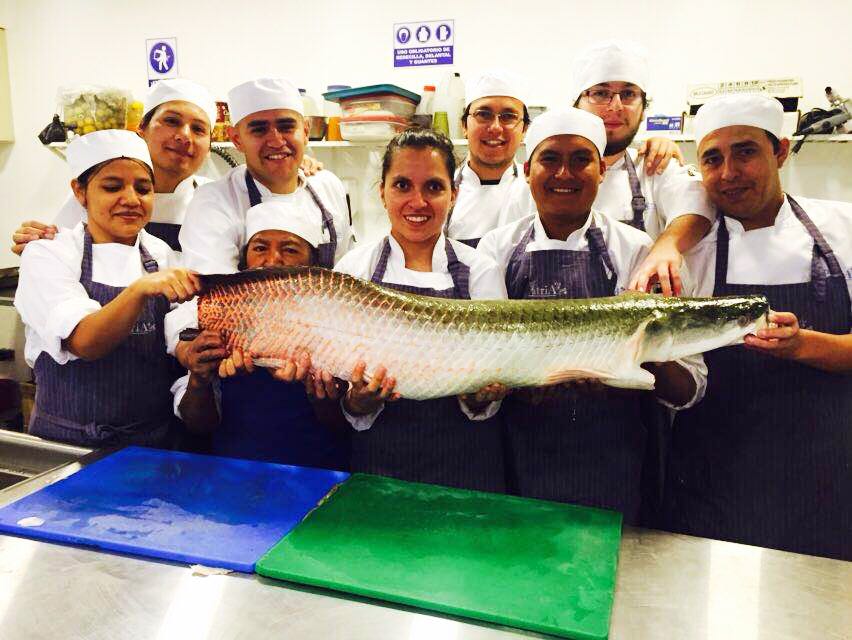 How could we successfully replicate this solution elsewhere?
The key immediate objective now is to sustain and expand the initiative with participating organizations of the Ecuadorian Amazon. There is clearly potential to increase demand, diversity of products and volumes of sales, integrating additional producer groups of the Ecuadorian Amazon. Certain producer enterprises and the logistics/distribution structure we are building should be economically self-sustaining within 1-2 years There is ample opportunity for replication, with initiatives already underway with other collaborators in the Cumari, Rainforest-to-Table network in Peru, Bolivia, Colombia and Brazil. While each context is different, replication could be accelerated by investment in 1) systematizing approaches to product, market, sustainability and logistics assessment, 2) sharing and exchange of information, tools and lessons learned 3) common efforts to build recognition for sustainable Amazon gastronomy and 4) tools for strengthening positive feedback for community nutrition