National Disaster Risk Reduction Center Nepal (NDRC Nepal)
An Overview Of Our Solution
The solution was carried to minimize a set of environmental challenges like floods, wildfires, landslides, biodiversity loss and land degradation in Jagdishpur wetland (a Ramsar site) and its upstream area, caused due to harmful anthropogenic activities in the Banganga River Basin. The project reached 14168 indigenous households highly dependent on forest resources, improved their livelihood and increased food security up to 12 months. Project objectives were achieved through awareness campaigns, agro-forestry, sloping area land technology, bioengineering techniques, revamp in irrigation and water recharge system, and installations of improved cooking stoves, solar home systems, and biogas plants. For co-funding and sustainability, relevant government and non-government stakeholders were involved from the start.
Who is this solution impacting?
Community Type

Additional Information
Population Impacted:
Continent: Asia
Organization type
Nonprofit
Ecosystem (select all that apply)




Population impacted
72,751
Size of agricultural area
6945 ha
Production quantity
5684500 kilos
Describe your solution
For more ecologically sound and profitable land-use, the project eliminated the traditional unsustainable slash-and-burn farming practices through awareness campaigns in local language. Agro-forestry (broom grass, lemon grass, bamboo, etc), Sloping Area Land Technology (SALT), climate resilient cash crops (banana, turmeric, ginger, pineapple, etc), climate adaptive leguminous cover crops and zero tillage farming system were introduced as better alternatives through farmers groups. These techniques have not only helped to restore soil biodiversity and control erosion but also increased poor families' income. The cultivation of cash crops has ensured higher food security. In the lead role of users groups, conservation ponds and wells were constructed for irrigation as well as soil moisture maintenance and water source recharge. Bioengineering techniques were applied to reduce the impact of floods in the Banganga River and save cultivable land. Installations of Improved Cooking Stoves (ICS), solar home systems, and biogas plants have proved effective in minimizing the use of woods thus conserving forest biodiversity. Awareness raising campaigns were organized to control human-induced forest fire that is responsible for biodiversity loss. Advanced animal husbandry through stall feeding, improved shed, and use of fast growing fodder and grass have further helped in protecting local biodiversity and increasing livelihood resilience.
Describe your implementation
Project activities were focused on making land use more sustainable and conserve biodiversity. Locally affordable and accessible technologies were used to protect soil biodiversity such as SALT, use of climate resilient crops and cover crops, construction and rehabilitation of irrigation systems, and conservation and recharge of ponds. Cultivation of climate-resilient crops with high local demand namely banana, turmeric, ginger, sweet potato, taro and pineapple have boosted soil fertility while also increasing farmers' income. Construction of bioengineering sites along with spurs of locally available bamboo and SALT initiatives have reduced soil erosions along river banks and mountain slopes respectively. New catchment ponds in the upstream and maintenance of wells/ponds in the downstream have helped to irrigate fields, feed livestock, and retain soil moisture. Collectively, these activities have decreased siltation in the downstream Jagadishpur reservoir consequently conserving the flora and fauna diversity. Local people of 6 VDCs of Kapilbastu and 1 VDC of Arghakhanchi district were mobilized to operate 7 Disaster Management Committees (DMCs) for sustaining and institutionalizing the project outcomes. DMCs have played a pivotal role in successful implementation of the project. School based initiatives extracurricular activities like conservation awareness programs, and establishment of meteorological stations have been highly successful. Community participation and their confidence in the initiatives were the major success factors for the project. Because of the project's initiatives, farmers struggling to keep their families afloat are now earning up to 300% more cash from climate resilient crops (compared to conventional cereal crops). Rather than using sophisticated technologies, locally available and adaptable nature based solutions were introduced which made the activities successful.
External connections
NDRC Nepal actively engaged relevant government agencies for the project's implementation, namely District Forest Offices (DFOs), District Agriculture Development Offices (DADOs), District Livestock Service Offices (DLSOs) and District Soil Conservation Offices (DSCOs). Local cooperatives, CBOs, NGOs and INGOs like Heifer International were also mobilized in the project's endeavors for ownership and sustainability. The project efforts had direct benefits on farming, forestry and fishery sectors. Activities like conservation related capacity building training to local people and extracurricular activities in schools readied people for forest conservation. Generations long ill practices like slash and burn and shifting cultivation have been reduced by 80% (against the baseline data) through policy advocacy and campaigning. The involvement of local financial institutions like cooperatives has helped to build linkage of poor families with banks for financial stability. The project supported agriculture sector by encouraging sustainable and climate resilient agricultural practices while also improving food sufficiency and making farmers more resilient to climate change. With increased water level in the downstream, community-led fishery promotion in private fish ponds have been initiated. Working with other relevant stakeholders, NDRC Nepal has been successful in pressuring the Government of Nepal to draft a Policy for addressing the issue of shifting cultivation in 2014.
What is the environmental or ecological challenge you are targeting with your solution?
The project targeted to minimize a set of environmental challenges like biodiversity loss, wildfires, floods, landslides and agricultural land degradation in Jagadishpur wetland (a Ramsar site) and its upstream area, caused due to harmful anthropogenic activities in the Banganga River Basin. Floods in the Banganga River cause loss of 8,000 ha land annually (VCA reports-2016). In the past 53 years, major 16 landslides in the upstream destroyed 6112 ha land. Erratic rainfall pattern and longer drought reduced the average crop production by 60% (DADO, 2016). About 3-5 forest fires reported every year (DFO, 2015) amounts to tremendous biodiversity losses. Located in the downstream of Banganga River Basin, Jagadishpur wetland has been highly impacted by annual flooding and siltation. Its bed is increasing 0.02m/ year (DSCO Kapilvastu, 2015). This wetland is one of the 27'important bird areas' of Nepal and harbors 118 species of which 4 are on the verge of extinction.
Describe the context in which you are operating
The target communities of 14,168 households have a total population of 72,751, of which 47.6% are male and 52.4% female. The area is dominated by indigenous Magars, Tharu and Madhesis groups that are highly dependent on forest resources for their livelihoods. Only 7-9% of the total agriculture land has regular irrigation facility. Compared to the 90's, the forest coverage is reduced by 60% due to slash and burn practices and climate induced disasters (DFOs, 2015). High tillage and unmanaged slopes have led to heavy soil erosion in the upstream. About 53% households own less than 1 ha land, and 8% are landless (land hold data 2015). More farmers are adopting synthetic chemicals to increase productivity as food sufficiency is only from 3 to 5 months and malnutrition among the women and children is severe. Low food security in the upstream has caused people to move downstream adding more pressure to the already scarce resources and resulting in conflict amongst the locals and newcomers.
How did you impact natural resource use and greenhouse gas emissions?
The introduction of SALT and construction of safe drainage have helped in greenery promotion (960ha), slope stabilization (1635ha), and erosion control (2480ha) of land. Siltation in the downstream Ramsar wetland has also decreased improving its biodiversity. Soil fertility of more than 1870ha of land has improved after discouraging the hasty use of agrochemicals, scaling up zero tillage and promoting cover crops. Conservation ponds built by the projects are maintaining soil moisture and minimizing drought risks. These initiatives have created optimum condition for soil micro-flora and forest biodiversity. Installations of 910 ICS have prevented an estimated release of 797160 kgs of CO2 also saving 532440 kgs of firewood in a year. Likewise, installation of solar home system in 290 households (40Wp each HH) have reduced 537.7 metric ton of CO2 annually. Biogas plants (each of 6m3) in 195 households have further helped reduce CO2 emission and dependency on forest resources for fuel.
Language(s)
Nepali, Nepal Bhasa, English
Social/Community
The project has been successful in fostering harmony and solidarity through gender and social inclusion and equitable sharing approach in all of its plan and programs. Hence, the generation long disputes among Magar, Tharu and Madhesi communities have decreased by 70%. After food security improved in the upstream with increased climate resilient cash crops and legumes cultivation, migration to downstream has reduced by 80% (against baseline) as have conflicts related to resource sharing.
Water
Prior to the project, poor land use in the upstream had depleted water sources. Greenery promotion through SALT, agro-forestry and cover crops plantation have regulated water flow, lowered flood events and increased flow in the downstream Jagadishpur wetland. Construction of catchment ponds in the upstream and maintenance of traditional wells/ponds have helped to retain water. Youth-led initiatives to control forest fire have also indirectly contributed to conserve water.
Food Security/Nutrition
The project has improved food security months from the baseline 3-5 months to 9-12 months by overhauling irrigation facilities and encouraging healthy application of agrochemicals. Cultivation of cash crops, legumes and cover crops has encouraged women and children to take more nutritious diet. It has assured food security of families while also reducing pressure on the forests. People have reclaimed unused land along the river bank to grow suitable crops and fodder for livestock.
Economic/Sustainable Development
The project has contributed in economic and sustainable development by encouraging environmentally sustainable yet lucrative livelihood options. Modern farming technology and improved irrigation have not only increased productivity but also saved farming time by up to 60% which is being invested in profitable activities. Each farming family earns USD 480-720 per year. Entrepreneurism skills were also imparted to beneficiaries through 4 different trainings and orientations.
Climate
In order to facilitate climatic change adaptation, climate resilient cash crops and organic farming technique using cover crops were shared with the people from the target area. Emission of CO2 that contributes to climate change was significantly reduced by installing 910 ICS, 290 solar home system, and 195 biogas plants. In addition, meteorological stations were established in 2 schools to make students, teachers and community members attentive and encourage discussion on climate change.
Sustainability
For the sustainability of the project, relevant government and non-government stakeholders were involved as lead executors from the start. Project generated good practices have been mainstreamed in their plans and programs hence allocation of a part from their fiscal budget is ensured for economic sustainability. Local communities contributed 300% more than the project amount for small scale construction activities like bio-engineering. The project worked to link farmers directly with market networks so that they continue to receive fair cost for their produce. After continuous advocacy and campaigning, the poor and marginalized farmers are now getting inputs from government and non-government entities in subsidized rates.
Return on investment
The total cost of the project was USD 50,000 but its return (in terms of social, cultural and environmental services) is estimated to be at least 3 fold more than the investment. For example, the total days in canal desilting and maintenance work was reduced from 120 days to 19 days per year once the irrigation canals were repaired (huge saving of time and resources). Thanks to the projects, farmers are earning much more from cash crops sale and animal husbandry. Large amount of money spent in woods, kerosene and electricity is saved from biogas, ICS and solar home system. Returns from biodiversity conservation and water cycle regulation are higher. The project also attracted additional cash from Canadian Cooperation Office and SGP/GEF.
Entrant Image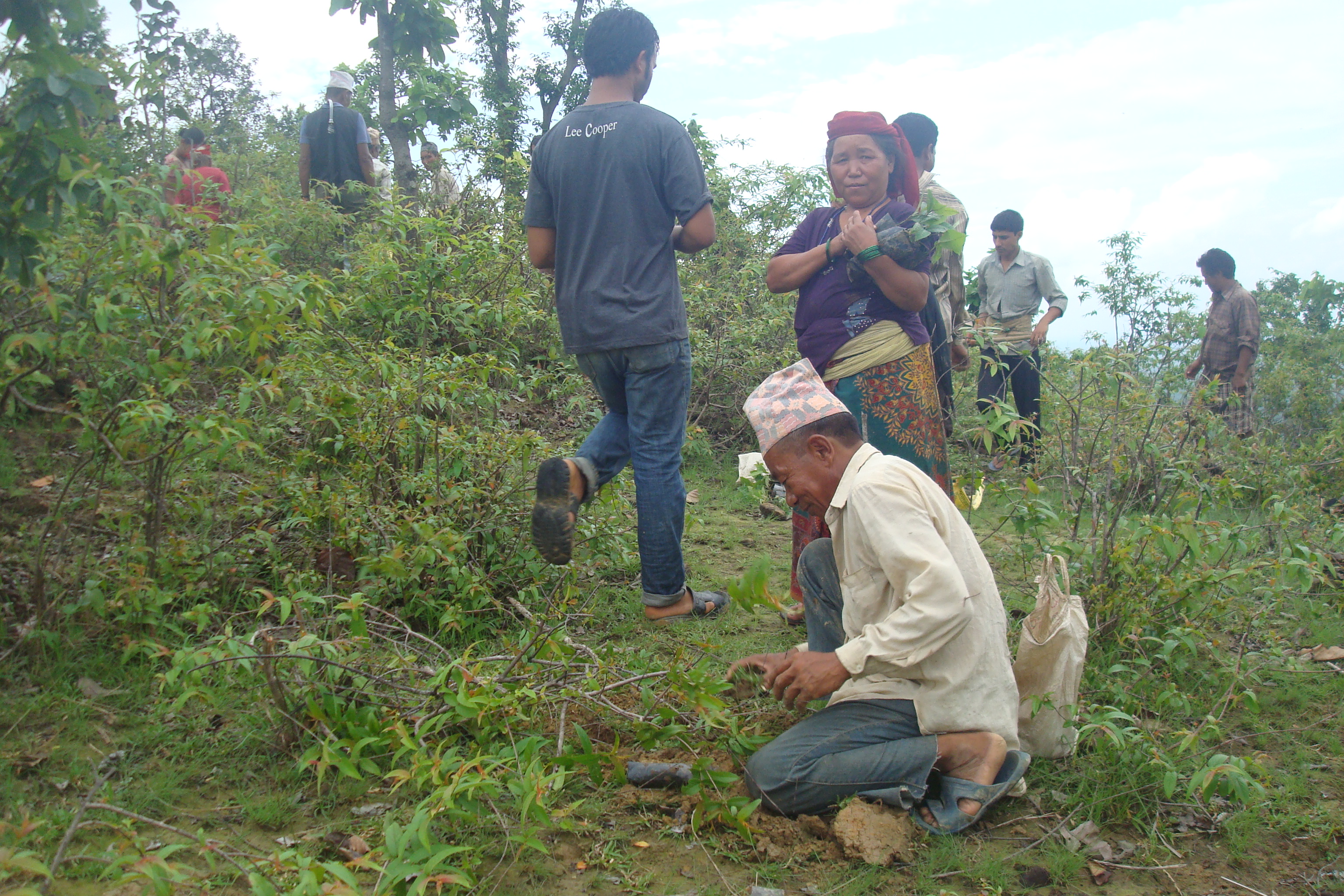 Entrant Banner Image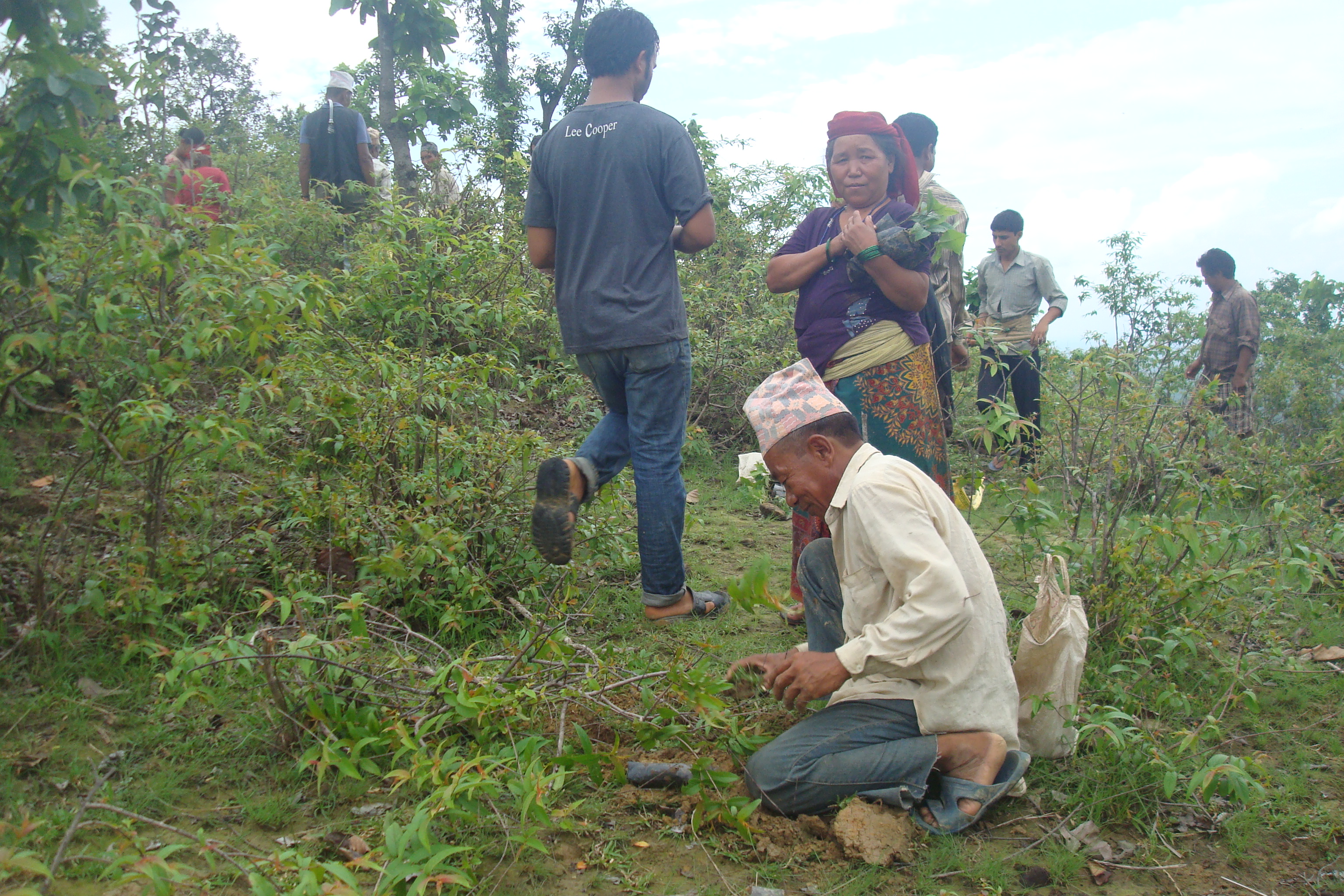 How could we successfully replicate this solution elsewhere?
The solution can be replicated elsewhere if customized according to the local capacity and conditions, as it offers technologically affordable, economic, environment-friendly and locally acceptable answers. The project has also been honored with Adaptation at Scale prize of DFID in December 2016. Twelve neighboring VDCs with similar socio-economic characteristics and vulnerabilities have imitated the activities of the project VDCs. It is estimated (during participatory planning with project communities) that USD 142,000 is required for wider replication around the current project area. If additional budget is received, USD 39,000 is ensured from UNDP/GEF-Small Grant Program, and USD 27,500 from Heifer International. District level government agencies have committed to aid in technology transfer and technical backstopping. Climate change adaptation and disaster risks reduction related trainings would be required for sustainable farming and biodiversity conservation.