An Overview Of Our Solution
Plastic Soup Foundation was established in 2011, with a clear mission: No Plastic in our water & our bodies! Our first campaign was 'Beat the Microbead'.
The goal of this campaign is to end the pollution of the ocean by stopping the millions of plastic microbeads & microplastics coming from care and cosmetics products.
To tackle this problem, we made an app that detects microplastics in cosmetics & care products by reading their ingredients. With this app, users can quickly check if products contain plastic ingredients and make better choices, the scanned products are also uploaded into our public database.
Our app went viral in the Netherlands (no. 2 most downloaded app), our problem now: we are drowning in data! We need extra capacity to maintain data processing & improve our app.
Who is this solution impacting?
Ecosystem



Community Type



Additional Information
Population Impacted: Currently 313,466 people downloaded the app
Continent: Europe
Challenge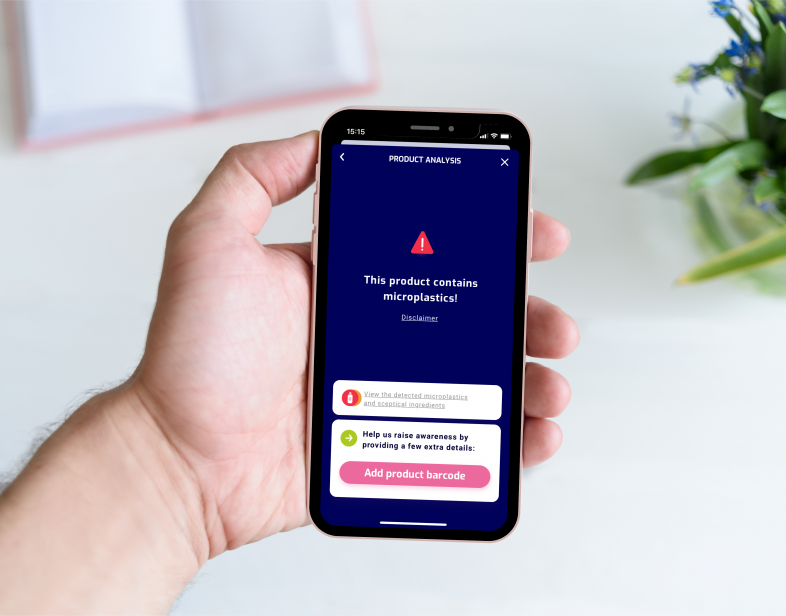 Context Analysis
Microplastics are ubiquitous. They are found in the water we drink, the food we eat and the air we breathe.
It is estimated that microplastics are present in about 90% of all care products sold. In some care products, plastic may constitute more than 90% of the ingredients. If the EU bans intentionally added microplastics, 400,000 tons of fewer microplastics would be released into the environment in EU in the next 20 years.
Using a variety of cosmetics and care products is one of the most prominent ways our bodies are exposed to microplastics. Our tests show that every time you use anti-wrinkle cream, you put about 90,000  plastic particles on your face! Some plastic particles in this facial cream were smaller than the average diameter of a human hair (60-80 pm)— we found particles that were as small as 1,6 pm. Research indicates that if microplastics manage to enter our body, they have the potential to interfere with our organs.
Solution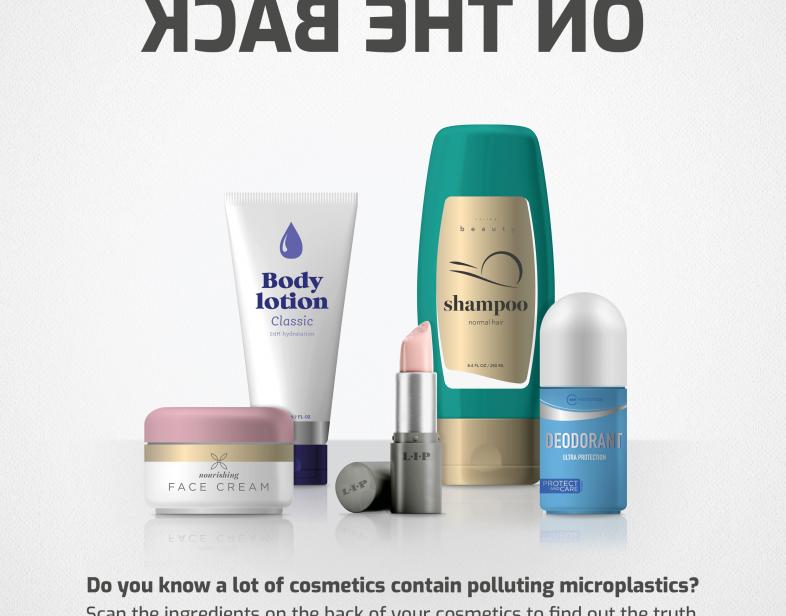 Describe the technical solution you wanted the target audience to adopt
The Beat the Microbead app is the fastest way to learn if your cosmetics and personal care products contain (520) plastic ingredients. This app uses state-of-the-art text recognition technology.
How does it work? It's straightforward: you can scan products with four easy steps:
Find the ingredients list on your product.
Position the full list within your camera frame.
Make sure the ingredients are clear to read.
Take a picture to scan!
We use a traffic light rating system to assess products:
RED: Products that contain microplastics; ORANGE: Products that contain what we call "sceptical" microplastics. With this, we mean synthetic polymers for which there is not enough information available; GREEN: Products that do not contain microplastics & ZERO PLASTIC INSIDE: Certified microplastic-free brands.
Describe your behavioral intervention.
We aim to reach as many people possible with this campaign because microplastic pollution is almost impossible to clean from our natural water resources. Only in the Mediterranean, 1,639 tons of microplastics are released from personal care products every year. It is irreversible damage!

App users can join us in our fight. Every time users add a product to our database, they help us build a case against microplastics. With every product information, we can create evidence and convince authorities about the extensive use of plastic ingredients.

Change in consumer behavior is a powerful means to influence buying habits and stopping microplastics at the source. With our app, people immediately discover if their products contain plastic and if their products do contain plastic, many users directly contact the brand or decide to stop using these products. Through our users, we do not only change consumption behavior, but we have the potential to drive market forces towards sustainability, we have an impact on producers.

As an organization, we believe there is no point in sweeping the floors with the tap open. We need to tackle the plastic pollution problem at the source. And by targeting consumers and producers, we are aiming to cut this cause of microplastic pollution at its source. 
Behavioral Levers Utilized
Emotional Appeals
Information
Social Influences
As needed, please explain how you utilized the lever(s) in more detail.
Our campaign & app engages with multiple levers of behavior change:
Emotional Appeals: App users often express their shock, disappointment and oftentimes anger with the brands. To discover that their favorite brands are using microplastics in their products generates a lot of emotions in consumers. Our app also provides hope with our certified microplastic-free products, consumers have a better alternative to buy.
Information: Consumer awareness & mobilization is in the front and center of our app. With science as our foundation, we highlight several environmental and human health disadvantages of using plastic ingredients in our care products.
Social Influences: We socially influence consumers via the brands they are using instead of highlighting individual. People do not want to identify with brands that might be doing irreversible damage to our planet.
Implementation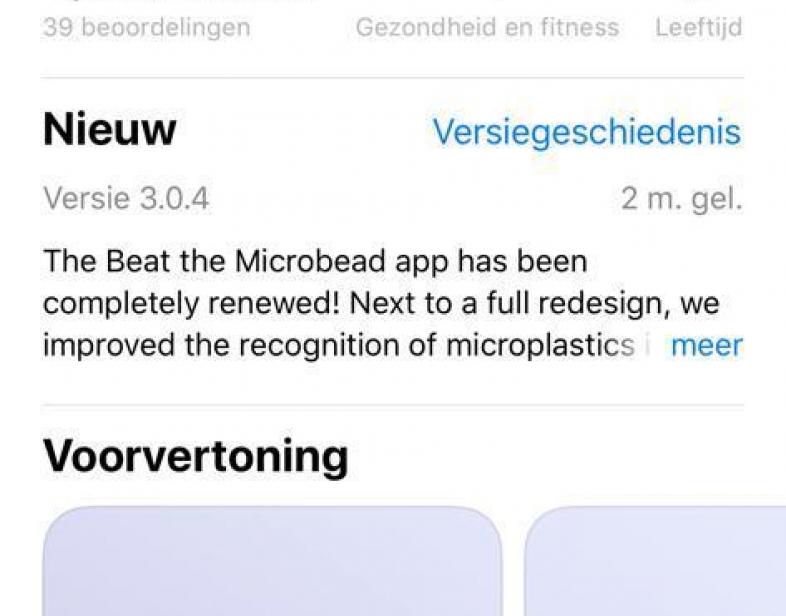 Describe your implementation
Beat the Microbead app makes it easier for consumers to understand the issue and identify it. We built an app that not only creates awareness but strives for transparency, and to inform consumers. With the app, you can easily scan the ingredients of your care products with your smartphone and check if a product contains microplastics. We implemented Optical Character Recognition (OCR) to the app. Ingredients are read and recognized automatically, then they are checked with a list of 520 microplastics.
Our app is free to download and extremely simple to use. People have access to this tool that can help them tackle this problem. The solution we provide with this app is also straight-forward i.e. switch to microplastic-free brands.
Since the launch of the app, 1.278.400 products have been scanned. Of which, 105.000 has been sent to us to register in our database. Within a matter of months, we have been able to create a database of cosmetics and care products that is vital for research not only about microplastics but other harmful chemicals lurking in our products. The public and environmental conservation appeal of our app led it to be featured in Dutch national TV primetime shows like Keuringsdienst van Waarde  & Jinek.
One of the biggest obstacles we overcame with this version of the app was to automate a lot of the processes that posed a great challenge in the past. The previous version of the app only relied on barcodes. Meaning people would scan the barcodes of their products to see if they contain plastic ingredients. However, we had to have those barcodes in our database for the app to give an analysis. Considering that the cosmetics industry is huge and the manpower on our side very limited, it was impossible for us to have all those products in our database. So, we changed the mechanism and implemented Optical Character Recognition technology.
Describe the leadership for your solution. Who is leading the implementation?
This solution is led by our organization: Plastic Soup Foundation under the Beat the Microbead campaign. Right now 100 NGOs from 42 countries and regions are supporting this campaign. We provide our app to be used and disseminated by all these members in order to create a truly global impact.
One of the earliest accomplishments of the BTMB campaign was to get the multinational company Unilever to promise in 2012 to phase out microbeads from their entire product range. In 2013, this promise was also adopted by the biggest personal care & cosmetic brands in the world such as L'Oréal, Colgate-Palmolive, Beiersdorf, Procter & Gamble, and Johnson & Johnson. This move resulted in the removal of microbeads from all rinse-off products under the European Union Ecolabel.
Our continuous campaigning put this topic on the map and made the issue of microplastics in cosmetics a global concern.
Share some of the key partners or stakeholders engaged in your solution development and implementation.
Fellow non-profit/environmental organization, microplastic-free cosmetic brands and European legislative bodies are some of the key stakeholders for our solution.
Our solution is a boiling pot for behavioral change and socio-political activism. On behalf of our campaign, we submitted the evidence that we collected through years of research and campaigning against microplastics used in cosmetics. We were invited to the Stakeholder Workshop organized by European Chemicals Agency (ECHA) to facilitate dialogue between stakeholders on key issues relevant to a potential restriction on the intentional use of microplastic particles under REACH legislation.
Through our campaign, we continuously advocate for banning microplastics alongside our partner NGOs within Break Free From Plastics. We continually politically engage 'Zero Plastic Inside' cosmetic brands to bring about actual change in the current status quo. And we support and cooperate with ECHA to bring about future-proof legislation against microplastics in cosmetics. Our app is key to all this. The amount of invaluable data we collect serves as evidence to drive consumer behavioral change, producer responsibility and political acts that can preserve our planet.
Who adopted the desired behavior(s) and to what degree? Include an explanation of how you measured a change in behavior.
Our app has been downloaded 313,466 globally. In the past month, we had 111.000 active users. These figures indicate the number of people who want to learn more about the issue and want to take an action in their own lives to change their shopping habits.
The demographics of our campaign is 63.4% of females and 36.6% males, with most visitors being in the age group of 25-34 years.
We maintain a database of all the products we process that were sent to us by our app users. So far, we have 13.000 products in our database, with more than 105.000 waiting to be processed. This database is available on our website in the form of a search engine. About 25.000 people have visited our search engine page since the new version of our app came out at the end of May 2020.
How did you impact water pollution? Please be specific and include measurement methodology where relevant.
Between 75,000 - 300,000 tons of microplastics are released into the environment each year in the EU. A proportion of these microplastics are escaping into our environment after having been intentionally produced, supplied and used in products like cosmetics, detergents, paints and pesticides.
Europe's €80-billion a year cosmetics industry has no intention or way to prevent pollution from products containing microplastic — it all goes down the sink often ends up in the environment. Over 3,755 tonnes of microplastics from cosmetics end up polluting the environment every year, according to the latest official estimates.
ECHA estimates that if we restrict intentionally added microplastics, 400,000 tons of fewer microplastics would be released into the environment in Europe in the next 20 years. We are pushing for a ban that would stop this pollution at its source. We have already collected about 25.000 signatures on our petition to ban microplastics in the EU.
How has your solution impacted equity challenges (including race, gender, ethnicity, social class/income, or others)?
We want to keep access to our knowledge and solution completely free as we believe that this information should be free for all. At all times, we want our app to be easily accessible to people from all walks of life.
Women are the majority of the target audience when it comes to cosmetics. That means they are the ones most vulnerable in regard to the exposure to care and beauty products. Plastic products contain chemical additives. A number of these chemicals have been associated with serious health problems such as hormone-related cancers, infertility and neurodevelopment disorders like ADHD and autism.
Our app helps them to identify the problem ingredients and help them steer away from them towards healthier and planet-friendly brands.
What were some social and/or community co-benefits?
Stopping microplastic pollution through cosmetics and personal care products is the easiest solution. We register the entire ingredients of the products in our database. We can track other chemicals in these products and help social/environmental groups. For example, we can track parabens & palm oil.
What were some environmental co-benefits?
There are currently more microplastics in the ocean than the stars in our galaxy. Microplastic ingredients in the sea also attract and absorb toxic chemicals as if they were little magnets and sponges. We strive for a long-lasting positive impact on our environment, the more people use this app the fewer microplastics will enter in our water and fewer marine species will get affected from microplastics.
What were some sustainable development co-benefits?
Sustainability is becoming mainstream & with our app, brands don't have anywhere to hide. The consumer pressure that we're building with the app is pushing them to look for sustainable alternatives to microplastics. We hope that we can start a revolution, getting cosmetic giants like Unilever & L'Oréal to quit the use of microplastics in their products. We have done this before, we got 119 cosmetic brands to eliminate plastic microbeads from 448 product lines.
Sustainability: Describe the economic sustainability of your solution.
Beat the Microbead app relies on a combination of financial opportunities: grant funding, private philanthropic organization and public donations.
The current version of the app has been funded by some philanthropic foundations. Currently, we are looking for funds in order to improve our app and hire more people to help us process the enormous data we have received from the app users.
We are starting to look into funding by our 'Zero Plastic Inside' certified Brands. These cosmetic companies can become Beauty Angel of Plastic Soup Foundation, with a yearly contribution. We will use these funds for maintenance of the app and we are aiming make the app economically sustainable in the coming years.
Return on investment: How much did it cost to implement these activities? How do your results above compare to this investment?
The total costs of the new version our app was almost €80.000. Of this, approximately €20.000 is spend on personnel costs such as our hours on project management and developing the campaign, the other €60.000 spend on external costs, such as developing the app, and printing of billboards.
Our return of investment reflects in the hundred thousand people that are actively using the app. With our solution, we generated public interest in this topic and got national-level free publicity for our cause that was worth thousands of euros. This pushed public opinion which has a huge impact on policymakers and cosmetic companies. 
How could we successfully replicate this solution elsewhere?
Our solution has global potential. Currently, the app is only available in English language & reads only English labels. To make it truly global, we want to make it available in different languages and train the Optical Character Recognition to reads the cosmetic products from different countries. We have a global network of NGOs in our coalition that could help us achieve this.
Before we could make it global, we want to perfect the app. It would mean adding more features & bettering the OCR technology to accurately read difficult cosmetics such as cylindrical and circular packaging. What we have now is a very basic version of an app that can be improved and benefit from several user-friendly features like a scan history and sustainable product recommendations when someone scans a product with microplastics.
We require at least 50.000€ to implement the above-mentioned improvements. Currently, we are looking to raise this amount.