An Overview Of Our Solution
Madiba&Nature has developed and improved its marine plastics programme since 2017, working to involve fishermen in the sustainable management of coastal fisheries through community mobilisation and recycling of marine plastic waste.
The organization in order to have a significant impact and boost the blue economy in CAMEROON launched the project of recycling plastic waste into Ecoboats aims to make UPCYCLED canoes out of plastic bottles. These Ecoboats are affordable and SUPPORT vulnerable communities. TO COLLECT PLASTICS FOR ECOBOATS, Madiba & Nature has invented an ecological garbage can called Ecobin; an innovative system for selective sorting of plastics in cities and on beaches. This project also energizes communities in fishing villages through the organization of beach cleanup campaigns, and the diversification of household incomes in ecotourism
Who is this solution impacting?
Ecosystem


Community Type


Additional Information
Population Impacted 150,000
Continent: Africa
General Information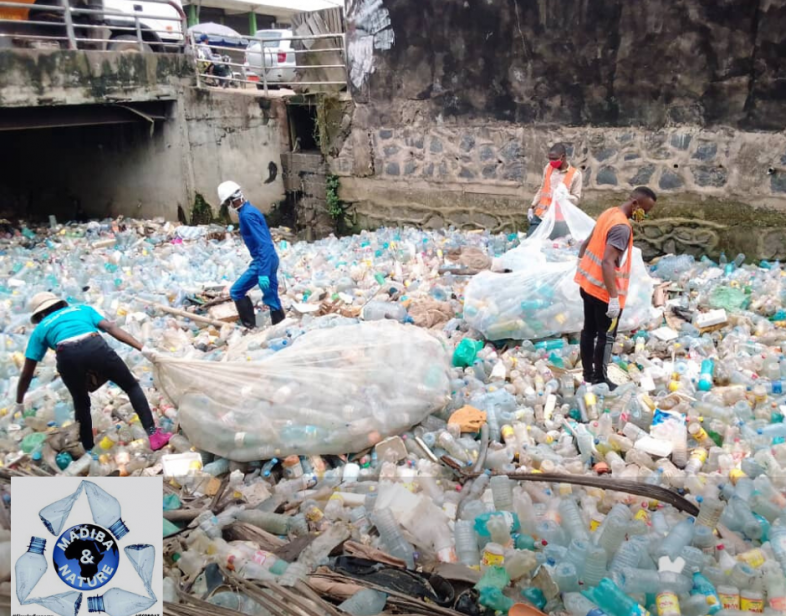 Organization type
Nonprofit
Email
Essome.ismael@madibanature.com
Challenge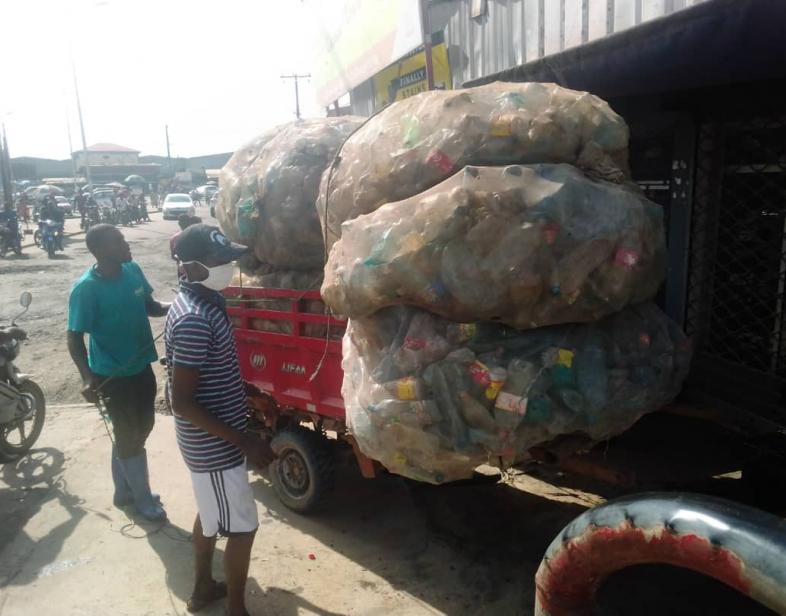 Context Analysis
Douala is the biggest coastal city, with nearly five million inhabitants and an estimated 600,000 tons of plastic waste produced each year of which less than 10% is recycled. This is mainly due to the lack of a management system for this waste which flows into the beaches of Kribi and the main fishing area, pollutes rivers and obstructs bridges, and increases floods and waterborne diseases.
The accumulation of plastic debris is a pressing threat to natural habitats and biodiversity, whilst affecting and destroying fishing and tourism activities.
Madiba&Nature, founded in 2016, aims to focus on pollution caused by plastic waste. Madiba&Nature's mission is to promote good environmental policies to promote mitigation and adaptation on climate change.
As part of this endeavor, they aims to construct two items to collect and recycle plastic waste : the Ecobin and the Ecoboat. An Ecobin is a recycling bin that is used to collect plastic waste.
Solution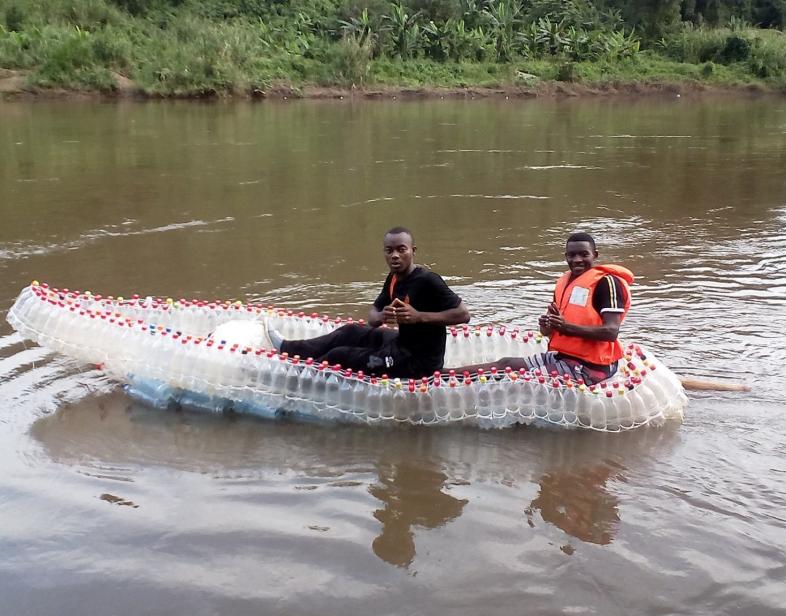 Describe the technical solution you wanted the target audience to adopt
Madiba&Nature's recycling program has invented three solutions for plastic upcycling (Ecobin, Ecoboat, and bottle furniture) which provide three innovative services. First, plastic waste is collected in Ecobins installed in streets, schools, and households and recycled into functional and sustainable products, such as Ecoboats for fishing and tourism, additional Ecobins, and bottle furniture.
The organization is now collaborating with the urban council and city halls offering waste management services in the city of Douala and on the beaches of Londji. Madiba&Nature also offers environmental education programs in 12 schools and the two universities. These programs are aimed at numerous stakeholders in society and have the common goal of changing attitudes towards pollution. The target audiences of young people, fishing communities, and residents of polluted urban neighbourhoods of Douala have been introduced to the Ecobin as a convenient way to collect plastics for recycling.
Describe your behavioral intervention.
Since 2016, Madiba & Nature has spearheaded environmental education efforts in Cameroon, promoting the circular economy and sustainable habits. This includes our door-to-door campaign in urban neighborhoods of Douala, hands-on workshops in fisheries of Kribi, and lessons in local schools to promote the Ecobin, Ecoboat and bottle furniture. Public installations of the Ecobin have generated immediate interest, motivating people stop polluting fragile ecosystems with plastics. To quantify impact, Madiba & Nature has seen excellent engagement on social media and the web. Since 1 out of every 2youthin Cameroon are on Facebook, Instagram or Twitter, Madiba & Nature launched an online environmental education program reaching nearly 10,000 subscribers across all platforms. The publication rate has been daily for more than 2 years.
The innovative nature of ECOBOAT and ECOBIN has enabled Madiba&Nature's projects to be amplified by international and national media such as National Geographic, BBC, Aljazeera, Global Citizen, Le Monde, and World Economic Forum with a record of more than 11 million views, 450,000 shares, and many comments and interactions.
Behavioral Levers Utilized
Emotional Appeals
Information
As needed, please explain how you utilized the lever(s) in more detail.
Madiba & Nature's program relies on emotional lever to reach people and bring positive behavioural change in a number of specific ways;
Firstly, through environmental education and awareness-raising in schools and the media, the organization, by personalizing the negative facts of climate change exacerbated by plastic  pollution in Cameroon, is able to inspire behavioral change.
The good example set by Madiba & Nature and its innovation encourages people to use recycled products and thus integrate the circular economy. By doing so, the organization emotionally touches future generations while positively inspiring them to Change.
Implementation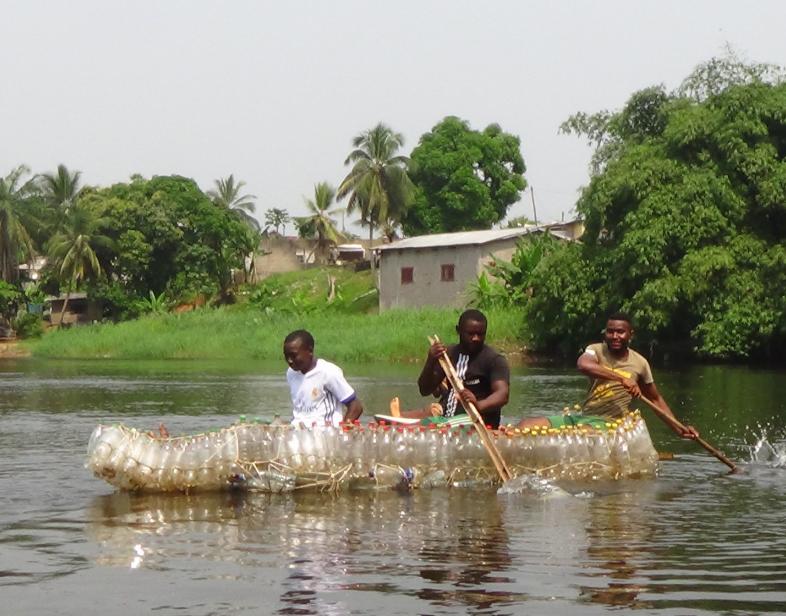 Describe your implementation
Madiba&Nature collects plastic waste and uses it to create Ecoboats for fishermen. Plastic waste is collected through beach cleanup activities and through the use of Ecobins, contributing to generate incomes for household.
The project is also engaging since his targeting raising environment awareness and educating people about the harmful effects of poor waste management strategy and influencing Cameroon's environmental policies.  Madiba&Nature relies on social networks and the web to impact all levels of society.  The organization launched an online environmental awareness and education program, reaching Facebook (more than 7000 subscribers); Twitter (1000 subscribers) Instagram (more than 1000 subscribers); linkedin (more than 500 followers) and Youtube.
The issue of climate change and the country's vision of finding sustainable solutions have led to the acceptance and integration of the Madiba & Nature program. The opportunity to develop a circular economy that creates income for both workers and communities in need are factors of resilience of this initiative.
Convincing traditional fishermen to use Ecoboats on the one hand and local authorities to integrate Ecobins in waste management on the other hand have been some of the major difficulties encountered. On the other hand, reaching the vast majority of the population and integrating them into the selective sorting system through environmental education remains the major challenge of our program, as it is hard to change old pollution habits. Subsequently finding the development of income generating activities such as recycling and the promotion of ecotourism allow Madiba & Nature to generate funds to support field activities.
Describe the leadership for your solution. Who is leading the implementation?
Ismael Essome, Founder and President of Madiba & Nature: Ismael is an environmental management engineer with more than five years of green project management expertise in Cameroon and internationally. In 2019, He received a diploma in Decision Making in Supply Chain Management from Rutgers University. The management team is made of:
Larissa Ekale, Environmental education and Training officer: With a Master's degree and 3 years of experience in Quality, Health, Safety and Environment (QHSE).
Guyliace Fotsop, Project Manager :he's an engineer in Fisheries and Aquatic Ecosystems Management with more than two years of experience in the management of environmental projects in Cameroonian NGOs.
Eric Ekungwé, Ecotourism Promotion Manager :He's engineer specialized in Fisheries Management, Eric works with Willy Essome, assistant manufacturing technician, to design and create recycled plastic bottle
Herman Biyo,Social Network and Web Manager He leads digital communication and marketing
Share some of the key partners or stakeholders engaged in your solution development and implementation.
Madiba & Nature works with international and national partners as well for fundraising, funding or technical assistance:
Douala 5 city councils, waste management partners: here the organization offers his services of cleanup and recycling.
Ministry of Environment of the Nature protection and Sustainable Development, Center of Littoral: Institutional program partner and policy advising
The Traditional Fishing Center of Kribi (CECOPAK): here Madiba & Nature provide Ecoboats for the fishermen community.
Networks of 12 secondary schools of Dauala: To provide environmental education training.
Local Association of fishermen: the organization provides capacity building in waste management, upcycling and ecotourism guide techniques.
At the International level
Guivingway is a fundraising partner where Madiba & Nature used his platform for his crowd funding campaign in order to fund field work activities.
USADF (United States Africa Development Foundation): Grant funder for a year collaboration in the expansion of the Ecoboat and Ecobins model in Cameroon.
Who adopted the desired behavior(s) and to what degree? Include an explanation of how you measured a change in behavior.
Madiba&Nature's initiatives have impacted behavior in fisheries of Kribi, Londji and Douala with 50 Ecoboats being used by 150 fishermen, and an additional 300 visitors drawn to these coastal cities each year for Ecoboat ecotourism. 20 rivers and 50 km of beaches have been cleaned up this year, boosting productivity of fisheries and doubling the incomes of fishing households each week.
Public compliance with recycling behaviors in urban centers has exponentially increased since the installation of Ecobins. With selective sorting waste management, we are now managing 150 Ecobins for 75 tons of plastic waste annually. In addition, Madiba&Nature has partnered with Douala and Kribi and is collecting up to 5 tons of plastic waste from rivers and beaches in these communities of 2 million households.
Our capacity-building and training program is now impacting an average of 40 people per year, and our environmental education programs impact more than 150,000 students in 12 schools.
How did you impact water pollution? Please be specific and include measurement methodology where relevant.
Madiba & Nature through its actions ensures the ecological monitoring of nearly 50 km of beaches from Kribi to Londji, including a dozen villages as well as 20 rivers in the city of Douala. Thus, nearly 75 tons of plastic waste are recovered and recycled annually, more than 10,000m² of water surface cleaned and now available for fishing. These cleanup activities ensure that water quality is maintained, which is encouraging the development of ecotourism on the beaches and the improvement of the living conditions of the populations.
Scientific studies on the characterization of solid waste pollution with withdrawal of marine debris at each campaign provide a clear vision of the evolution of plastic pollution, but also clean up the fishery and develop a solidarity circular economy in Cameroon.
On the other hand, the use of Ecobins for selective sorting in households limits pollution.
How has your solution impacted equity challenges (including race, gender, ethnicity, social class/income, or others)?
The project to recycle plastic waste into Ecoboats aims to promote affordable canoes for vulnerable communities. Each year, this green model allows 100 young people to go fishing with productivity in fisheries from $ 50 to $ 100 income by household each week. To achieve this goal, the organization has invented the Ecobin, which allows an innovative system of selective sorting of plastics in cities and on beaches. Ecobins are limiting marine pollution. The collection of plastics created 20 indirect jobs in the communities in need, whose income from the sale of waste helps to feed their families.
This project is also the part that energizes the communities of fishing villages through the organization of beach cleanup, and the diversification of income in households through the sale of plastics as raw material. Riparian communities organized in associations ensure the collection and storage of marine plastics that are sold to Madiba & Nature for the production of Ecoboats.
What were some social and/or community co-benefits?
This project has impact in fisheries of Kribi, Londji and Douala 150 fishermen and tourist guide. The Ecoboats serve a community more than 100 households. In the coastal area of Cameroon.
In the waste management we hire 30 workers in 3 cities to collect up to 75 Tons of plastic waste in these communities of a total of 2 million households.
The Capacity building and training program impacting 40 people per year.
What were some environmental co-benefits?
From the selective and sorting system in waste management, Madiba & Nature is now managing 150 Ecobins for a quantity of 75 tons of plastic waste recovered and recycled annually. Around 20 Rivers and 50 Km of beaches have been cleanup by 2019, allowing boosting productivity of these fisheries from 50 USD to 100 USD income of fishing household each week.
In 2020 the organization signed a partnership with city halls and added 50 more Ecobins to reach 200 Ecobins and 80 Tons of plastic waste.
What were some sustainable development co-benefits?
Madiba&Nature's project of recycling of plastic waste in Ecoboat and Ecobins has set up cleanup program, green business opportunities and jobs.The organization has instituted a new vision of sustainable management of beaches and rivers in the cities of Douala and Kribi.Dozens of families and young fishermen have access to affordable Ecoboats; women are trained in recycling. 12 schools and 2 universities have been integrated into the environmental education program; 75 tons of plastic recycle
Sustainability: Describe the economic sustainability of your solution.
Madiba&Nature rely on members annual contributions, crowdfunding ​as well as fundraising via small grants programmes to launch his field work activities of marine and urban plastic waste management.
Plastic waste is recycles into Ecobins that allows winning contract from city halls, urban councils and local enterprises. These activities facilitate the supply of plastic raw materials that are use in building and sales of Ecoboats, Ecobins and bottles furnitures.
The Training and capacity building, E-learning also allows generating revenues while promoting green business in Cameroon.
Return on investment: How much did it cost to implement these activities? How do your results above compare to this investment?
The launching of Madiba & Nature's activities required USD 2000 the very first year. The amplification of cleanup activities and recycling itself, annual membership fees, crowdfunding and the development of income-generating activities - recycling, environmental education, training and ecotourism - required USD 5000 in year two. The current organization of the teams as well as the different projects of Ecobin, Ecoboat and the expansion of the organization are closely aligned with growth and sustainability. The promotion of the model of solidarity circular economy developed helps to create jobs for people and at the same time protects the oceans, which makes Madiba & Nature always competitive and inspiring.
How could we successfully replicate this solution elsewhere?
The recycling of marine and urban plastic waste into Ecoboat and Ecobin started three years ago in Kribi and is now present in The localities of Douala, Londji and Yaoundé with just a limited budget of USD 2000 and basic knowledge in project management.  The project addresses a major problem of current pollution in most major cities and villages both on the coast and inland; the initiative can easily rely on environmental authorities, city halls, as well as local community to boost hill green business vision. The search for solutions to clean up fisheries and beaches makes recycling systems such as Madiba & Nature's very easy to fold up. This is how the organization was able to establish itself on Londji beach but also in the coastal city of Douala.