An Overview Of Our Solution
By 2026, BRINGiT will reduce plastic pollution from produce bags by 70% through: generating consumer awareness and activism through national and local digital campaigns; promoting legislative bans on use of single-use plastic produce bags (SUPPs) through partnerships with networks and organizations in the plastic pollution space and select direct initiatives; removing SUPPs from grocery stores by partnering with and pressuring retailers; increasing use of reusable produce and bulk bags by offering an aspirational range of reusable bags in a groundbreaking material. BRINGiT is leveraging our passion, networks, expertise, and unique product offerings in the pursuit of a single goal: the elimination of SUPPs and the adoption of reusable alternatives.
Who is this solution impacting?
Ecosystem



Community Type



General Information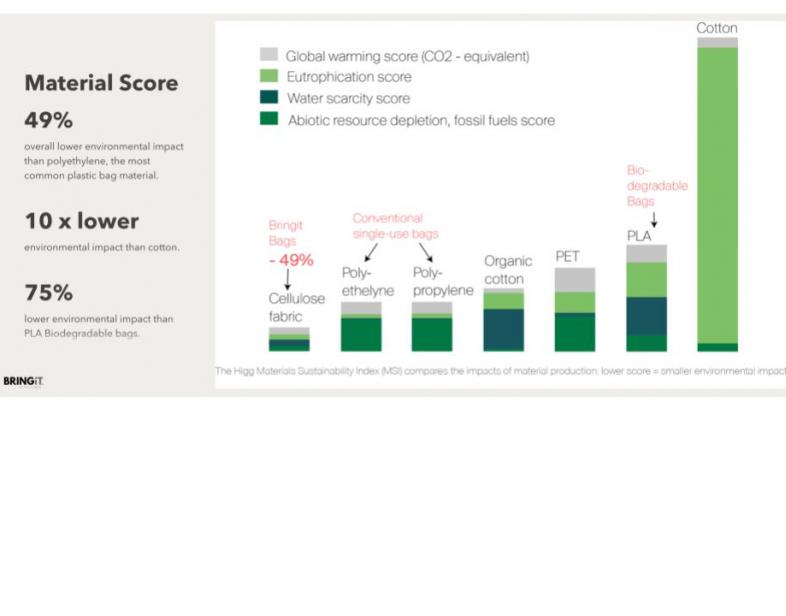 Organization type
Nonprofit
Email
nisreen@bringit.org
Challenge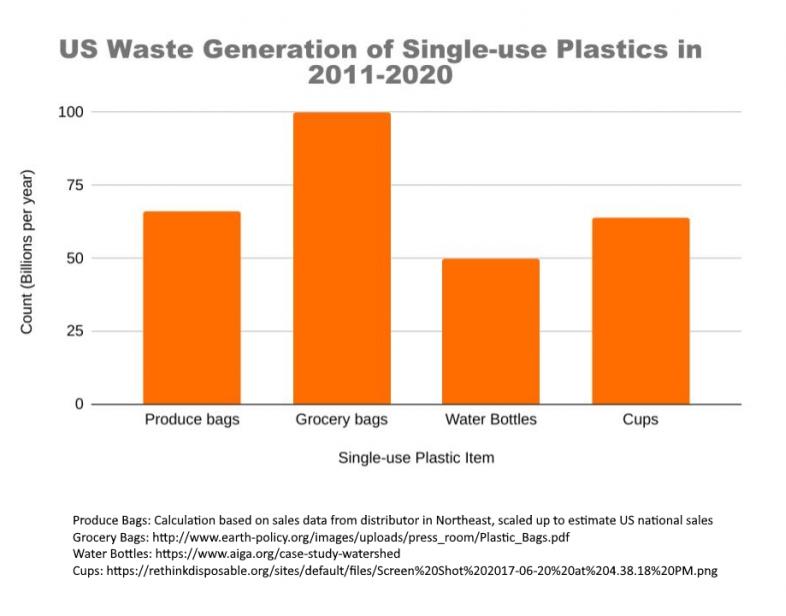 Context Analysis
Each year in the US, approximately 66 billion SUPPs are discarded. For every grocery trip, 2-3 produce bags are used. People don't consider SUPPs to be a problem the way single-use plastic grocery bags are. Just like with plastic bags, SUPPs require oil to manufacture. The US alone sends 158,400 tons of SUPPs into the ocean and landfills annually. 100,000 marine animals are killed by plastic bags annually. It takes 500 plus years for a plastic bag to degrade. The bags don't break down completely, but instead photo-degrade, becoming microplastics that absorb toxins and continue to pollute the environment. Each bag costs 1 c to produce and 17 times that to clean up.
Solution
Describe the technical solution you wanted the target audience to adopt
Our technical solution has a business to business (B2B) component and a business to consumer (B2C) component. For the B2B, we created the BAGiT and On-a-Roll to replace both paper and plastic bags at grocery stores, as the material expands, is durable, and flexes so the bags can hold more. The bags are expected to last 120+ times and can be composted at their end of life (certified as home compostable in the USA and Europe). For the B2C we have created products to increase behavior change among consumers. The reuse beginner: the BAGiT and On-a-Roll as gateway products. The Re-Fuse trade-in program: consumers can upgrade into a functional reusable they are more likely to remember, and donate bags for reuse. The suburban reuser: the It-Bag, Non-Stop, and Re-Fresh bag designs are built on consumer insights into functional and design needs overcoming current barriers. The urban reuser: the Non-Stop and Re-Fresh bags compact tightly, making them easy to carry.
Describe your behavioral intervention.
BRINGiT has a multifaceted approach including consumer awareness, industry partnerships, policy change in legislation, removal of SUPPs from grocery stores and increasing use of reusable bags by offering an aspirational range of bags in a groundbreaking material. The BRINGiT Shopping System will outperform current options as well as introduce tools to make them easy to remember and handle. With BRINGiT bags, retailers don't need to change; they only need to swap out their bags with our sustainable plastic bag alternative. This makes them easily scalable across retail stores. Our designs for BAGiT and On-a-Roll (B2B bags) use the existing fixtures that hang the grocery and produce bags. For consumers, our research identifies two barriers: forgetting reusables and a closet full of subpar bags. BAGiT is a no-barrier entry into reusables at the store, while upgrading into the It-Bag with our trade-in program would help consumers remember their bags. In addition, BRINGiT hopes to partner with the retailers to educate consumers about reuse and the true cost of plastic bags at the point of sale of BAGiT. The Re-Fuse program will help get free bags to low income communities. Switching to BAGiT requires no change in behavior other than paying a bag fee. The cost of the bag of 99c/bag will be passed on to the consumer and will serve as a "bag fee" which, as research has shown, is the most effective tool to drive consumers to use reusables (WIC and Food stamps are exempted). 
Behavioral Levers Utilized
Choice Architecture
Information
Material Incentives
Rules & Regulations
Social Influences
As needed, please explain how you utilized the lever(s) in more detail.
We're changing the context in which retailers & consumers want to choose a reusable option at the grocery store. For retailers, BagIt and On-a-Roll reduce barriers by seamlessly replacing plastic bags through their design and packaging. For consumers, BAGiT is a no-barrier entry into reusables at the store, while upgrading into the It-Bag with our trade-in program would help consumers remember their bags. We want to familiarize consumers with a tailored path to a sustainable lifestyle. We plan to use the back of the bag to explain why the bags should be reused, how to care for the bags, and how to dispose of the bag (donate/compost). We'll train baggers to avoid double-bagging and cutting down on bags used per customer. We'll partner to solve for composting and reuse (delivery collection, washing, and reuse). We plan to promote legislative bans on use of SUPPs through partnerships with organizations in the plastic pollution space. 
Implementation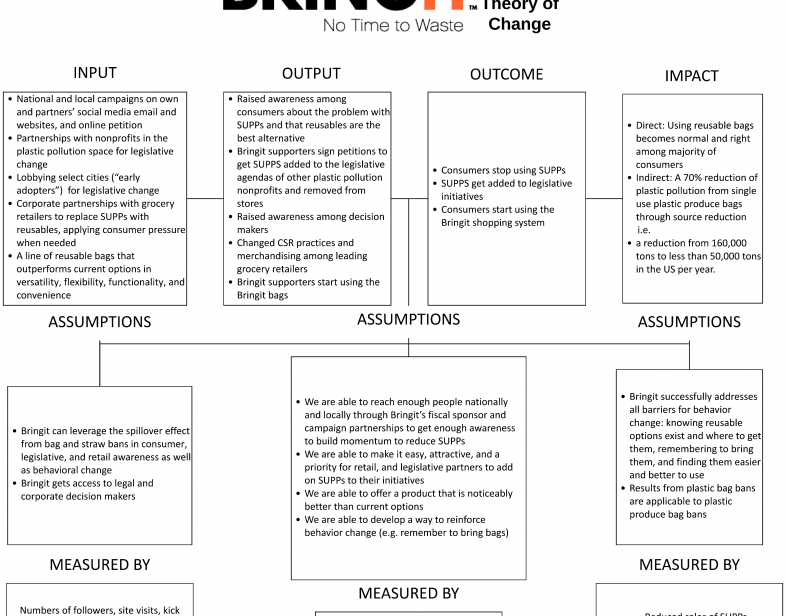 Describe your implementation
Building consumer awareness and activism: We will generate consumer awareness and activism through national and local digital campaigns, utilizing state-of-the-art engagement and activation tools and techniques. We will also drive and leverage campaign collaborations with other actors in the plastic pollution space. For example, we have a petition against Whole Foods use of plastic produce bags during the pandemic that we are actively engaging consumers to sign. Partnering for legislative change: we are promoting legislative bans on use of SUPPs through partnerships and we will initiate direct initiatives in select, "early adopter" legislatures. Partnering and pressuring Retailers to replace SUPPs with reusables: We will remove SUPPs from grocery stores by partnering with and pressuring retailers. We will look to partner with large online and brick-and-mortar retailers to get their support to stop offering SUPPs or charge a premium for them, give the BRINGiT Shopping System premium store locations, and offer POS education on why reusables are a better alternative to SUPPs. We will also solve for making composting easy for customers with partners and awareness.    The BRINGiT Shopping System: We have designed a full shopping solution that is not only highly sustainable, but is well designed, functional and allows shoppers to have an organized way to shop with reusable bags. There is a full range of bags that include a shopping tote that carries all other produce, bulk and additional lightweight shopping bags. One barrier to purchasing our system we identified was people settling for free and poorly-designed reusables they had accumulated over time, worried their product consumption would be too high if they bought into an alternative. Thus, we had the idea for the Re-Fuse program in which people can send back old bags for donation and composting while buying BRINGiT bags.
Describe the leadership for your solution. Who is leading the implementation?
Deb Singer, one of BRINGiT's cofounders, has been a leader in the reusable bag space for over twenty years. Since leading Wholefoods' move from plastic to reusable bags in 2007, Deb has partnered with leading reusable bag manufacturers to design, implement, merchandise, and scale cutting edge bag solutions at leading retailers across the US. As well received as the products were, it was not enough to change consumer behavior, and she knew an innovative approach was needed. Deb teamed up with Karin Heck, a leader in operational excellence and revenue generation in nonprofits, to found BRINGiT, a nonprofit whose model is built on the most successful strategies to change consumer behavior in the sustainability space: build consumer awareness and action, partner for legislative action, develop retail partnerships, and provide a better reusable alternative built on deep consumer and retail insights. 
Share some of the key partners or stakeholders engaged in your solution development and implementation.
BRINGiT is a nonprofit initiative set up as a project fiscally sponsored by Acterra, a nonprofit 501(c)(3) organization. We are core members of BreakFreeFromPlastic, Plastic Pollution Coalition and National Reuse Network. We have an Advisory Board with deep, complimentary skills helping and advising on strategies and tactics.
Manufacturing by VPZ: Production and packaging of all bags and totes from a material that scores highest in sustainability against all other comparable known materials 
Retailers (TBD):
Launch pilot to garner in-market learning on usability, messaging, and viability

Determine optimal in-store placement of products to maximize ease-of-use and conversion 

Launch marketing and educational collaborations to build awareness

Develop impactful merchandising and education to make products attractive

Support training of cashiers to make it easy and safe for them to handle reusable bags
Warehousing, distribution, shipping, ecommerce by KAF Home: 
Pick up goods overseas

Importing

Warehousing

Shipping of all orders from that location

Managing inventory continuously to ensure stock in maintained

Build out and manage our ecommerce capabilities
Marketing support from Division of Labor
Creation of compelling, converting digital campaigns 
Additional partnerships: Awareness and advocacy amplification with plastic pollution nonprofits such as #breakfreefromplastic: share and repost campaigns and petitions.
Who adopted the desired behavior(s) and to what degree? Include an explanation of how you measured a change in behavior.
In April 2020, we ran a national, quantitative study to assess concept viability, market size, target audience, and barriers. The results confirmed the multi-actor approach in our theory of change, we are taking as well as the modular systems approach to our product range. In a national quantitative survey we fielded, we found strong support for our strategies: 80% of respondents use SUPPs when shopping for produce now, but reading about about the problem they cause, 75% are likely to be supportive of a plastic produce bag ban, 60% would sign BRINGiT petitions, 30% would become members and join a BRINGiT movement, 20% would donate money to BRINGiT's cause, 30% would join a BRINGiT kickstarter, and 65% would buy BRINGiT bags. In August 2020, we ran 4 online focus groups to deepen our understanding of our target customers' shopping behaviors and get feedback on our bags. Our focus groups showed an overwhelming need for a system to help organize and remember shopping bags.
How did you impact water pollution? Please be specific and include measurement methodology where relevant.
We are just launching and starting to understand the impact of our product. We do know from research that the global plastic manufacture and consumption have exceeded 300 million tons annually and about 10% of plastic products end up in the ocean through various channels. Plastic debris has been a worldwide contaminant found throughout the marine environment a large number of marine species are known to be harmed by plastic debris increasing year by year. Moreover, microplastics are perceived as a major pollution problem in freshwater bodies and in the sea. Industrial only compostable bioplastic grocery bags act the same as traditional plastic bags when polluted in the ocean whereas BRINGiT bags are made for home compost and also degrades in water. Moveover, it has been recognized in various reports that increased use of biodegradable fibers would contribute to reducing emissions of microplastics.
How has your solution impacted equity challenges (including race, gender, ethnicity, social class/income, or others)?
We believe that as we form, it is vital that we actively support racial and environmental justice. Our sphere of influence is still small, but we are already working with and learning from a diverse group of professionals to develop a working team that is compassionate in its comms and practices.
What were some social and/or community co-benefits?
Making it so easy for consumers to select such a sustainable product as BAGiT risks making it too easy to keep treating bags as single-use. Though BAGiT home-compost well, reusing them for their entire life cycle is much better. BRINGiT will educate and inspire consumers to reuse their bags. Our Re-Fuse program will help extend their use by donating unneeded bags and provide accessible composting to ensure lowest carbon impact end-of-life. 
What were some environmental co-benefits?
Our solution, we hope, will reduce plastic pollution from SUPP bags by 70% by 2026, including displacing 75,000 net tons of plastic from entering the waste stream and 4.3M tons of greenhouse gas emissions by 2023. The bags are manufactured exclusively from beechwood forests that are certified to have been sourced from forest thinning-pesticide and herbicide free. The wood we use comes from essential forest thinning which actually makes forests healthier.
What were some sustainable development co-benefits?
Bags manufactured exclusively from FSC/PEFC certified beechwood forests which regenerate themselves with no pesticide/herbicide use. Energy and water consumption are significantly lower in manufacturing than cotton. Weave is spun-dyed through a carbon-neutral process, expending 64% less water, 90% fewer chemicals, 20% less energy, and 62% lower heating costs than conventional dying. Produce bags regulate moisture, keeping produce fresh longer, reducing food waste. 
Sustainability: Describe the economic sustainability of your solution.
BRINGiT is currently forecasting individual donations to make up 12% of revenue, grants (foundations and corporations) 15% and earned revenue from products make up 73% of revenue during the coming two years.
Return on investment: How much did it cost to implement these activities? How do your results above compare to this investment?
Financials available upon request
How could we successfully replicate this solution elsewhere?
Our bags will be viable wherever plastic bags are in use. There is a general appeal for BRINGiT bags across all regions, with a slight over-indexing in the northeast, south atlantic, and pacific. We plan to first launch a regional pilot based on retailer needs and market opportunities. Subsequently we would incorporate the learnings from this test into a national roll out plan and include additional retail partners. 
Capital needed (actual $ available upon request)
Initial Capital: fund first pilot and production run, including R&D, warehousing; six months worth of personnel expenses (staff and contractors); initial marketing campaigns and sales support
Going years key drivers of costs, in expected order of impact 
CoG: cost for manufacturing and packaging of products

Warehousing, distribution, shipping

Salaries: project management, marketing, sales

Marketing: Creative, copy, advertising, comms