An Overview Of Our Solution
Once perceived as food for the poor, African Leafy Vegetables (ALVs) and other forgotten crops are making a comeback in Busia County, Kenya, thanks to a pilot project supported by ACIAR, GEF and a participatory multi-sectoral platform that brings together farmer organizations, NGOs and national and international agencies. The project is reviving interest in nutritious ALVs by building the capacity of entrepreneurial farmer groups to sustainably produce, use and respond to market demands for these crops from institutional markets (e.g. school feeding and health clinics). At the same time, education activities are taking place to increase the appreciation and use of local biodiversity to improve dietary diversity, nutrition and environmental resilience but also to provide sustainable, long-term support and empowerment to children, families and communities.
Who is this solution impacting?
Community Type

Additional Information
Population Impacted:
Continent: Africa
Organization type
Nonprofit
Ecosystem (select all that apply)

Population impacted
500 households/farms
Size of agricultural area
Total agricultural area directly impacted is 170 acres while indirectly impacting 1000 ha
Production quantity
Total production is 150,000 Kg valued at $52,500 per season
Describe your solution
SINGI promotes sustainable agricultural practices to establish home gardens using African Leafy Vegetables (ALVs). ALVs are weedy, semi-cultivated species that are adapted to growing in local environments and provide affordable access to key nutrients. SINGI has worked with partners to develop and test a workable food procurement model based on ALVs to promote the conservation of local food biodiversity while improving farmer livelihoods and promoting healthier school meals. One farmer group began by supplying ALVs to one school under a negotiated agreement. To avoid food losses farmers grow the vegetables directly on school land. The school purchases the produce at an agreed market price, has a reliable and constant source of quality ALVs, while the farmers have cut their transport costs and have a dependable buyer for their produce. Now 410 students are benefiting from more diversified meals. Since, training was provided to 25 farmer groups to build capacity in the sustainable production of ALVs, while nutrition education activities were carried out to improve the capacity of schools and clinics to benefit from ALV consumption. 8 farmer groups have now signed contracts with 13 schools and 1 hospital for the provision of ALVs to be included in their institutional meals. When established on school land, the plots double up as educational tools for students who learn about sustainable agriculture, optimal nutrition and get hands-on experience in growing and using local crops.
Describe your implementation
The key success factor in activity implementation has been establishing an enabling environment for the testing of the food procurement model. SINGI is part of a consortium comprising members from civil society, the private sector (NGOs) and government ministries (county ministries of health, education, agriculture and environment) each with their own role to play in mainstreaming biodiversity conservation. SINGI promotes good agricultural practices (GAP) including the use of nutritious drought tolerant vegetables, the utilization of organic manure to promote soil health and organic pesticides to manage plant pests and diseases thereby reducing environmental pollution. It partners with research organizations and NGOs who provide farmer groups with improved seed, information on the nutritional value of vegetables and facilitate linking entrepreneurial farmer groups to institutional markets such as hotels, hospitals and schools. The partners assist in periodic provision of capacity building to farmer groups on GAP, nutrition education to schools and ante-natal clinics as well as provision of information to trainers of trainers. The county ministries assist SINGI in farmer extension and periodic and timely information on pest identification and management. Farmer field days, food and seed fairs are held in farmers' fields to showcase achievement and facilitate farmer-to-farmer learning. Together, these partners have developed a draft biodiversity policy framework adopted at the county government level to mainstream biodiversity conservation and utilization in various projects and programmes. Through this approach SINGI has not only influenced improved production at household level but also consumption at institutional level while improving household incomes and improving diets.
External connections
The stakeholder platform, which comprises local CBOs, NGOs, government ministries and the Kenya Agricultural and Livestock Research Organization (KALRO) developed a draft biodiversity policy to promote the conservation and use of ALVs and other indigenous crops. The policy is the first ever produced in Kenya and, once adopted, will guide biodiversity conservation in county projects and programmes and provide a blueprint for Kenya's remaining 46 counties. Key partners: KALRO: Provides farmers with improved seed, info on nutritional value of ALVs and trains trainers on GAP and conservation of threatened indigenous species County Ministry of Health: Mobilizes the participation of health clinics, provides nutrition education to schools and ante-natal clinics and info to trainers of trainers County Ministry of Agriculture: Assists in farmer extension and provides info on pest identification and management; assists with farmer mobilization during field days, food and seed fairs and farmer-to-farmer learning County Ministry of Education: Encourages schools to include ALVs in school feeding and biodiversity for food and nutrition lessons in school curricula Biovision Africa Trust: Assists in training farmers on GAP including the use of organic manure to promote soil health, organic pesticides to manage pests and diseases Bioversity International: Facilitates SINGI operations, provides capacity building to entrepreneurial farmers and establishes institutional markets linkages
What is the environmental or ecological challenge you are targeting with your solution?
Busia County in Western Kenya is rich in biological diversity with a variety of agroecological zones suitable for growing a diverse range of plants and crops and sufficient rain, yet it is facing severe environmental challenges and is among the poorest and food insecure counties in Kenya. Large farms have been divided into smaller portions leaving most farmers trying to earn a living off less than 0.6 hectares. Increased pesticide use pollutes water while food production has declined due to soil erosion. Changing land/resource use and management practices have contributed to loss of biodiversity including loss of nutritious genetic resources useful for agricultural productivity, sustainability and resilience to stresses. Other factors include climate change, over-exploitation, drought, floods and agricultural intensification. Further, changes in eating habits and lack of access to quality seed has left most Kenyans relying on a handful of food crops for their sustenance.
Describe the context in which you are operating
Due to its favourable ecogeographic conditions, Busia County is one of Kenya's administrative divisions that is expected to produce enough food to feed its people and provide surplus to feed other parts of the country. However, Kenya's demographic and health survey carried out in 2014 reveals that poverty rates in Busia range from 63% to 74%. Two out of three citizens are unable to meet their basic food needs and 26.6% children under five are stunted, 11% are underweight and 4% are thin due to malnutrition. Studies have shown that farmers in Busia lack awareness of improved agricultural practices and technical know-how because extension staff are too few and lack transport and resources to reach the high number of small-scale farmers. Low government investments and support for farmers, lack of quality seed, limited access to markets and finance, as well as poor knowledge of value addition, post-harvest handling, food safety and hygiene practices further exacerbate these problems. Further, the focus of agricultural development on producing larger quantities of a few, energy-rich staples has led to the neglect of a large number of highly nutritious local species which are rapidly disappearing from the environment and from people's diets.
How did you impact natural resource use and greenhouse gas emissions?
Partners are collecting nutrition information on ALVs as part of the larger, GEF-funded BFN project and widening scientific knowledge of the benefits of local biodiversity. By implementing the sustainable food procurement model, the project is also looking at how schools and clinics can offer stable markets and increase demand for local food biodiversity and by so doing conserve it, in addition to producing benefits around diverse diets and environmental sustainability. As well as being friendlier to the environment, farms that include ALVs in their agricultural systems are more resilient to climate change and provide useful genetic material for breeding future climate-ready crops. Information and experience in implementing the sustainable food procurement model is being used to inform a Biodiversity Policy being developed for Busia that recognizes the importance of local biodiversity, including for improved livelihoods and for community health and nutrition.
Language(s)
Luhyia, Lhuo and Teso, Swahili and English to a lesser extent
Social/Community
Farmers have improved their livelihood options and standing within the community as they are perceived as improving nutrition while promoting environmental sustainability. The use of plots as education tools have promoted renewed interest in sustainable agriculture as a profitable business, and awareness of environmental issues among younger generations, while the schools see the relationship of linking to local farmers as part of their social corporate responsibility.
Water
The sustainable agricultural practices promoted by SINGI, such as raised beds, keyhole gardens and mandala gardens, help prevent soil erosion and improve water conservation during the dry season. Composting helps to neutralize soil PH and increases the soil's ability to withhold nutrients for plant use, retain water and resist compaction thus reducing erosion and run-off. As no chemicals and pesticides are used in production of ALVs, water pollution is also significantly reduced.
Food Security/Nutrition
The project will monitor the nutritional and food security impacts of introducing ALVs in school meals and promoting these crops in kitchen gardens. Initial reports indicate that students with specific dietary needs are now able to enjoy more varied meals. School caterers have attended cooking demonstrations that help preserve the nutrient content of ALVs and schools will provide data on reduced susceptibility to illness. Increased academic performance will also be monitored.
Economic/Sustainable Development
When market prices for leafy greens are higher, schools can save up to US$0.10 per Kg of ALVs purchased. This sums up to weekly savings of about $9 and yearly savings of $360. Average profits for 1 smallholder farmer group who supplies a school with 91Kg of ALVs/week amount to $0.15 per Kg. This translates to weekly profits of $13 and $540 per year. Farmers also prepare their own manure and sell it at $10 per bag and help neighbors set up their own kitchen gardens at 15$ per household.
Climate
ALVs are hardier and more resilient to biotic and abiotic stresses than non-native crops. Most are drought tolerant and mature faster than exotic crops, representing an important food option if rains fail or become more erratic - one of the predicted outcomes of climate change. Most are also pest and disease resistant and are especially suitable for the resource-poor, who can integrate a selection of them into their farming systems, which are frequently complex, diverse and risk-prone.
Sustainability
Initially relying on grant funding, farming of ALVs as a profitable business is gaining ground in Busia County with farmers increasingly willing to invest resources in ALV production and marketing. Working with farmer group and schools, a workable procurement model was tested and validated where farmer groups were linked to a market (school) for the supply of ALVs at a negotiated price. By demonstrating durable demand at known and fair prices and farmers trained to compete in complicated procurement processes, ALVs are now gradually appearing in markets and school meals and would likely lead to sustainable scaling up in more places over time. The farmers have even opened up their own commercial outlet along the Busia road.
Return on investment
The ROI is 39%. The budget was US $150,000 for 2 years. Returns from the sale of ALVs amount to $52,200 per season, for 4 planting seasons. The biggest return, however, is the farmers renewed sense of empowerment. "I never imagined I could go out and find a market for my veggies" said Ms. Joyce Okwara from Busia, as well as improved nutrition in schools and clinics. Funds supported a feasibility workshop to discuss limits and opportunities of linking farmers to institutional markets, the development of a farmer business school and its subsequent rolling out, the acquiring and distribution of certified ALV seed to farmers and nutrition education in local schools and clinics. Additional funds would allow the scaling-up of this model.
Entrant Image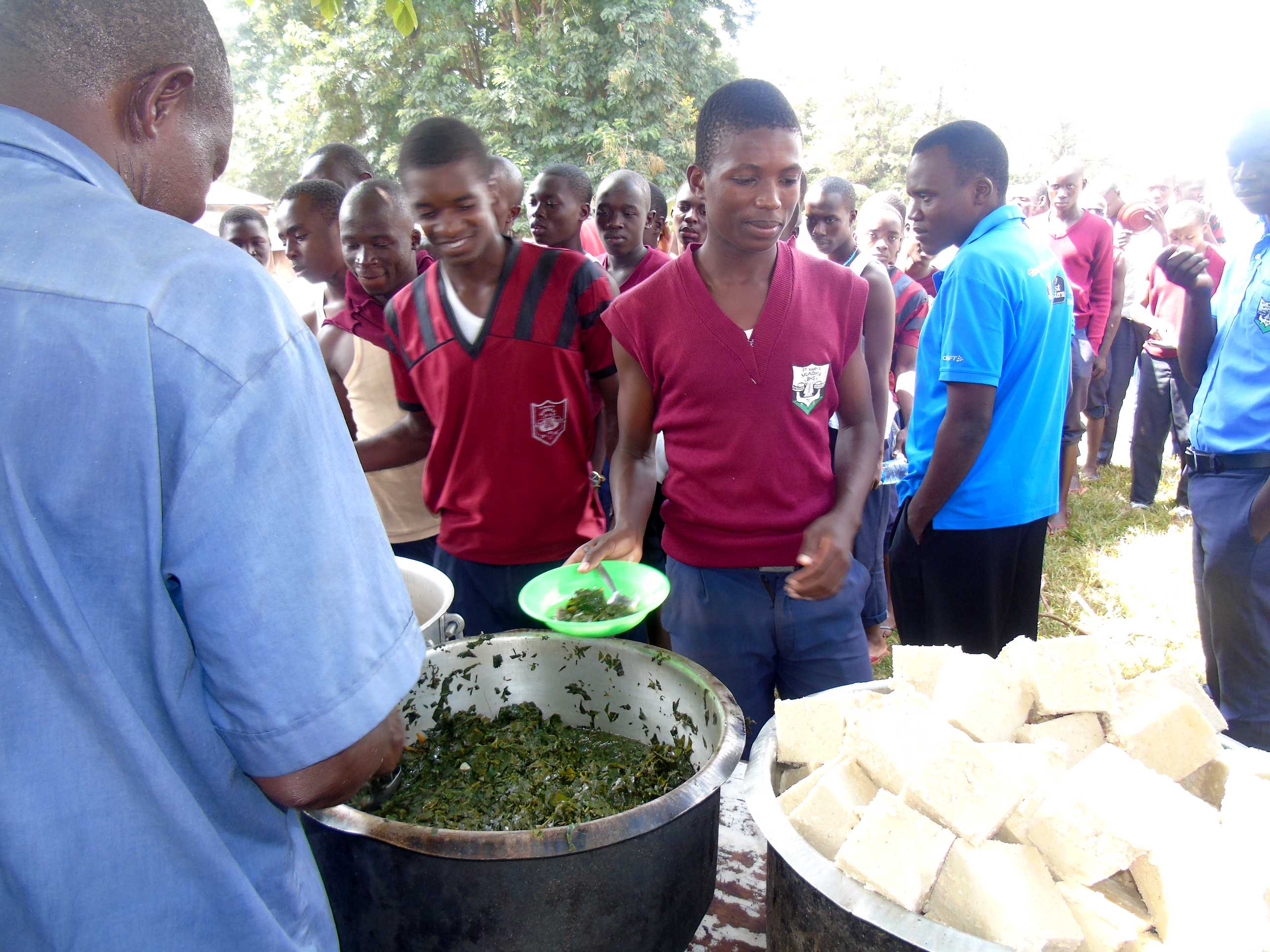 How could we successfully replicate this solution elsewhere?
Linking entrepreneurial farmers to institutional markets through greener procurement models is proving a sustainable solution to address bottlenecks in the use and conservation of local biodiversity while contributing to improved livelihoods. The private sector (hotels, restaurants and early learning centres) has also expressed interest in being linked to producers for the supply of nutritious vegetables. This project is serving as a model for showcasing not only public-private partnerships but also outscaling to other counties for improved ecosystem resilience, diets and human well-being. Additional opportunities are emerging such as the school-to-school extension possibilities and the opportunity of linking to Kenya's Home-grown school feeding initiative (HGSF). The four county ministries are interested in following the Brazilian example that stipulates that an established percentage of food procured by schools and hospitals must be locally-sourced and coming from family farmers.