An Overview Of Our Solution
Who is this solution impacting?
Ecosystem


Community Type


Additional Information
Population Impacted 15,000
Continent: Asia
General Information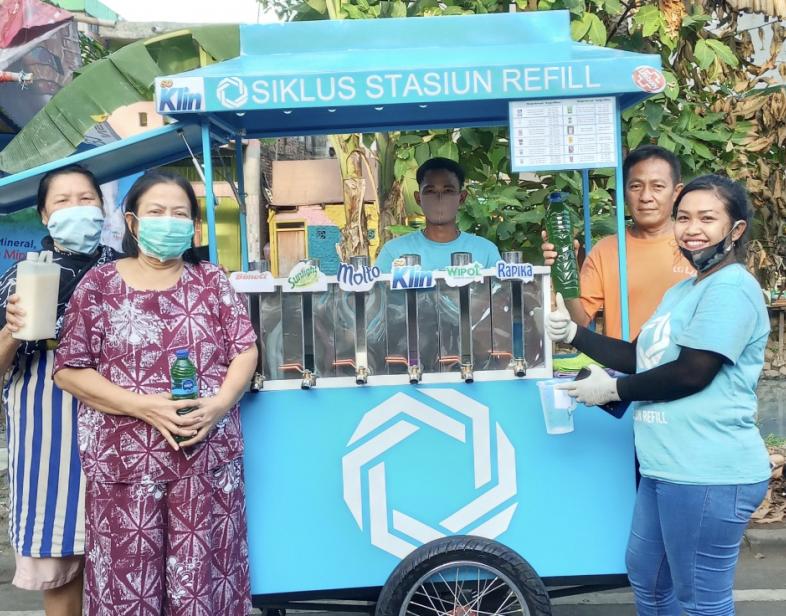 Organization type
Corporation
Email
jane.vonrabenau@siklusrefill.com
Challenge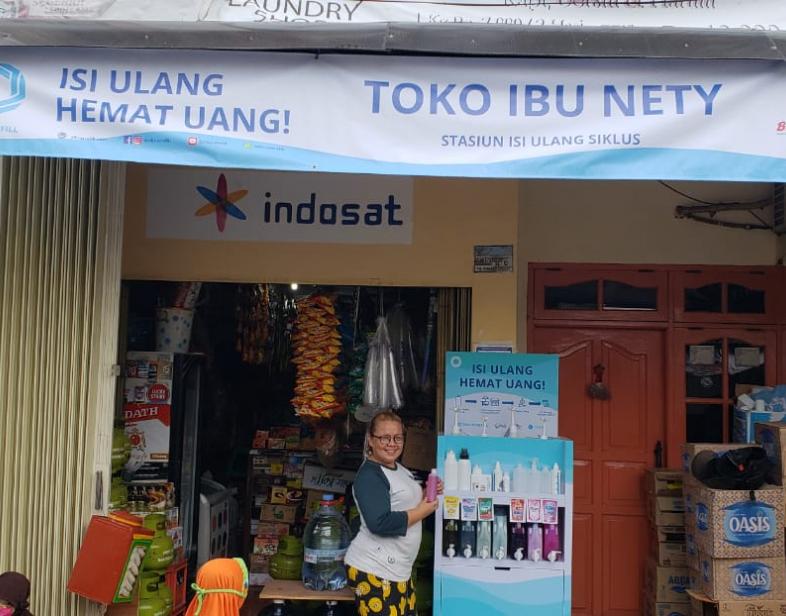 Context Analysis
Indonesia is the second-largest ocean plastic polluter in the world. The most common items found on its beaches are plastic wrappers and single-serving sachets (Ocean Conservancy, 2017) that are not recyclable. Every 20 minutes, the equivalent of a 10 tons truckload of plastic is dumped into the waters around Indonesia (World Bank, 2018). The effects of the plastic crisis are compounding with decades of plastic waste polluting our oceans, and it is urgent to avert the crisis now.
Out of financial necessity, 70% of Indonesians buy their household goods in single-serving sachets rather than in bulk. As 15% of the sachet cost comes from packaging, low-income populations often pay extra for their everyday needs in small portions, a so-called "poverty tax." Yet, low-income populations are trapped in this unfavorable consumption pattern due to cash constraints, and a need to control their portion size with small dosed sachets.
Solution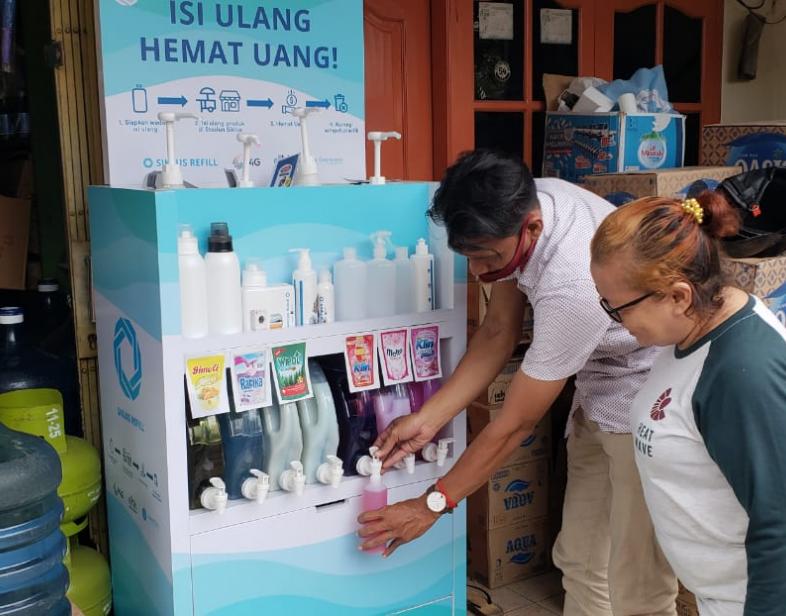 Describe the technical solution you wanted the target audience to adopt
We set up IoT refill stations in neighborhood stores, where customers can bring their own containers to refill everyday needs. The dispensing technology is safe, precise, fast, and tamperproof and thus enables the sales of FMCG products as refills by overcoming the issues of hygiene, dosing, and tampering. We also set up mobile refill stations that come to customers doorstep and give an extra convenience.
Our customer containers are designed to suit the needs of low-income customers. They often buy strips of sachets in order to dose easily while conventional bottles lead to overuse of the product. Further, we visually educate customers on the price difference of buying in sachets vs. refills/large sizes which is often not apparent to them.
Through our solution, we achieve a win-win solution for both our low-income customers, our retail partners, FMCG companies, and the environment
Describe your behavioral intervention.
We achieve behavior change by offering a lower price and convenience.
Siklus offers cost-saving and convenience for our customers. Our main target markets are low-income and lower-middle-income families with less than $200 family monthly income who are purchasing sachets because of their financial necessities and limitations.  Our model enables a 10%-50% discount to our price-sensitive customers. By implementing behavior change from purchasing sachet to refill system, a family of 5 can save up at least $20 a year, which is the equivalent of 5 days worked at minimum wage.
Our customers, especially women bearing additional household burdens during the pandemic, find our mobile refill model convenient for them since they can get their consumer goods delivered to door. Siklus also sells reusable containers that are designed for better dosing and storage.
Behavioral Levers Utilized
Material Incentives
Social Influences
As needed, please explain how you utilized the lever(s) in more detail.
Material incentives: We make the price savings as compared to sachets very clear to our customers. Using our marketplace app, our existing customers can monitor how much money saved and the impact made by shifting to refill system provided by Siklus.
Social influences: To further accelerate behavior change, Siklus also work alongside local community leaders and local "influencers" to advocate the innovation and plastic problem that Siklus is trying to tackle. This creates a positive peer pressure to be part of the solution, rather than part of the problem.
Describe your implementation
Distribution models: Siklus provides a sustainable alternative to sachets through our refill stations. We have two models of product distribution:
Mobile dispensers are tricycles retrofitted with our proprietary dispensing technology. These carts travel through the middle to lower-income neighborhoods, both door-to-door as well as to fixed meeting points. We offer refill service for essential products at 10% discounts by eliminating the production cost of single-use plastic packaging (giving sachet customers up to 50% discount).

Stationary refill dispensers are set up in neighborhood Warung stores. Customers bring their own containers to purchase refills of consumer products such as shampoo, homecare products, and coffee. We also offer reusable containers that are designed for purpose and convenience.
Challenges: Our key challenges have been in the area of hardware development, since this is quite a lengthy and cost intensive process, yet necessary in order to scale up the process. Further, our operations have been quite heavy, and so we are currently discussing with retail partners like GoToko to handle our distribution and supply chain.
Key success factors: Key success factors and enabling conditions are the readiness of FMCGs to switch to this model, as well as the fact that the Indonesian government is phasing out sachets by 2030. Further, COVID has brought a willingness to switch to home delivery and contactless retail models, which we offer.
Vision: We have a target market for refillable FMCGs in low-income populations of Indonesia with a total addressable market of $7,000,000,000. We plan to acquire the market from the smaller communities through refill push carts and small stores before gradually entering into larger retailers, and subsequently tap into international markets.
Describe the leadership for your solution. Who is leading the implementation?
Siklus is lead by Jane, the CEO of Siklus whose background is at the intersection of behavioral economics and international development. Jane spent most of her career working on projects targeting low-income populations in 6 different countries. Siklus' highly diverse core team combines expertise in FMCGs, technology, and operations,, which will ultimately allow us to execute this model at scale. Some of our team members come with 20 years of experience in FMCGs and took up to 80% paycuts to join us. Most importantly, we are passionate about the impact we create, and are driven to be the next, sustainable model of retail.
Additionally, we are backed by investors that are highly connected, including the CCO of GoJek (Indonesia's largest betacorn), CEO of Zenius, former HR director of GoJek, and the VC Teja Ventures, and already have brand partnerships with international FMCG companies including Nestle and P&G, and local FMCG giants including Wings and Total Chemindo.
Share some of the key partners or stakeholders engaged in your solution development and implementation.
Our ambitious goal, to reinvent the way retail is done and create the next generation of retail, is hard to achieve alone since we are disrupting a system that has been established for decades and thus needs collective action. To scale, Siklus needs to work with main stakeholders in retail including FMCG companies and retailers.
So far, we have partnerships with Total Chemindo (sister of Indonesia's largest supermarket network), Wings (Indonesia's largest homecare FMCG), Lion Wings, and we have pilots coming up with P&G and Nestle.
More importantly, we are working with local leaders and influencers, such as Koran reading groups, local governments and community leaders, and saving groups. Every week we hold presentations and workshops in different local groups, which allows us to have direct access to our customers, and also get the stamp of approval from local influencers.
Who adopted the desired behavior(s) and to what degree? Include an explanation of how you measured a change in behavior.
Primary behavior change is to buy products in refills instead of plastic packaging. Since none of the products we sell are available as refills elsewhere, we link this directly to sales.
The secondary behavior change is an increased awareness of the environment and othe pro-environmental behavior such as littering, using reusable water bottles, etc. Currently, we are not measuring this due to limited bandwidth, but we hope to measure this in future using self-reporting and experimental methods.
How did you impact water pollution? Please be specific and include measurement methodology where relevant.
We measure our impact by calculating the plastic waste and plastic leakage aversion.
A) Plastic waste averted
We prevent plastic from entering the system by cutting out single-use packaging. This will result in less strain on the waste management system, less plastic being burnt, and less plastic pollution.

Plastic waste averted  = (# refills sold) - (container waste)

Within the first 5 years of operation we expect to save 600M sachets or single-use packages being used.
B) Plastic leakage averted
We prevent ocean plastic from entering the ocean. We will target communities with low waste collection rates as well as low-value plastics which disproportionately ends up polluting as there is no incentive to recycle it.

Plastic waste averted from leaking to ocean = (# refills sold x regional leakage rate) - (container leakage)

With assumption of 25% ocean leakage rate, we expect to avert 150M plastic waste from entering the ocean in the first 5 years of operation.
How has your solution impacted equity challenges (including race, gender, ethnicity, social class/income, or others)?
Particularly the mobile model is making shopping more accessible to people with disabilities and elderly by bringing consumer goods conveniently to door. Both models allow customers with disabilities or old customers to use products better: Sachets and pouches are harder to open and use, and squeeze products out than a bottle.
Further, we are increasing accessibility by increasing affordability, and tackling a problem of the most vulnerable populations in Indonesia that are disproportionately affected by plastic waste and high prices of sachets.
What were some social and/or community co-benefits?
Anecdotal reports have shown that not only did we directly reduce plastic waste through our intervention, but we also indirectly led to a higher awareness around plastic waste, and less littering.
What were some environmental co-benefits?
Siklus' solution will benefit others living in our operational area due to the environmental benefits coming from plastic waste reduction. Siklus can lower the risk of widespread flooding, which resulted in a loss of $70 billion annually (Central Bank of Indonesia, 2020), mainly caused by environmental damage and waste dumping, as well as reduce the risk of respiratory diseases caused by trash burning that leads to 44,000 deaths and economic loss of $11 billion annually (Greenpeace, 2020).
What were some sustainable development co-benefits?
We achieve a win-win solution for our customers, partners, and the environment. We give our target market (95% of our customers are women aged 25-50) access to necessities at a cheaper price by eliminating packaging cost. We also provide additional income to our partners, mostly women-owned small stores. Our female retail partners report their monthly income increase by 15% since we give them the opportunity to compete with larger markets that have been cannibalizing their business.
Sustainability: Describe the economic sustainability of your solution.
In the first year, we own and operate all dispensing tech and refill carts. We currently partner with neighborhood stores as our stationary refill dispensers. We plan to pursue a partnership model for our mobile dispensers as well, where independent micro-entrepreneurs rent our carts. In both models, we act as the provider of the refill system, help with the initial outreach and marketing, and connect to the FMCGs.
FMCG companies are our suppliers. The FMCGs we currently work with give us their product in jerry cans at an over 50% discount compared to retail price. The jerry cans are stored by retailers and swapped out in dispensing machines. When new cans are delivered, empty ones are picked up, cleaned and refilled by the FMCGs.
Return on investment: How much did it cost to implement these activities? How do your results above compare to this investment?
So far we raised US$ 200k which allowed us to build a team, develop two mobile apps (customer and seller), and create prototypes of our dispensing technology, and pilot to have 10 refill stations running. We are currently raising a seed round in order to further commercialize our technology and scale our model, and hope to run completely on revenues in the next 24 months.
How could we successfully replicate this solution elsewhere?
The most prominent example is Algramo, a Chilean company, that sells consumer products as refills through refill vending machines, and has over 2,000 stations running, and expanding to several other countries. Further, there is Milk ATMS, a company in Kenya selling milk and oil as refills to low-income customers.